It won't be long before we hop into spring… and with spring comes Easter festivities! Popular with kids not just because of the break they get from school but also because of the yummy Easter eggs that are traditionally gifted at this time of year, there is little not to love about this time of year!
But which Easter Eggs will you be buying this year? If you've not yet made up your mind, check out our suggestions below. We've covered all bases: premium eggs, mini eggs, all the latest special editions, dairy free and more!
Chocolate Easter Eggs
KitKat® Chunky Salted Caramel Popcorn Incredible Chocolate Easter Egg
Available from Tesco, Asda, Sainsburys, Co-op, Iceland and B&M (RRP £10)
Love KitKat? Love popcorn? You'll love this one! This salted caramel infused chocolate egg has real salted and roasted corn pieces distributed throughout the chocolate, making for a deliciously moreish sweet and salty treat that's perfect for sharing.

KitKat® Chunky Lotus Biscoff Easter Egg
Available from Tesco, selected Budgens, Londis and Premier convenience stores (RRP £5)
Yes, you read that correctly! KitKat has teamed up with Biscoff – and the result is exquisite! What's more, with this egg chocolate lovers will be given their first chance to try the new KitKat Chunky Lotus Biscoff Bar!

Traidcraft Divine Easter Egg
Available from Traidcraft (RRP £10)
This ultra-indulgent Easter egg promises the highest quality, sustainably sourced chocolate in every bite. And the best bit… once the egg has been enjoyed, you'll discover the mini eggs – what a treat!

HAPPi Easter Eggs: Orange, Plain Mi!k, Salted Caramel and White Raspberry
Available from HAPPi (RRP £9.99)
Shopping for someone who has a dairy-free diet? Head to HAPPi! They've got four delicious, vegan, oat mi!k Easter eggs for 2022. Choose from Salted Caramel, Plain Mi!k, Orange and White Raspberry. They are perfect for kids and adults alike!

Non-Chocolate Eggs
Letterbox Cheester Eggs
Available from Butlers Farmhouse Cheeses (RRP £8.50 + £4 delivery)
Buying for someone who hasn't much of a sweet tooth? Here's an egg-cellent idea.. We present to you Cheese Easter Eggs – or rather Cheester Eggs!
Pick from Blacksticks Blue Cheese or Cheddar Cheese; each half egg of cheese will come through your letterbox, delivered with some crackers and chutney to enjoy your cheese with.

Jelly Fried Eggs in Egg-Shaped Gift Box
Available from Farhi (RRP £9)
Handmade in Britain, these jelly and foam sweets are a treat for the taste buds and a delicious alternative sweet treat to chocolate. Presented in an egg-shaped gift box, we think they fit the Easter Egg bill!

Mini Easter Eggs
After Eight® Dark Mint Chocolate Mini Eggs Sharing Bag
Available from Tesco, B&M, Asda, Iceland, Morrison, Sainsburys, Spar and Wilko (RRP £1)
Give a minty chocolate treat this Easter…
After Eight has launched these limited-edition minty Easter Eggs. The individually wrapped eggs have a dark chocolate shell and peppermint flavoured fondant centre – perfect for those looking for a sophisticated treat this Easter.

Copperhouse Chocolate Box of 16 Vegan Mini Eggs
Available from (RRP £14)
From London's first vegan chocolate shop and cafe, Copperhouse Chocolate, comes a premium selection of mini egg gift boxes.
Sure to be popular is this mixed box of 16 mini eggs; it includes 4 chocolates of each flavour: dark chocolate with coconut-salted caramel, dark chocolate with peanut butter, oat-milk chocolate with coffee-liqueur caramel, and oat-milk white chocolate with hazelnut.

Milk Chocolate Praline Mini Eggs Luxury Gift Box
Available from Farhi (RRP £17.50)
This delicious selection of chocolate mini eggs are filled with a creamy, crispy hazelnut praline.
Presented in a beautiful gift box, and wrapped in beautiful pastel-coloured foils, this is the perfect Easter gift for those extra special people in your life.

Other Chocolatey Easter Gifts
While not strictly Easter Eggs, these chocolatey treats are perfect for Easter gifting…
Russell & Atwell
Available from Russell & Atwell (RRP from £30 for 2 jars)
These premium refillable jars of handmade chocolates (sadly no, not magic, you do have to purchase refill pouches!) make for a special Easter gift that can be posted to your favourite chocoholic.
These chocolates are made with delicious and sustainable ingredients – like fresh organic British cream, butter, and wildflower honey.
Pick from different varieties, including Creamy Milk Chocolate, Salted Caramel Chocolate, Dark, Extra Dark, and this year's new flavour: Creamy Hazelnut.

Creative Nature Bunny Droppings Jars
Available from Creative Natures Superfoods (RRP £5.99)
For something a little "extra" this year, Creative Nature has filled jars full of what they like to call "Bunny Droppings" (aka their best-selling Gnawbles!) Surprisingly delicious, given the name, these riced bites are coated with vegan chocolate, free from the top 14 allergens and containing up to 39% less sugar than the market leading brand.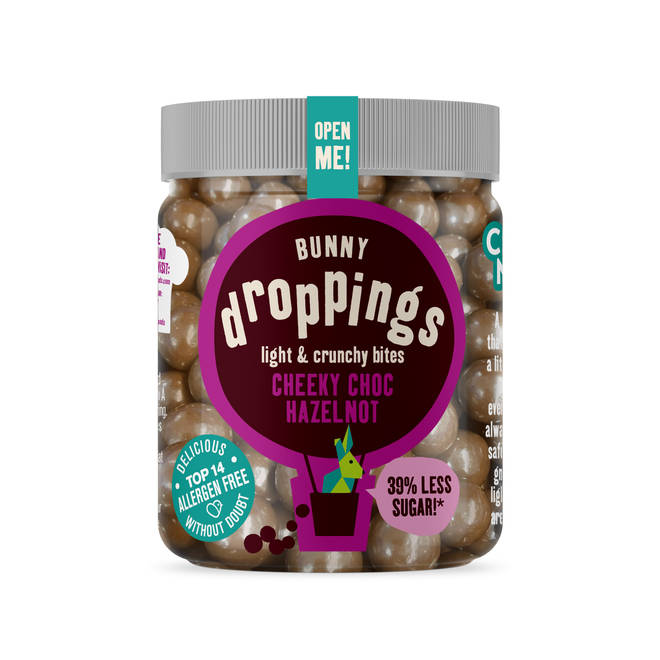 HAPPi Easter Bunny Oat M!lk Chocolate Lollies
Available from HAPPi (RRP £2 per lolly)
The ideal treat for your little bunnies, these oat m!lk chocolate lollies are rich and creamy, made with 47% single origin Colombian cacao.