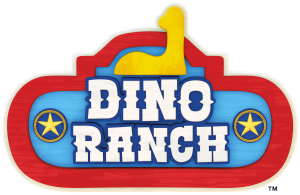 Howdy partners! It's Dino-vember – the month-long celebration of all things dino, and we're kicking the month off with the Dino Ranch Takeover. So, saddle up, we're off to the ranch! This is what you can expect in the coming weeks…
If you're not yet familiar with Dino Ranch, you'll be able to find out all about this action-packed "pre-westoric" adventure series for preschoolers. Set in a fantastical world where dinosaurs still roam, this is a super-fun show that little Rancheroos will LOVE!
With the festive period just around the corner, we've put together a gift guide, packed with Dino Ranch inspired goodies. Plus, we're sharing some Christmassy craft activities – Dino Ranch themed, of course! And that's not all… there are other interesting articles to digest, real reviews to peruse and there's a fabulous competition for a chance to win the ultimate Dino Ranch toy bundle!
And let's not forget our unmissable Twitter event for a chance to win stacks of Dino Ranch prizes!
So… stay tuned, this is a takeover that you won't want to miss!
Dino Ranch is available to watch on Tiny Pop, The Pop Player, Disney+ and YouTube.