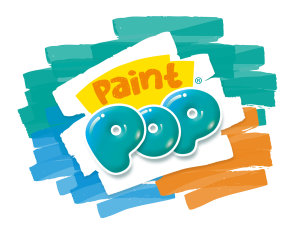 Join us and Trends UK as Paint Pop Paint Sticks take over on UKMums.TV!
Paint Pop Paint Sticks are a must-have for any art or craft fan, offering children a fun and convenient, mess-free way to paint away! Each chunky Paint Pop Paint Stick contains solid, colourful, water-soluble paint that can be twisted up and down – just like you would a glue stick! With this cool new brand, there really is no need for water or brushes, making painting a breeze for all involved!
So, if you have a child who loves to get creative, and you're on the hunt for some mess-free creative play ideas, you're in the right place!
As part of the Paint Pop Paint Sticks takeover, we'll be telling you all about the collection. We'll be sharing real mum reviews and some artistic masterpieces from our budding artists, plus we'll be sharing some terrific activities for you to download. And that's not all! There are some fabulous features to read through, competitions to enter, and there's the #PaintPopPaintSticks Twitter frenzy to look forward to!
So be sure to take a good look through our UKMums.TV website so you don't miss a thing.