Please note: this is a guest post by Charla at The Grateful Hearts Club.
It seems like there's no better time to think about gratitude, and with World Gratitude Day now here we asked Charla from The Grateful Hearts Club to share her top gratitude tips.
Express gratitude deeply. Always think about HOW and WHY you're grateful. Pin point exactly what brings you joy; this awareness will help you acknowledge the good stuff and see more of it. You're better off picking a few things and expressing your gratitude deeply than writing a big long list.
Start your day right. Does your day tend to go a little more smoothly if it starts well? Before you get out of bed, think about one thing you're grateful for and why. If you have a partner or a family, why not incorporate gratitude into their morning routine too.
Switch up your Thank You's. Replace every 'Thank you' with an 'I'm grateful because…' this helps you become more specific in what you're thankful for and allows others to do the same. Never underestimate how you might inspire others to be more grateful.
Make a habit that sticks. We all lead busy lives and would probably like to do less, so try and fit gratitude into your existing routine without changing too much. Let your loved ones know why you're grateful for them with a call, voice note or text, if you work with a team send your gratitude as part of an email or if social media is your thing, add a few comments to your posts to explain why you're grateful.
Night time gratitude. There's so much research that links gratitude with a better night's sleep. Why not use the time just before you go to sleep more wisely? Scan through your day and think about 3 things you're grateful for and why.
If you want to learn more, why not take part in The Grateful Hearts Clubs new gratitude workshop. An Introduction to Gratitude is designed to share easy ways to make gratitude a habit and give you all the support and encouragement you need while you do so.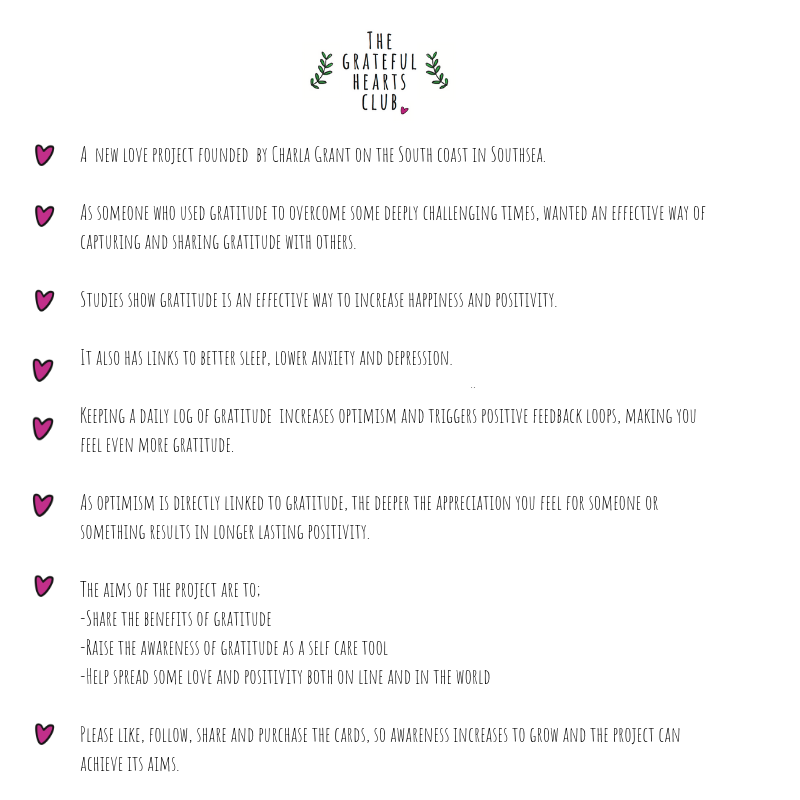 To celebrate World Gratitude Day Charla is offering readers free delivery on sets of gratitude cards using the code: FREEDELIVERY and anyone who subscribes to her newsletter will get a free gift in September. Follow@thegratefulheartsclub to find out more.