[AD] Here's our run down of the beautiful Peppa Pig wooden toy range, featuring classic toys from the range now made from sustainably sourced wood, that are sure to fire up little imaginations!
Play appeal is at the forefront of the product design and this fun range is sure to stimulate a child's imagination. But when play is done the pastel colours and soft styling means the toys look great on the coffee table too, making them the perfect instagrammable choice for any home.
Kids can open up Peppa Pig's Wooden Family Home (RRP £29.99) to reveal the multiple rooms and garden area. Beautifully decorated in yellow with a detailed painted brick roof and bold blue windows, this playset also includes a Peppa wooden figure and wooden furniture including a bath, oven, fridge, TV, bench seat. There are two tables, which can be turned upside down and used as single beds or can even be stacked to create bunk beds. The figure is scaled to fit any of the Wooden World sets, and features 'drop n play' feet so it can be easily slotted into the bench seat provided for stability and to promote hand-eye coordination.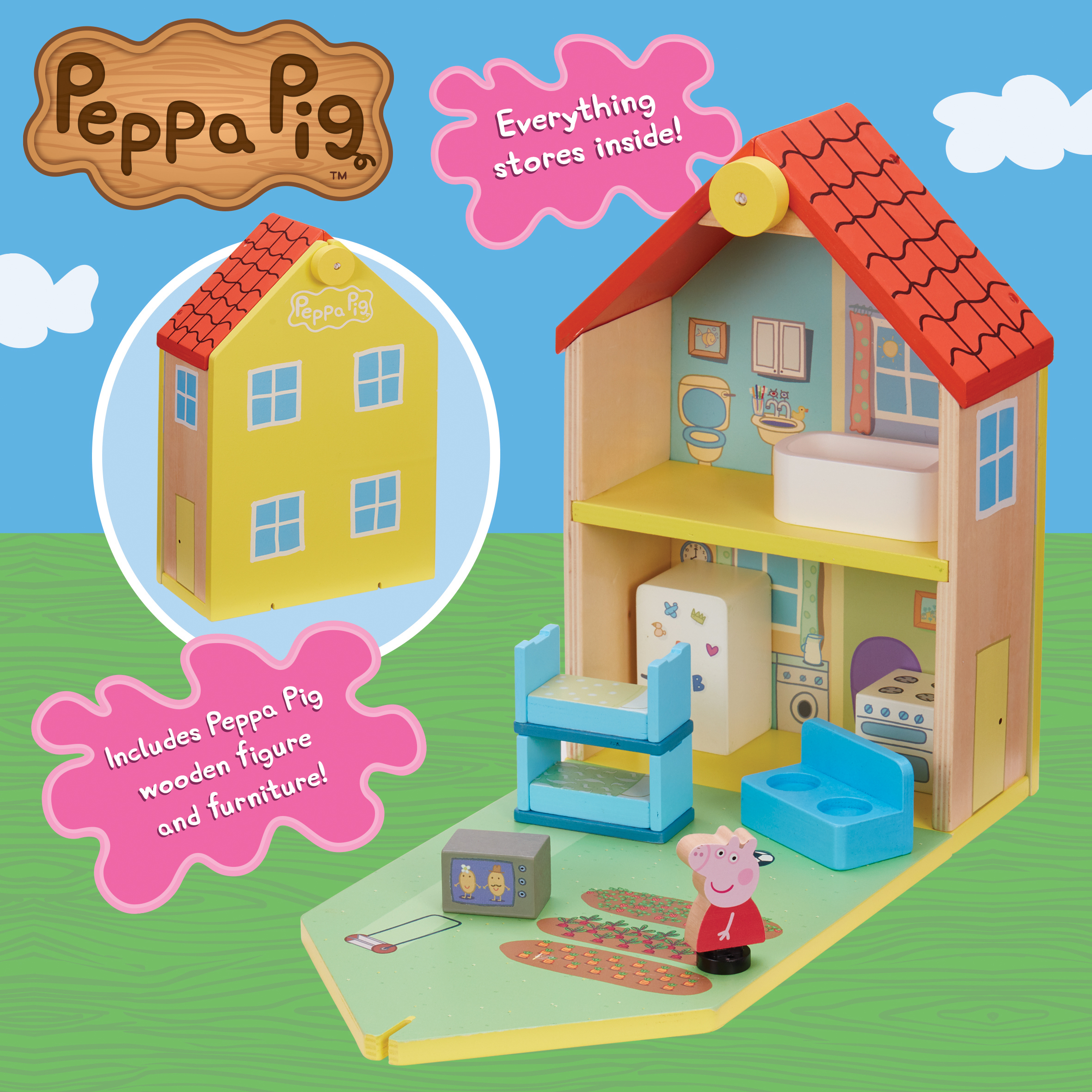 With Peppa Pig's Wooden Red Car (RRP £12.99) little ones can let their imagination take the wheel as they push along the floor and explore all kinds of destinations. It comes with a wooden Peppa figure with 'drop n play' feet which can easily be slotted into any one of the three available slots. Chunky and robust, this free-wheeling wooden vehicle inspires imaginative play, allowing storytelling skills to develop whilst having fun!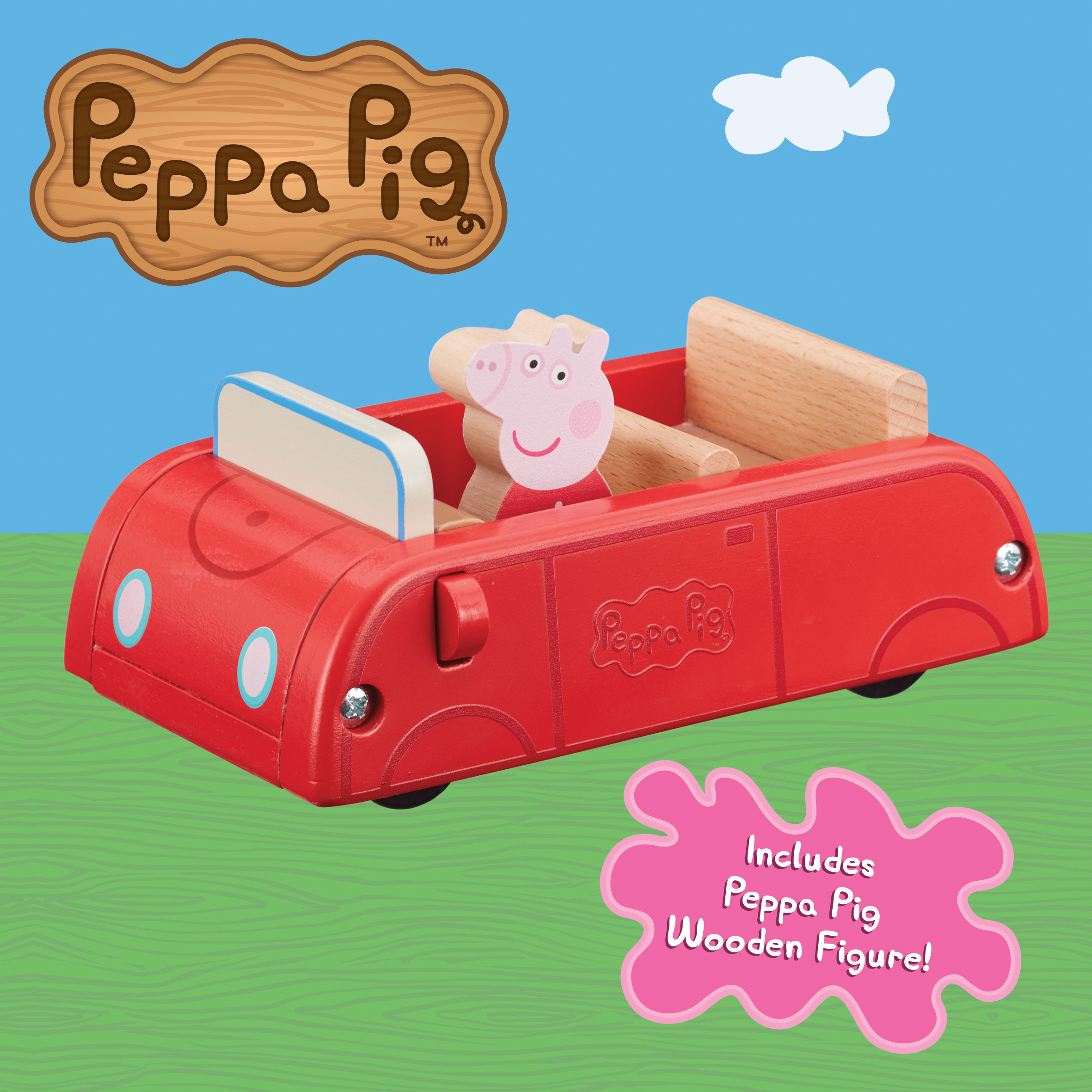 And if Peppa Pig is looking for passengers then what could be better than this chunky Family Pack (RRP £9.99) of four wooden figures. The set includes Mummy Pig, Daddy Pig, Peppa & George; each with their recognisable brightly coloured designs.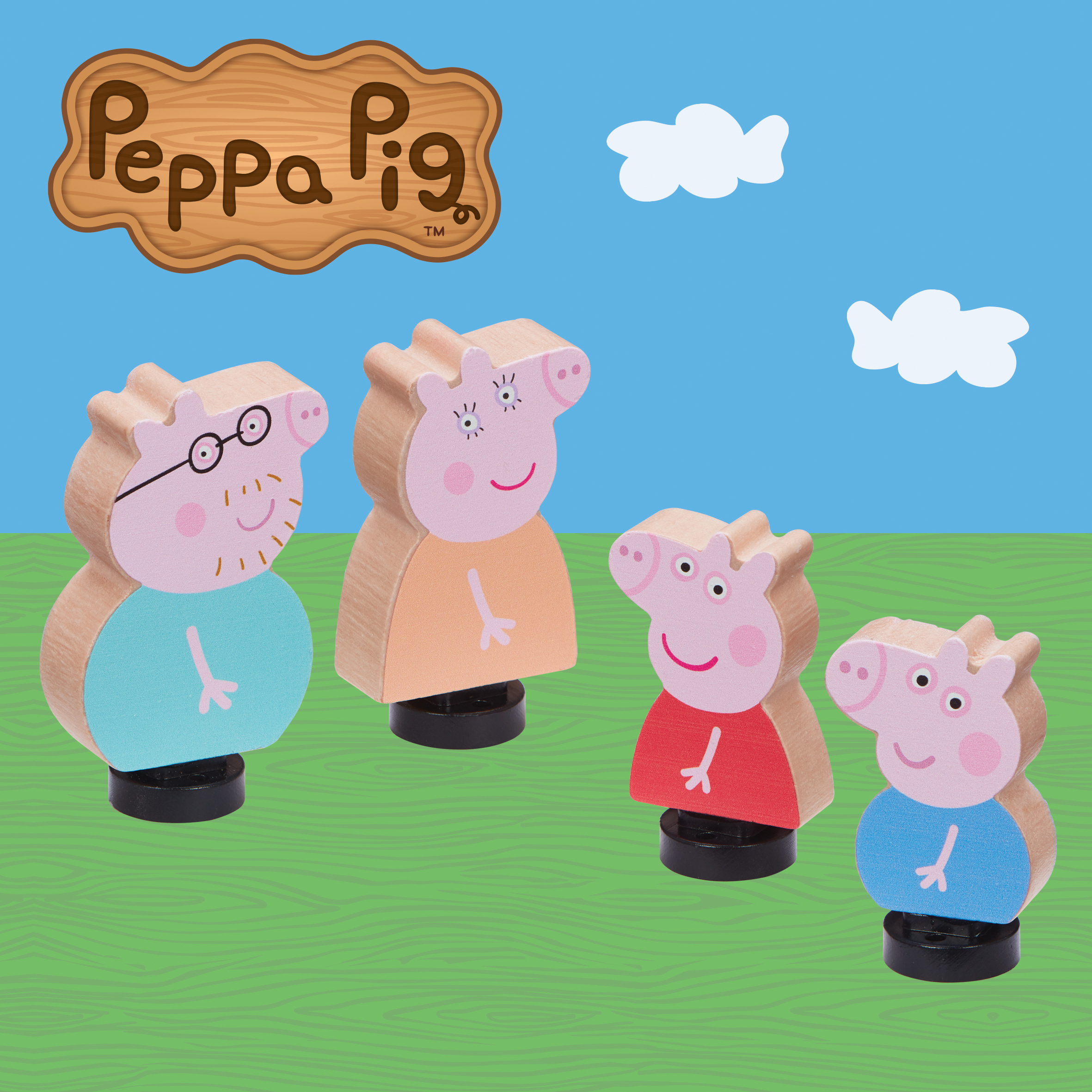 Who's ready to do some learning? Peppa Pig's Wooden School House is beautifully decorated and easy to open, and includes Madame Gazelle, Peppa and George wooden figures plus wooden furniture including a desk, bench seat, bookcase, and easel. The figures' 'drop n play' feet easily slot into the bench seat provided to promote hand-eye coordination. Just like with the Family House, after learning and fun time is over, everything stores inside for tidy play.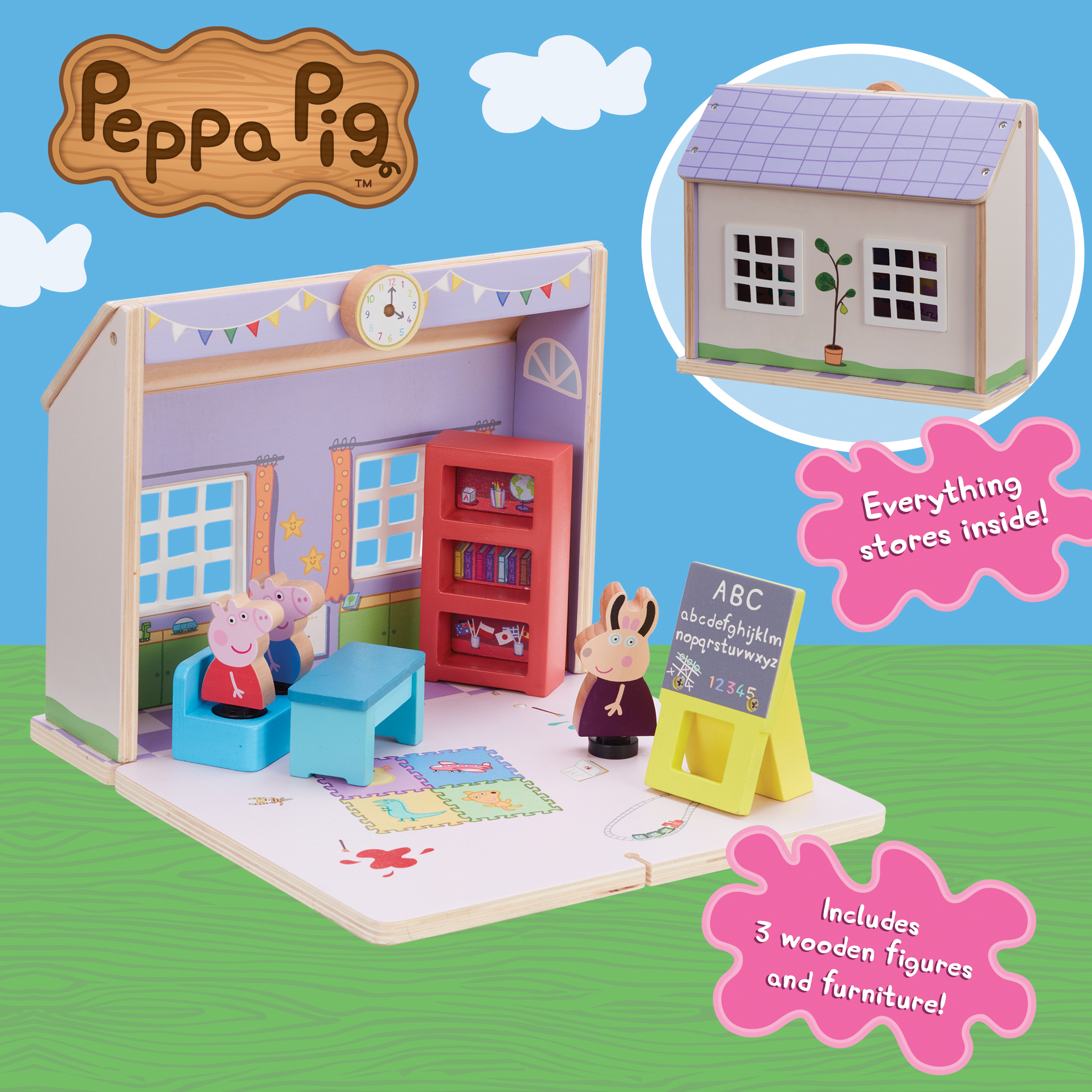 The journey to school is also "sorted" with the arrival of the Peppa Pig Shape Sorter School Bus (RRP £29.99)! Let kids' imaginations take the wheel as they push this vehicle along the floor. With four wooden shapes and four magnetic pictures, this activity playset promotes hand-eye coordination and shape and colour recognition plus the wooden Miss Rabbit figure is ready to take the driver's seat slot and drive the bus to and from the school.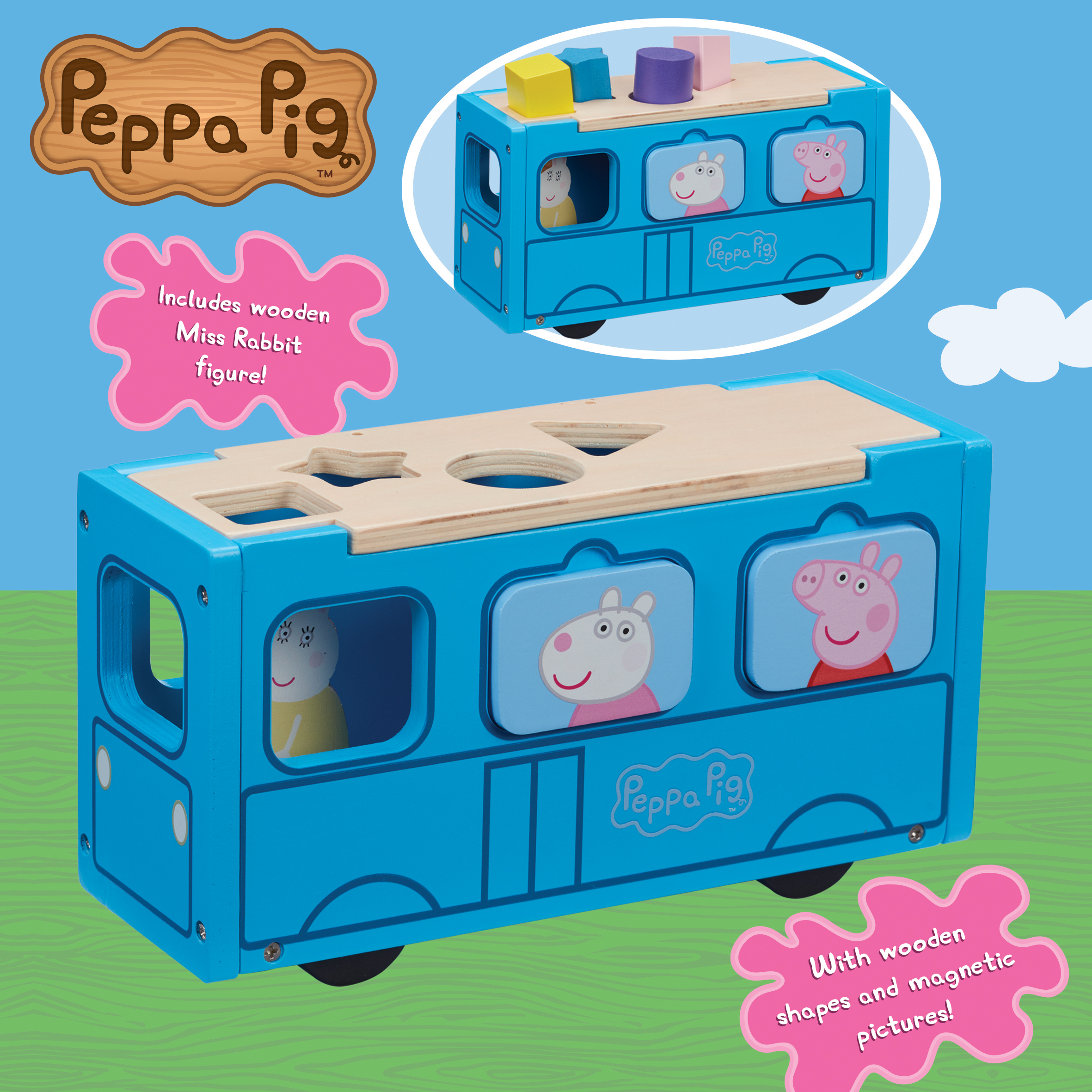 Other classic Peppa Pig toys are also available in the introductory collection including a whole host of vehicles that always prove popular with fans. Look out for the Peppa Pig Wooden Boat (RRP £14.99), Wooden Aeroplane (RRP £19.99) and a selection of Wooden Mini Vehicles (RRP £6.99).
Or why not book a ticket on the Wooden Grandpa Pig's Train (RRP £19.99)? This lovely set features a Grandpa Pig Figure in his bright red engine, two colourful carriages which couple together with magnets and smooth-rolling wheels. Little ones will love to push it along the floor and explore all kinds of destinations.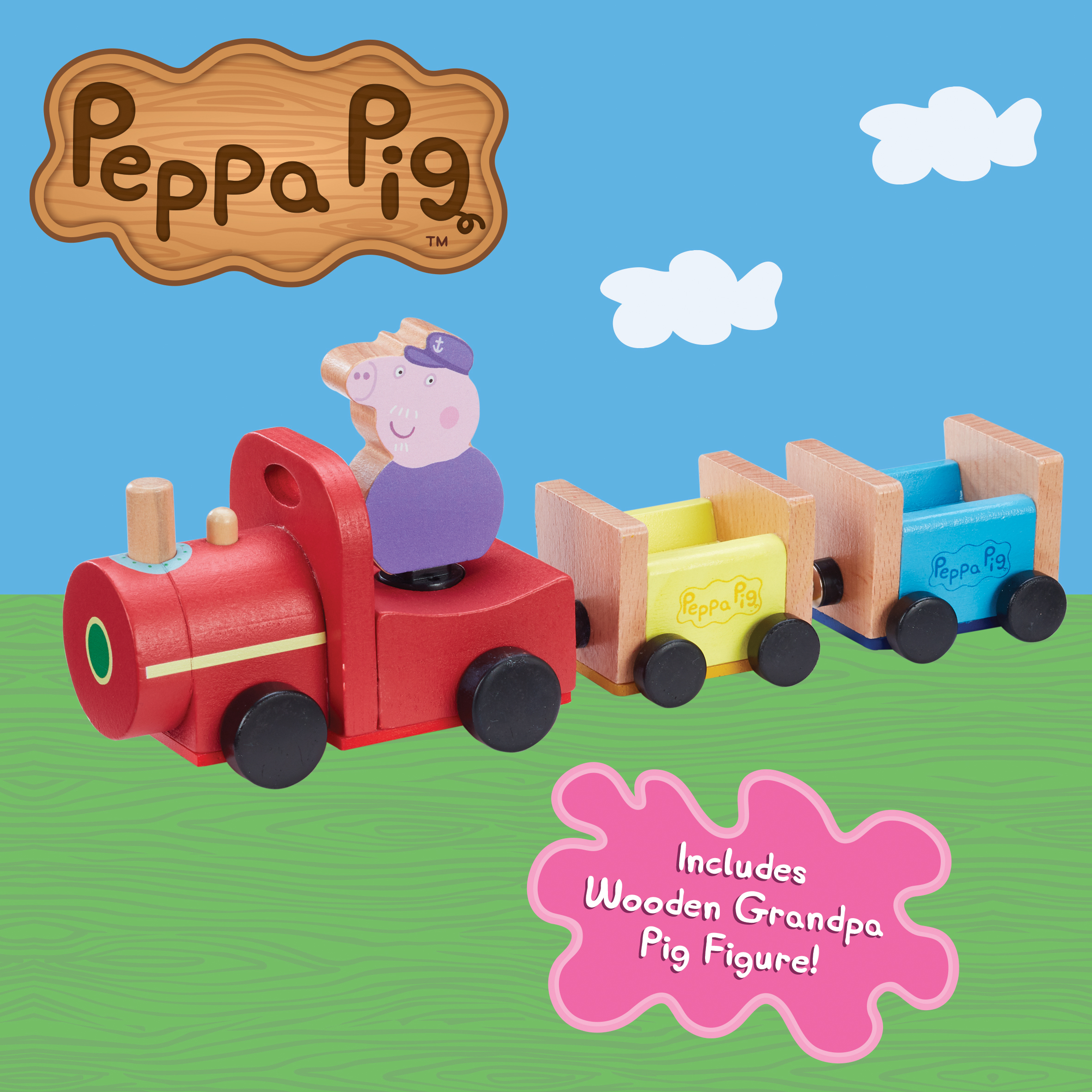 Each item in the Peppa Pig Wooden World of Toys collection is available from Argos and for the next few weeks you can benefit from a special promotion where by every purchase from the range will result in a free Family Figure set worth £9.99 . Just click here to find out more. Offer ends 26/06/2021.
Will any of these terrific toys be making their way home with you? Let us know by commenting down below or over on social media @UKMumstv!