This month's coffee-break interview is with not one but two brilliant children's authors Dave Woods and James Butterworth.
We find out about their innovative new series of books — BE HELD — which is hailed as 'parenting help in disguise'!
Plus they give us the low-down on their writing process and how they co-create their books.
Generally, in our 'Meet the Author' feature, we ask the author to describe themselves in three words; for readers who are yet to discover their books.
But as you co-create your books, we thought it might be fun for Dave to give three words that best describe James… and vice versa.
James on Dave: PASSIONATE. INVENTIVE. OPTIMISTIC.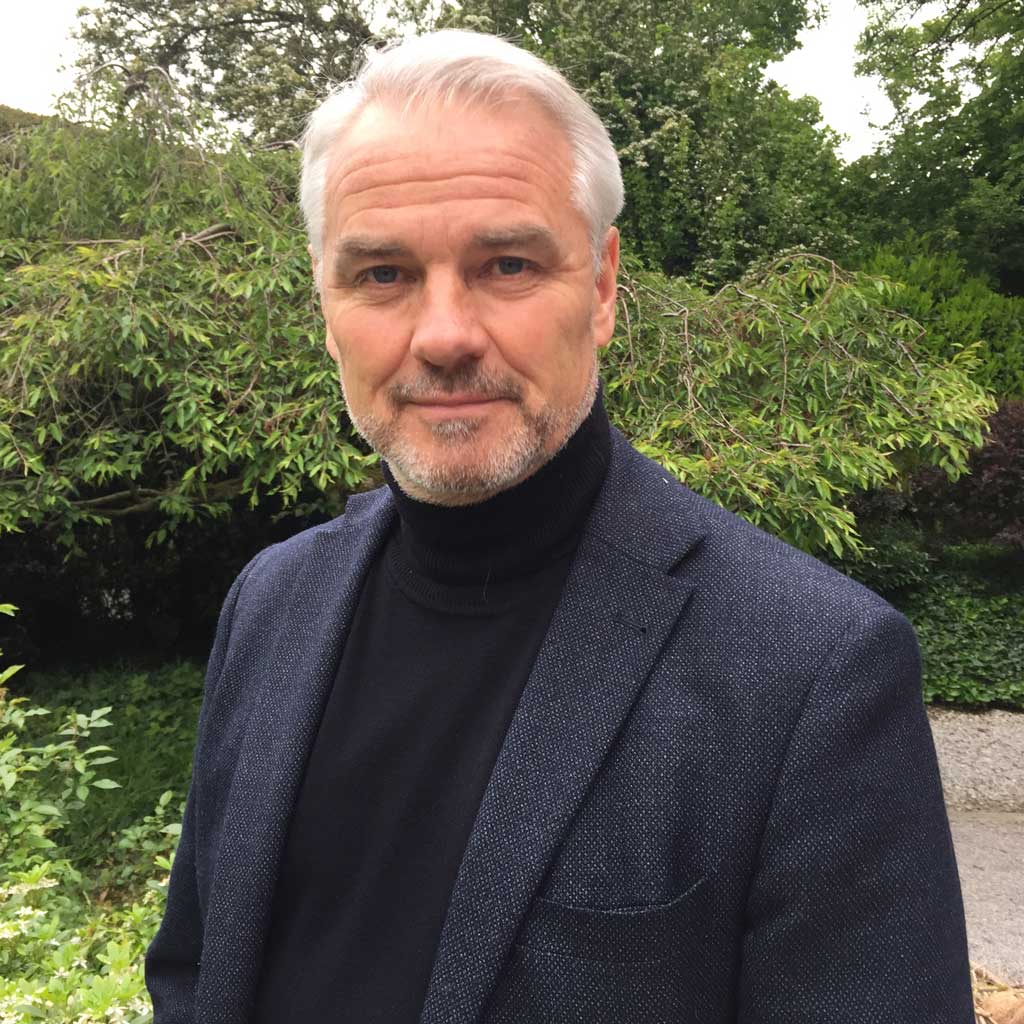 Dave on James: DETERMINED. VISIONARY. RELENTLESS.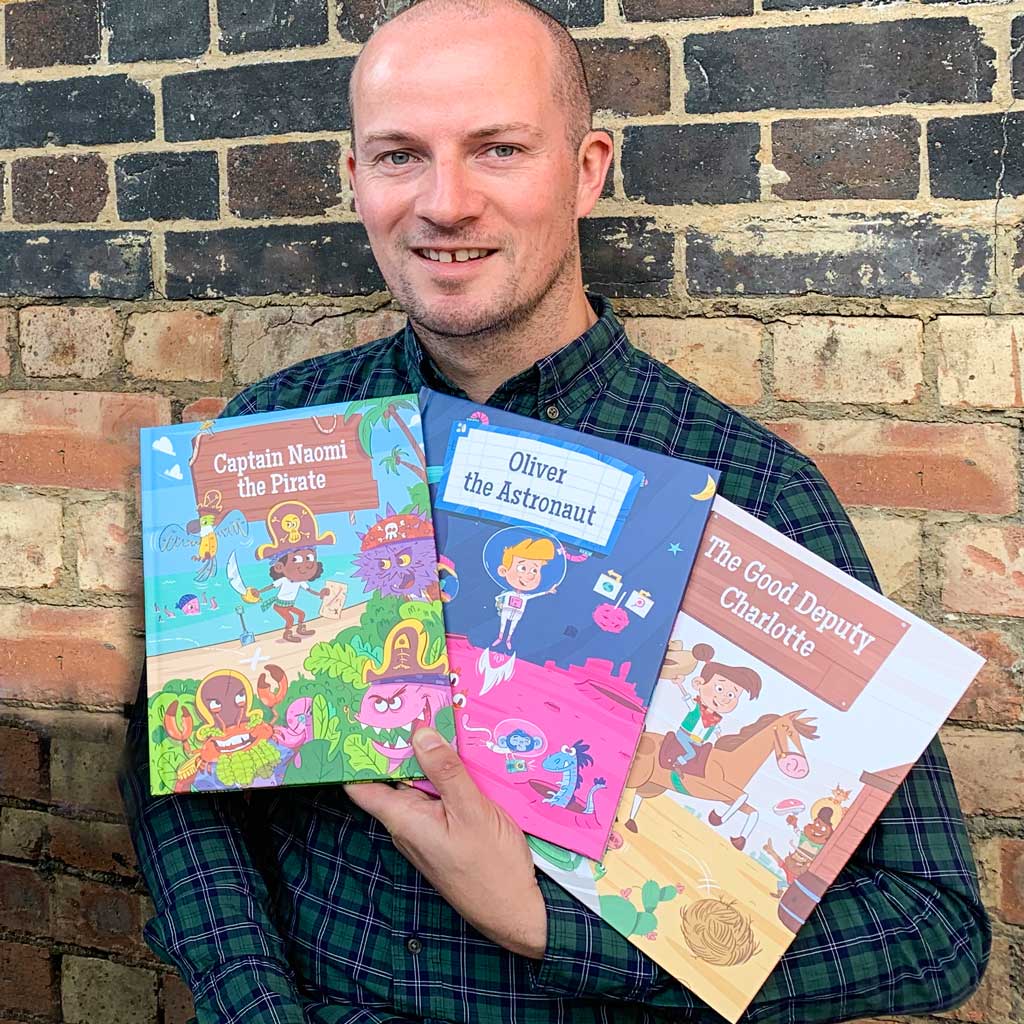 How – and when – did you first meet?
James: Chance threw us together about 4 years ago.
We were both independent advertising creatives (Dave a writer and I was an art director/designer) and were paired as a team up at an ad agency located near the Tate Modern.
Dave and I clicked immediately; both as creatives and as dads.
We had (spookily) similar hobbies, values and passions. Before long, we were both talking with enthusiasm about our own hopes and dreams – both of us wanting to do something meaningful outside the world of advertising. To have a positive impact on our kids' generation.
A bond had been forged.
And we agreed to stay in touch once our one-month project ended…
Who first broached the subject of writing a book together?
Dave: Fortuitously, James' first job — after we'd gone our separate ways — was at a publishing house, dabbling in personalised books.
James also knew I had already written children's books and was still actively writing stories as a hobby (writers write, right?).
At our first get together on a night out on The Strand, James mentioned the incredible new technology being developed around personalised publishing.
I agreed there was an opportunity for something special and we started brainstorming that very night.
Our conclusion was that personalisation could work much harder than just a child's name and an avatar in a book.
We envisioned 'Personalisation with Purpose' – and the concept of Be Held was born.
Not a book, but a series of books. Created to help parents as much as children.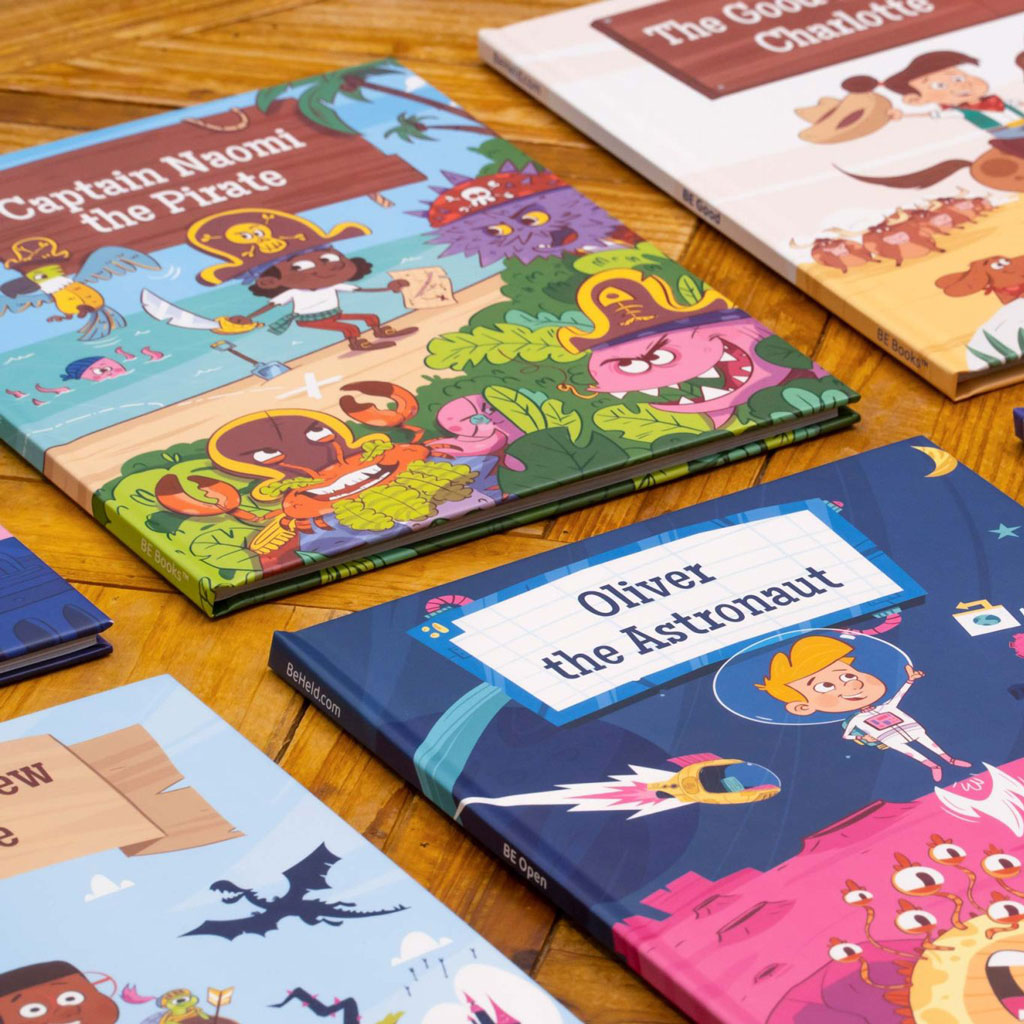 How does your writing process work, with two of you having input? Do you write independently – or together?
James: For our first series, we brainstormed what we wanted to achieve over several sessions. Which was to:
Support Parents
Inspire Children
Empower Families
The BE Books™ were conceived, with each story would championing a different value that matched our own hopes for our own children.
Then Dave went away and started writing a whole raft of possible story structures over the next few months.
Regular reviews and further brainstorming sessions together confirmed the favoured (and unique) two-tier storyline structure, which was a crucial breakthrough.
There are a fair few 'personalised adventure books' available to buy these days — what makes yours stand out from the rest?
Dave: Our stories place children as heroes in popular themes like Astronauts, Pirates, Cowboys, Knights and Superheroes.
But that's where the similarities with any other books end.
Primarily, our stories are personalised around important values: like BE Open, BE Yourself, BE Good, BE Brave and BE Healthy. That's why they're called the BE Books™.
They're designed to gently help 'Storytime' become a forum for parents to touch on some of the pain points that all children experience.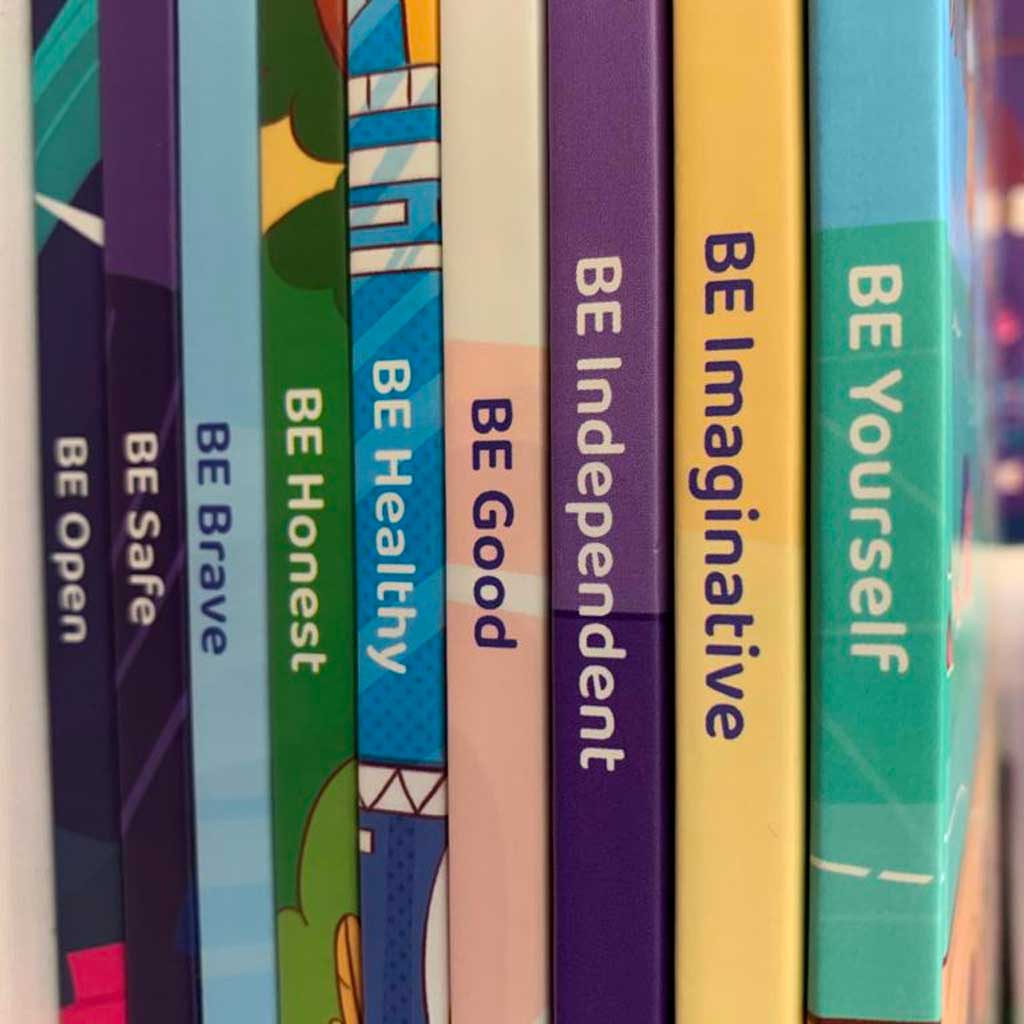 For example, for the BE Brave value, the two parallel tales are as follows:
The wish-fulfilment story is a (personalised) Knight going on a quest to find their own bravery.
The real-life story is the same girl or boy having to find their courage to visit the dentist. The real world is the springboard for the fantasy quest. All around the value of finding true bravery. Not by being big and strong, but by finding the inner courage that lies within all children.
The BE Books™ also have a suite of other narrative devices to help keep child and parent immersed in the story, including the Storytelling Progress Scale which lets the child see their character's progress as the story unfolds.
This would be the Bravery Scale in the BE Brave book.
We know you're both from a creative background, in advertising, but have you both always secretly (or not so secretly!) aspired to be authors?
Dave: Yes! My writing hobby was sparked into life when my first child was born.
The books I wrote for my daughter Florence, and her siblings Daphne and Gregory are now part of Hachette's educational book series, called Pocket Heroes, which are now distributed across UK schools and libraries.
James: I've always aspired to run my own business. One that could make a difference. One that could grow through partnerships.
Since Be Held was created, I've modified that mission to put the power of positive change into every child's hands through the power of storytelling.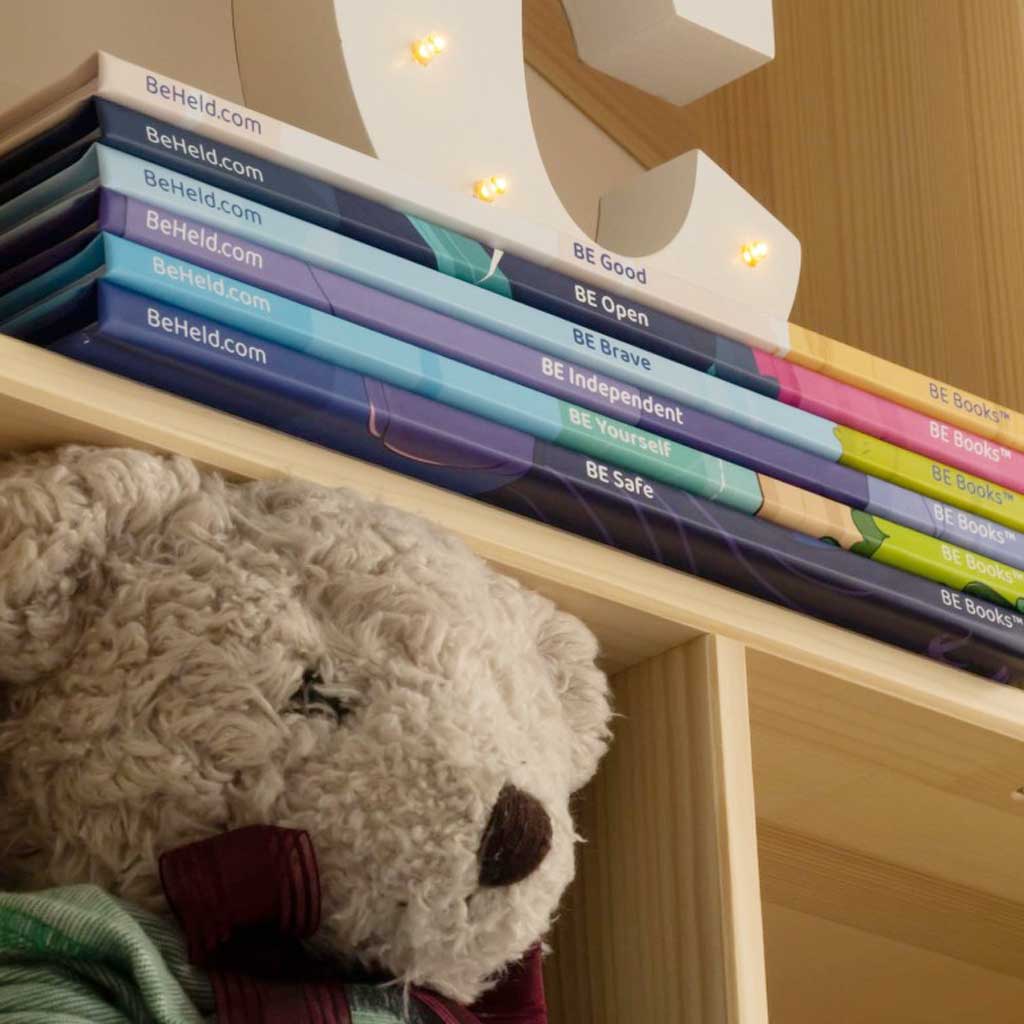 Have the topics in your books evolved from experiences that you struggled with particularly, as parents?
James: When we first met, we immediately shared concerns about the complex challenges facing parents, children and families in today's information age.
The distractions of screen time. The perils of social media. The difficulties of getting our own children to immerse themselves regularly in physical books.
Bullying at school. Bullying online. But also the wonderful power of the Storytime Ritual to cocoon, inform and inspire both child and parent.
All these emotive ingredients, and many more, were the recipe for the BE Books™.
Dave — of the whole 'Be Held' series — which book is closest to your heart (and why?)
Dave: That's the hardest question yet! But it would have to be the BE Yourself book.
The front cover would say Captain 'Jo' the Pirate (or whatever the child's name was).
The two parallels stories here are both around treasure hunts. The wish-fulfilment story is a search for 'the Buried Treasure' across The Seven Seas. And the real-world story is a 'Treasure Hunt' across a children's playground.
It was a joy to write as all the swings, slides and rides that all young children are so familiar with inspired some fantastic scenarios for them to then enjoy in the fantasy story.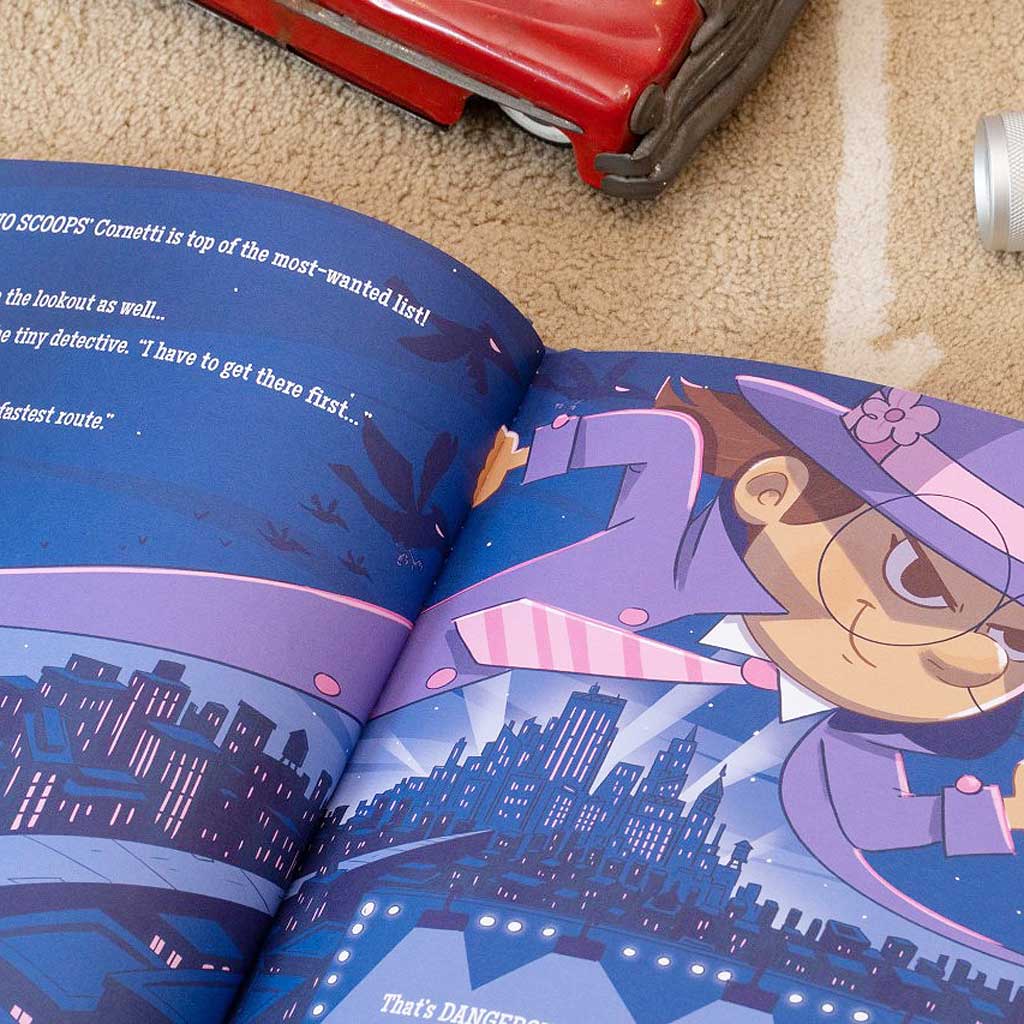 James, the series of Be Held books cover some quite grown-up themes— diversity, welfare and integrity, to name a few — how do you translate these topics, for small children to understand?
James: Having children of my own (currently aged 5 and 8), I've become naturally (and through necessity) 'tuned in' to the concepts and vocabulary they can absorb, and make sense of.
I believe writing for children is far more difficult that writing for adults.
There are different bands of comprehension for younger children, whereas adult generally grasp anything you throw at them.
We worked hard and tested our stories to make sure our ideas resonated with both parent and child.
Are you currently working on any more books? Will there be more titles to come in the Be Held series?
Dave: Very much so. It's all very exciting.
Over the last four years, we've planned a suite of other series.
Again, aimed as much to support parents as to inspire children. There are many more values to be explored in the BE Books series – which are already mapped out – especially around disadvantaged children.
And we have a suite of other series, also mapped out, that offer further 'Personalisation with Purpose'.
These will explore other meaningful angles across a variety of children's age groups. No spoilers yet, though…
James, what would your superpower be? Or do you have a human quality that you consider to be a superpower?
James: To be many people at once (think 'Legion')! In order to do all the things Dave and I want to do for Be Held — and being the father of two demanding young boys of 5 and 8!
And, finally, Dave — who would play you in the movie of your life?
Dave: I actually bounced this question off my eldest daughter, and she immediately said the actor, Tom Holland; as whatever role he's playing in he always exudes lots of energy and boyish enthusiasm.
Which sums me up perfectly. I throw myself into everything I'm doing as if I was still a kid!
_______________________________
Thanks so much Dave Woods and James Butterworth. We really enjoyed finding out a little more about you.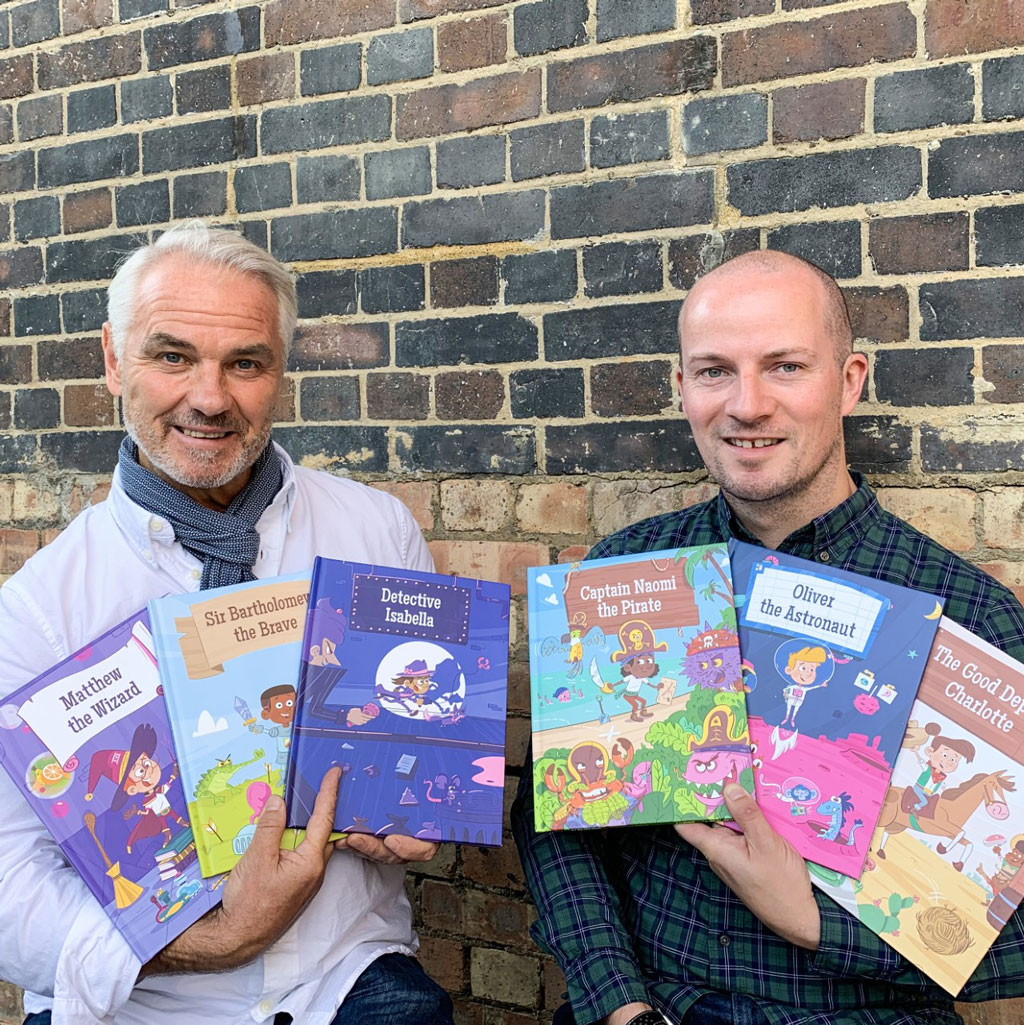 You can find out more about the series of BE Books™ over on the Be Held website, where you can also personalise and purchase the books.
---
Next month we chat with children's illustrator and author Chris Naylor-Ballesteros.