This week, we sat down for a virtual coffee with Jion Sheibani, the writer and illustrator of the children's book series, The Worries.
The Worries is the illustrated book series that aims to balance fun, child-focused storytelling with a gently important message about not letting your worries get the better of you, covering different topics and worries in each book. The second book in the series, which is brand new, having published on 19 August 2021, follows Jaz as she faces the changes a new sibling will have to her family life.
But how was The Worries series born and why is it important to address the emotions of worry and stress with young children? We sit down with Jion to find out more!
How was The Worries series born?
I was looking for a book for my son who was seven at the time and while there were lots of picture books out there about Worries, there wasn't much beyond that age range. It was important for me to create something parents could read aloud with their children, but also something comforting and fun enough for children to read on their own as well.
Why was it important for you to address the themes of anxiety and stress with young children?
Because anxiety is such a big, complex thing that affects all our lives and we all have such different ways of manifesting it. It makes so much sense to start learning and talking about our mental health much earlier on, so we have happier children and later, happier adults! Understanding other people's worries as well as our own is also key to developing empathy skills, which we all know makes for happier communities!
Why do you feel children's books are a good way to bring up these important themes?
Stories can be completely absorbing and make us experience a character's journey as if we've lived it ourselves – there are fascinating brain studies on this. So we can think of a book as a safe way to explore difficult (and pleasant!) emotions and prepare children for their own emotional journeys – it's like giving them lots of cool maps!  Children have such a brilliant sense of humour and adventure, so these journeys can be really fun, not heavy and serious as we adults can often become. I hope kids remember this as much as possible later on. I think stories have a really special and powerful way of preserving that memory.
What experience did you draw on whilst writing these books?
Like most writers, a lot of my experience. As a parent, as a teacher and as a person who worries, like everyone else! I also read lots of books about anxiety and the brain when writing book one (The Worries: Sohal Finds a Friend). As a slightly frazzled working mum, a lot of it didn't actually stay IN my brain but I like to think it informed the story in some subliminal way. My favourite was The Whole Brain Child by Tina Payne Bryson and Daniel J.Siegel.
Tell us about the first two titles in the series
The first book (The Worries: Sohal Finds a Friend) is about a boy called Sohal who worries a lot. He gets called a worrier but doesn't like that because it sounds worryingly permanent! One day he draws his worries and they come to life and follow him around, causing all kinds of fun mayhem. Eventually he makes a friend (Jaz) and finds ways to keep his worries in check. An important part of that journey is Sohal realising everyone has worries, even (especially) the boy who bullies him, so he's not as strange as he thinks! Book 2 (The Worries: Jaz and the New Baby) isn't a sequel but it follows Sohal's friend Jaz on her exciting but difficult journey of becoming a big sister. It was so much fun to draw her main worry…I wonder if your readers can guess who that might be!?
Can we expect additional titles from The Worries series in the future? If so, what topics are you keen to cover?
Yes, hopefully lots more! I'd like to cover all kinds of topics – disability, racism, gender "norms"… Anything that could be a source of anxiety for children. It's important to me that the series be as inclusive as possible.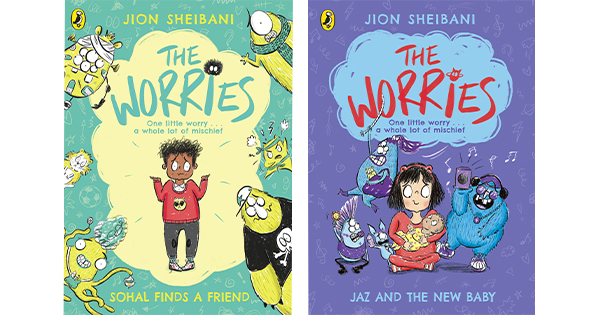 Love the sound of The Worries series? The Worries: Jaz and the New Baby, and The Worries: Sohal Finds a Friend, written and illustrated by Jion Sheibani, are available now: https://www.penguin.co.uk/books/316852/the-worries–jaz-and-the-new-baby/9780241438633.html
For a fun and gentle way of approaching the subject of worrying, check out this brilliant activity sheet designed by Jion. Click the link below to download and print!