Care Bears, the iconic, huggable best friends, have been cherished by fans of all ages, for over four decades! And now, the beloved Care Bears BFFs are no longer just for hugs at home they are now available in a brand-new MINI size! These Lil' Besties will steal your heart with their adorable expressions and fun action poses all wrapped up in a surprise reveal mystery box!
Care Bears Lil' Besties Surprise Figures – RRP £3.99
Available now, from Tesco
It's time to experience the magic of sharing and caring like never before with Care Bears Lil' Besties Surprise Figures. All your favourite, lovable Care Bears BFFs are now in MINI and can't wait to play with you!
Each Lil' Bestie Surprise Figure comes as a surprise reveal blind-box and hiding inside, is a cute Care Bear as well as two fun accessories for your new little pal to play with.
There are 50+ Lil' Besties figures to collect; each features different expressions and fun action poses.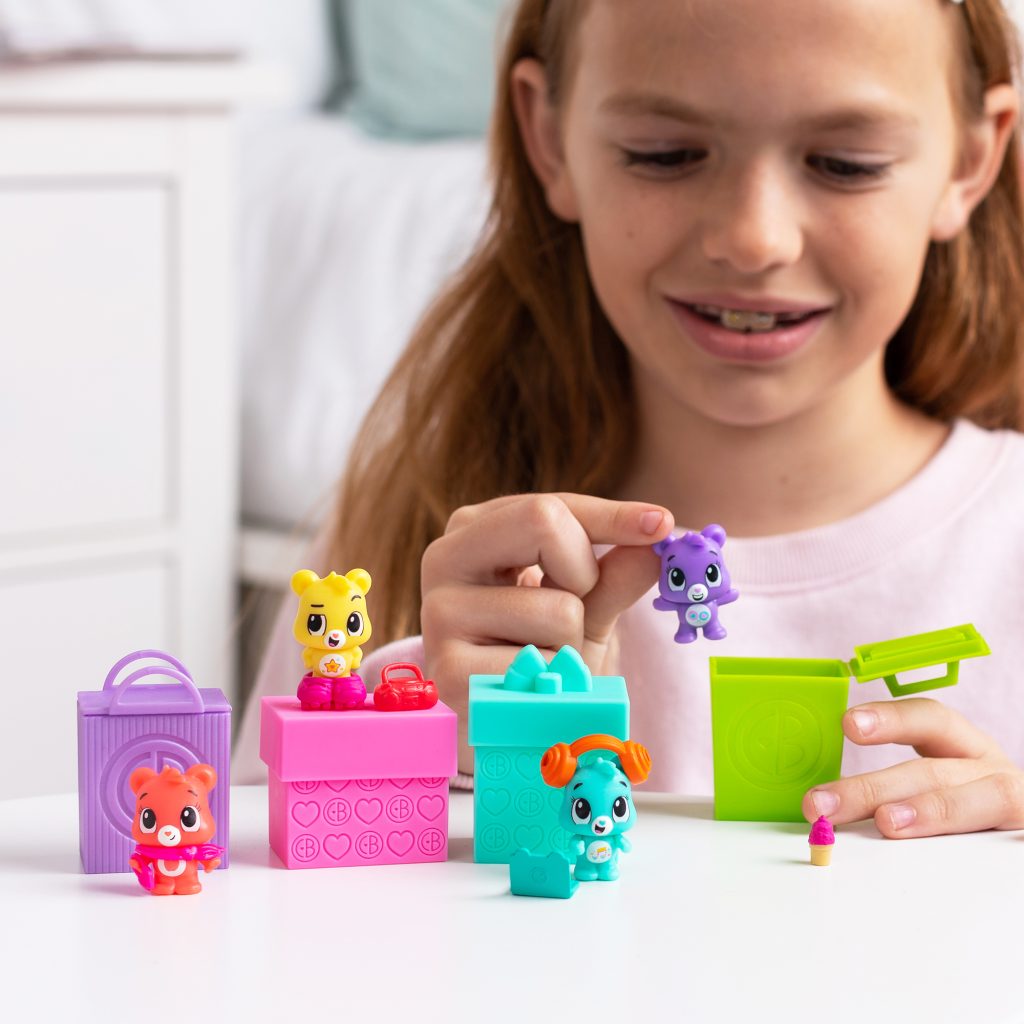 Care Bears Lil' Besties Surprise Cubbies – RRP £7.99
Available now, from Tesco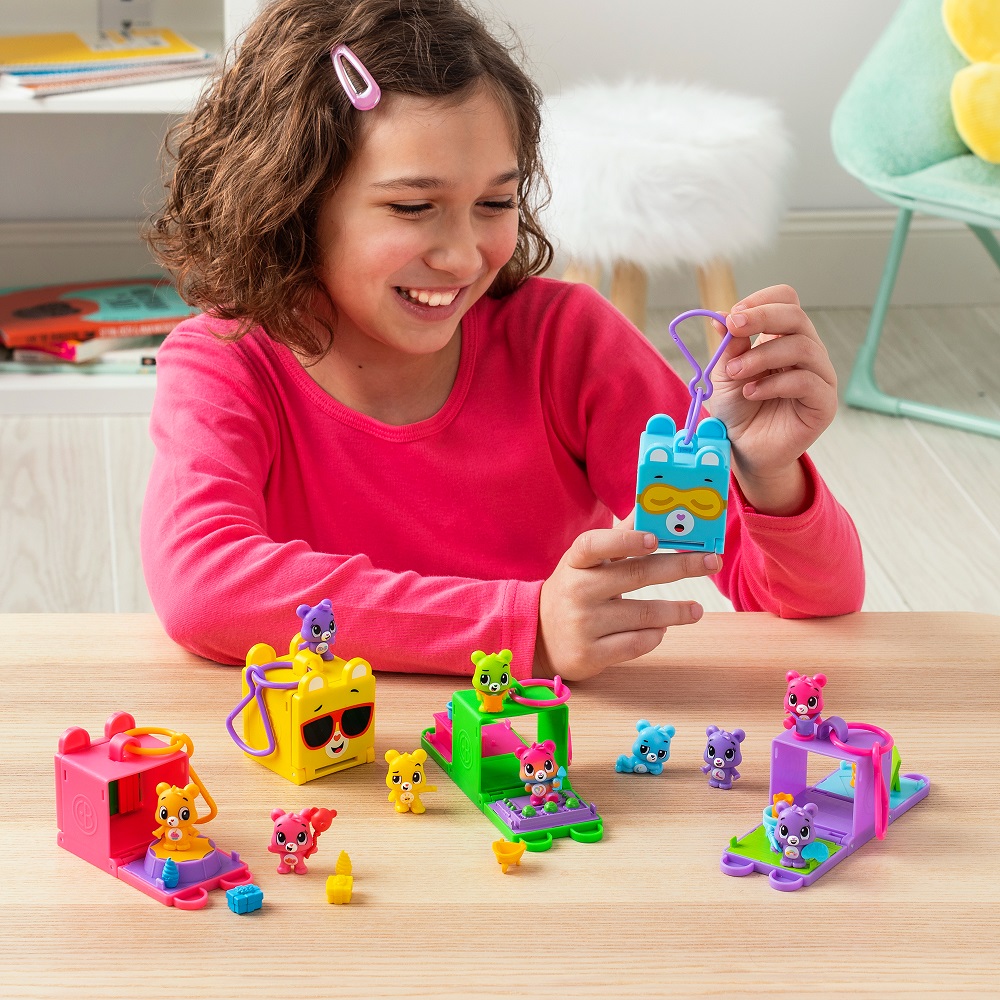 Lil' Besties Surprise Cubbies are mini playsets that offer fans a miniature world to play with their Lil' Besties. Each Surprise Cubby comes with two Care Bears Lil' Besties figures and over 10 cute, colourful accessories. The sides of the cubby fold down to reveal two hidden mini rooms inside, for magical 360-degree play! When on-the-go, the sides can be folded back up, and clipped onto your backpack making the cubby travel ready!
Care Bears fans will be rushing to collect all 10 colourful Care Bears Lil' Besties Cubbies to expand their miniature world. There are lots of fun themes to find, including a karaoke station, pool lounge and more. Clip the cubby to backpacks and more – ready for play on the go!
A recap of the existing Care Bears Plush Collection
Care Bears Lil' Besties are the perfect complement to the wider soft toy collection, which now comprises 50+ Care Bears across different sizes and characters!
Launching soon is the beautiful Care Bears Glowing Bedtime Bear Limited Edition (pre-order from G3 Toys). This unique plush pal, with rich blue velvet fur and gold star accents, is lighting the way with his unique glowing feature, that radiates out from around his belly badge.
Also coming soon is Dare to Care Limited Edition (pre-order from G3 Toys). This go-to guide for being kind features a luxurious golden quilted fabric, plus glittery silver accents on her mouth, ears, and belly badge. As an added bonus, she comes with a 12.5cm Dare to Care Bear collectible.
Then, feel the power of positivity with the Hopeful Heart Bear Collector's Edition Set (available from Game). For a limited time, this bestie is available with dazzling silver fur, heart-shaped gem nose, sparkly silver eyes, ears and paws, and her glittery belly badge! She comes with a collectible figure.
Be sure to keep an eye out for two other special bears, launching this autumn. Always Here Bear is the big-hearted blue and white bear with heart-shaped paw pads is made from recycled plastic bottles. He believes everything is better when shared with loved ones. There's also Destiny Care Bear, who is bold, kind and inclusive. This bear's fur is a vivid magenta – the 2023 colour of the year!
Prices start at just £3.99 for the Care Bears Micro Plush 7cm collectibles. Plus, there's the brand-new Care Bears Peel & Reveal Surprise Figures (RRP £5.99), which offer Care Bears fans an exciting surprise-reveal experience. Each pack contains a Care Bears bestie that's covered in a bright peelable coating – each based on two BFF Care Bears remixed into one unique figure. Simply peel away the coating to reveal which of the 15 characters have been collected. And not to forget the adorable Care Bears Bean Plush characters, which at £9.99 RRP also make an easy pocket money grab.
Head back to the main Care Bears Lil' Besties takeover page to continue the fun.