Happy St Patrick's Day to all our Irish readers! If you're looking for a fresh way to toast St Paddy, why not try our delicious 'Ellis Lucky Clover' using fragrant Ellis No.1 Zesty Gin, to create the perfect St Patrick's Day Cocktail!
But Who Was St Patrick?
St Patrick is the patron saint of Ireland and one of Christianity's most well known figures.
But despite his notoriety, his life remains somewhat of a mystery.
Was St Patrick Actually Irish?
It is said that Patrick was born in Wales — not Ireland — to wealthy parents near the end of the fourth century. It's thought that he died on March 17th, around 460 AD. But incredibly, even though he's the patron saint of Ireland, he was never canonized as a saint.
There is no evidence to suggest that Patrick came from a particularly religious family either. Although his father was a Christian deacon, reports suggest he probably took on the role because of tax incentives, rather than religious beliefs.
Not much is known about his early life. Although it's believed he was captured and sold into slavery by a group of Irish marauders that raided his family estate. He was enslaved for six years, during which time he lived and worked an isolated existence as a shepherd.
St Patrick's Miracles
According to the History website, young Patrick finally managed to escape his captors and – according to his writings – a voice spoke to him in a dream, telling him it was time to leave Ireland.
He escaped to Britain, then experienced a second revelation. He dreams an angel tells him to return to Ireland as a missionary. Then began religious training that lasted more than 15 years. 
After his ordination as a priest, he was sent to Ireland with a dual mission: to minister to Christians already living in Ireland and to begin to convert the Irish.
A St Patrick's Day Cocktail – Ellis Lucky Clover
Although Guinness is synonymous with Ireland, 'the black stuff' is not to everyone's taste! The clever mixologists at Ellis Gin have created the perfect St Patrick's Day Cocktail.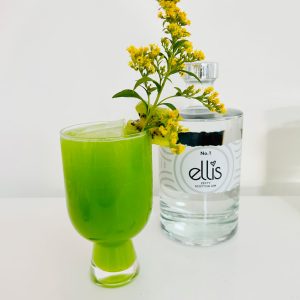 The 'Ellis Lucky Clover' – A St Patrick's Day Cocktail
The perfect alternative to Guinness this St Patrick's Day. Why not treat yourself to the luck of the Irish, with this delicious gin based cocktail.
Ingredients
50ml

Ellis Zesty Gin

25ml

Blue Curaçao

100ml

Pineapple juice

100ml

Orange juice

Kiwi fruit to garnish

Ice
Instructions
Add all parts to a shaker and shake, shake, shake!

Strain into your glass over ice

Garnish with a slice of Kiwi fruit
Main image courtesy of Darlene Alderson