Whether you're a new proud parent or are expecting a little bundle of joy, we've rounded up just some of our must-have baby products to help you along the way of parenthood.
This week we will be compiling an A-Z guide on baby items that are essential for new and expectant parents.
A-E
Alphabet book – Isn't it funny how we are putting together an A-Z guide on the best baby items for you and we start with an alphabet book! When your little one is a little bit older an alphabet book will help them to get to grip with the basics. We love the My First ABC: Ladybird Learners book (RRP £4.99) that will give your little one a great introduction to learning the alphabet and extending their vocabulary through beautiful and colourful illustrations.
Bottles – Switching from breast to bottle feeding has never easier thanks to the Tommee Tippee Closer to Nature bottles (260ml x 6 RRP £33.99). With cute new designs and unique breast-like shaped teats, this bottle and teat set are ideal for comfortable and relaxed feeding.
Crib – As every parent knows your little one will need somewhere to sleep, so why not invest in The SnüzPod3 (RRP 199.95, pictured). The SnüzPod3 Bedside Crib was launched earlier this year and it has been expertly designed to make the UK's favourite beside crib even better. The crib has a minimalist look and is available in a variety of neutral colours including 'Dusk' 'Espresso' and 'Dove Grey' which makes it a perfect addition to any room, it's also great for those parents who are decorating a nursery and don't want to know the gender of their baby.  For babies who struggle to get to sleep the new and improved SnüzPod3 features a reflux incline, a rockable stand to help drift them off to snooze-ville, a wider and lighter lift-off bassinet for use around the home and dual view breathable mesh sides, so you can see exactly what your little rascal is up to! It's the perfect sleep solution for newborn babies to those aged 6 months.
Dummy – When your baby needs soothing or help getting to sleep and cuddles just won't cut it with them why not try a dummy otherwise known as a pacifier, comforter or a soother. Babies have a natural sucking reflex that helps to calm them which is why giving your baby a dummy to suck on has become a known way to soothe a baby. For little ones who are yet to find them thumbs or fingers, some babies will find comfort from a dummy when they are tired or in pain. Take a look at websites such as Mothercare, JoJoMamanBebe and John Lewis where you'll find plenty!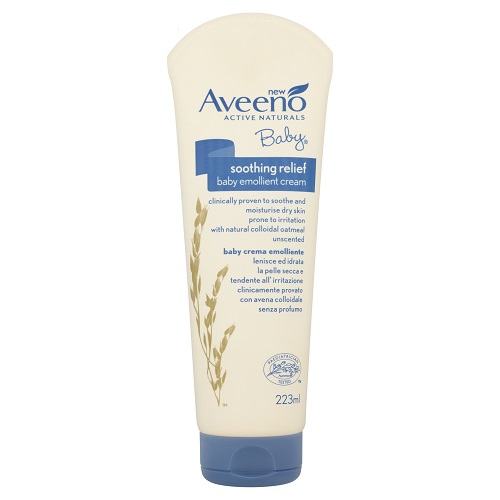 Emollient cream – The AVEENO® Baby Soothing Relief Emollient Cream (RRP £8.50/223ml) is a part of  the Soothing Relief range range and it's great for soothing delicate baby skin. Formulated with natural colloidal oatmeal, this cream is gentle and fast absorbing. It's ideal for this time of year too when the temperature is on the rise as the humidity from the heat can lead to excess perspiration, aggravating dry skin in babies which can lead to discomfort and itching.
What are your baby essentials? Let us know over on Facebook and Twitter.
Main image taken from Pexels.