Our kids aren't the only ones who have it tough when it comes to starting a new school year, we mums do to. We are constantly running around after our kids in the morning making sure that they are dressed and that their lunch is packed, then there's the all-important decision of what we should wear on the school run and meeting other new mums!
For mums who are stuck on what to wear, we've compiled some dos and don'ts on what to wear on the school run and playground pick up.
Coats and jackets
As the autumn/winter months approach us, it's worth investing in a good coat to help you brave those cold early mornings, whether you're driving or walking your little one to school. A faux fur coat or a trench coat will withstand the dreary weather while still making you look fashionable and smart, simply wear it over a slogan tee, jeans and some comfortable trainers.
When the spring/summer months come around switch out your heavy duty coats for lightweight kimonos and cardigans to help protect your skin from the suns UV rays.
Practical footwear
Wearing high heels is an obvious no-go, firstly how do you walk in them and secondly how can you drive in them? When it comes to choosing your footwear, consider the weather, in the autumn/winter months opt for a pair of ankle boots or trainers and in the spring/summer months why not try a pair of dolly shoes.
Comfortable clothing
While we aren't the fashion police, we do know a fashion no-no when we see one! As mums we understand that mornings are manic and for some, deciding on what to wear is the last thing on our mind especially when the kids are running riot around the house. While we're all for comfort here at UKMums.tv, we've seen mums turn up in their pyjamas or onesies while on the school run, which (1) takes some confidence and (2) really?
If you're feeling pushed for time, swap out your pyjama bottoms for some leggings and throw a jumper over your pyjama top (no one will know) and finish the look off with a pair of trainers and a top knot! Or simply put on a dress as this is only one piece of clothing that you have to worry about rather than two!
Work clothes
The last thing that you want to add to your morning routine is ironing so if you're going straight to work from dropping your little one off, make sure that you have ironed your clothes the night before or look for shirts with a non-iron finish (they do exist)! You can find them on Lands' End.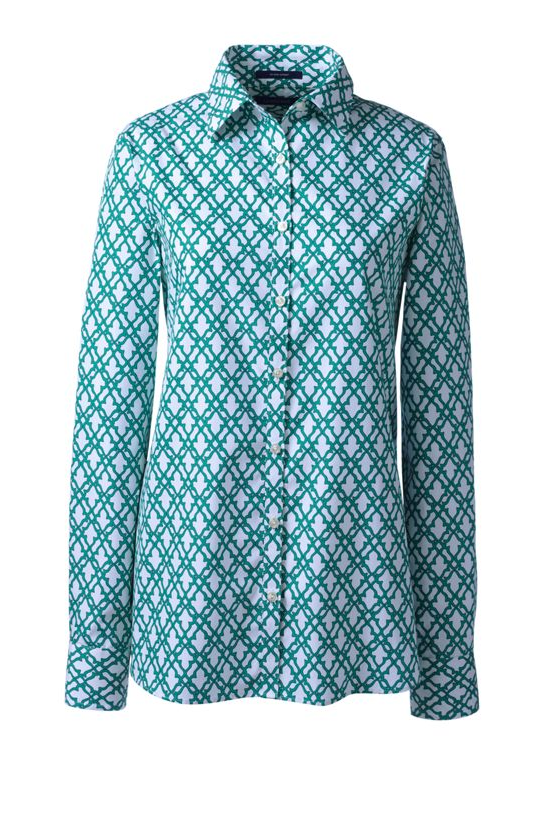 Reduced price: £25.
What's your favourite outfit to wear on the school run? Send us over your snaps on Facebook and Twitter.