Fun To Learn is the umbrella brand for our range of pre-school magazines that currently includes: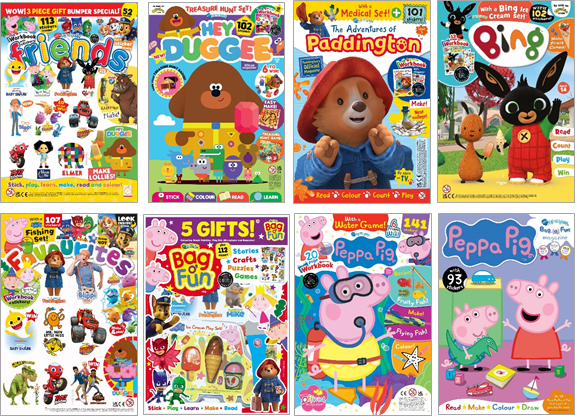 The main aim of Fun To Learn magazines is to bring to market high quality, educational content that helps to develop and nurture key early learning skills.
The best way to entice your little ones and ensure they become absorbed with the activities in the magazines is for us to make sure that we create content that showcases the most popular pre-school characters. The current Fun To Learn portfolio comprises the very best pre-school talent including Peppa Pig, Bing, Paddington and most recently Hey Duggee, as well as many more in our multi-character magazines, Fun To Learn Friends, Fun To Learn Favourites and Fun To Learn Bag-o-Fun.
The Fun To Learn range is fun, bright and gender-neutral and aimed at children aged 3-6 years old. The content of the magazines is cleverly tied together with a popular pre-school theme and encompasses everything that young children enjoy – story-telling, colouring, sticking, playing and making.

The fun is further amplified by the covermount that encourages play-based learning helping to develop communication, literacy and language skills.
Each magazine contains a workbook that is designed to encourage children's abilities in seven areas of learning set out by the National Curriculum's guidelines which further amplifies the true value of the Fun To Learn magazines. However, with the inclusion of all the popular characters to encourage and add to the fun, children don't even realise they are learning!