If you're super organised like blogger and mum of two, Kate Murnane (@katebowbow) and have your little ones Back to School uniform sorted already then we take our hat off to you, because we certainly haven't! You'll hear us crying in the corner when we find everything is out of stock in our little one's size.
September may seem like a while away – but now's the time to avoid the rush and start thinking about kitting your kids out for the new school year. We all want to send our little ones Back to School in style for that all-important start of term photo and that's why we've compiled a list of where to go for the best school uniform buys! You're welcome.
Aldi – For a bargain head to Aldi. Aldi promises to kit your little one out for a mere £4.50, which gets you a sweatshirt, two polo shirts and a pleated skirt or trousers. The Aldi Back to School range is perfect for primary school children and has plenty of basics, including (but not limited to):
Girls/Boys Polo Shirts in White / Blue (£1.75)
Girl's Classic Pinafore (£6.99 for a pack of two)
Girls/Boys Trousers in Black / Grey / Navy (£1.75)
Girls/Boys Short Sleeved White Shirts (£2.49 for a pack of two)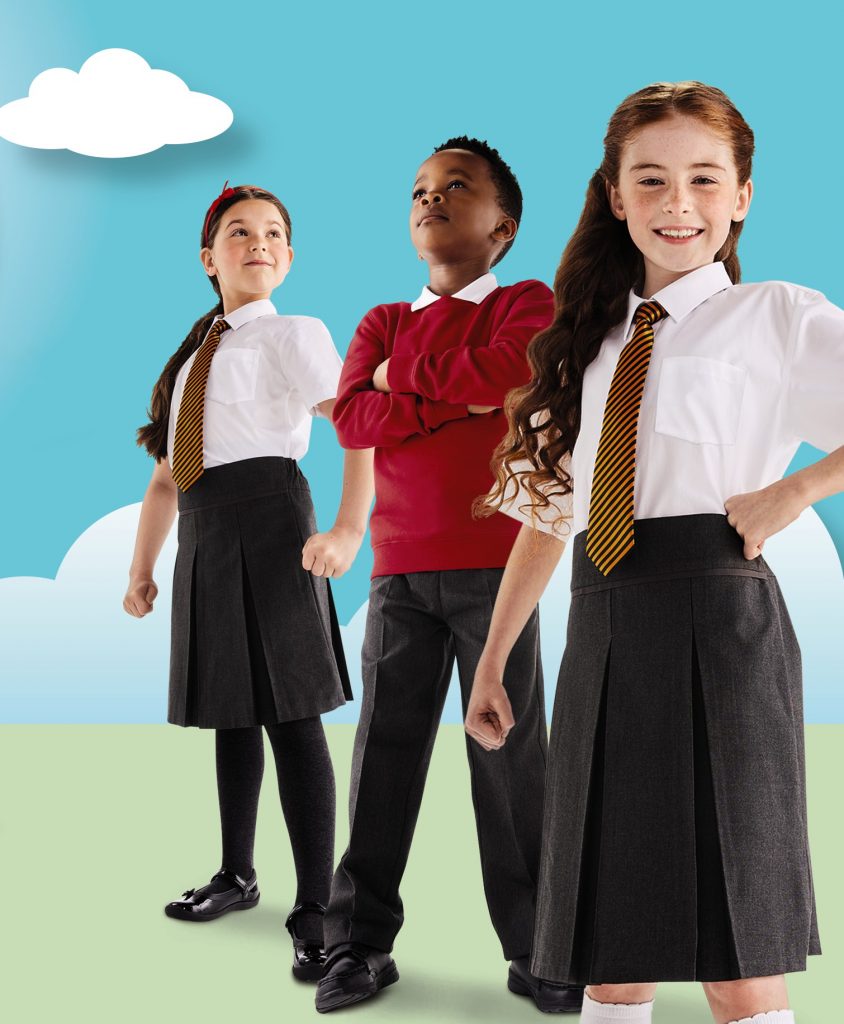 Tesco – Tesco's F&F Back to School range has everything you need for the new school term including skirts, trousers, easy iron shirts, cardigans, jumpers and sweatshirts in a variety of colours and fits, so there should be no problem finding something that meets your school's uniform requirements. Tesco is also offering a 100-day guarantee, so if your child wears out their uniform quicker than you'd like, they'll exchange it. The Tesco Back to School range has a number of basics, including (but not limited to):
Core Pleat Pinafore in Grey / Navy (£10)
Boys Long-Sleeve Shirts in White / Blue (from £3.50)
Girls Short-sleeve Shirts in White / Blue (from £3.00)
Girls Woven Fob Trousers in Black / Grey / Navy (from £7.00)
Boys Regular Trousers in Black / Grey / Navy (from £7.00)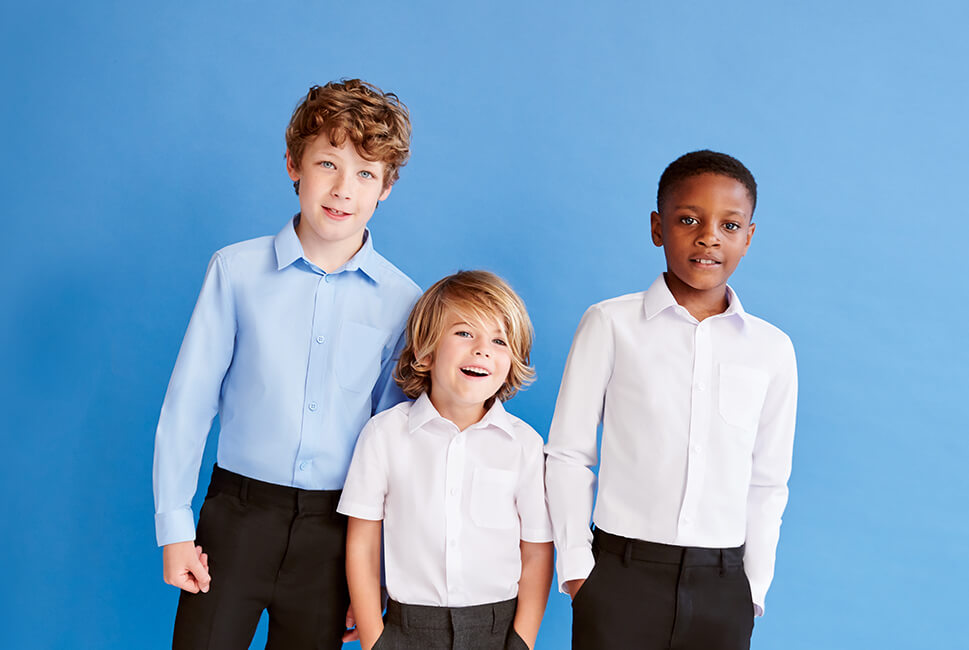 While you're shopping in-store, why not take a look at some Back to School lunchbox fillers? We love Peperami's Pep'd Up Chicken Bites and Fruit Bowl's Unicorn Fruit Flakes!
Next – For convenience visit Next. Next is your one-stop shop for Back to School with its range of stain and scuff resistant uniform and shoes, adjustable waist bands, backpacks and drinks bottles! While the pieces aren't as cheap as Aldi, its price reflects its quality. Best of all, if you order before midnight you can get next day delivery to your home or store, so there's no need to drag the little ones around the shops this holiday! The Next Back to School range has a number of basics, including (but not limited to):
Shirts and blouses from £19.50 for 5
Polo shirts from £15 for 5
Skirts from £4.50
Trousers from £8
Dresses from £7
Cardigans and jumpers from £7
Smart shoes from £17, plimsolls from £6.50
Coats from £18
Underwear (socks, tights, briefs, boxers) from £3

Deichmann – Deichmann have some smart and sensible children's shoes to kick off the new school year. If your kids are anything like ours you'll know how quickly they can run down a pair of shoes, so it's important that you look for a pair of school shoes that can withstand the heavy-duty of the playground. Luckily, Deichmann is running a great money-saving deal on its Back to School range, where if you buy two pairs of school shoes you will get the cheaper pair half price, regardless of style or size, which is great news for families!  The Back to School collection includes both premium and value priced ranges, some with the added features of memory foam for extra comfort, scuff-resistance and micro-fresh technology!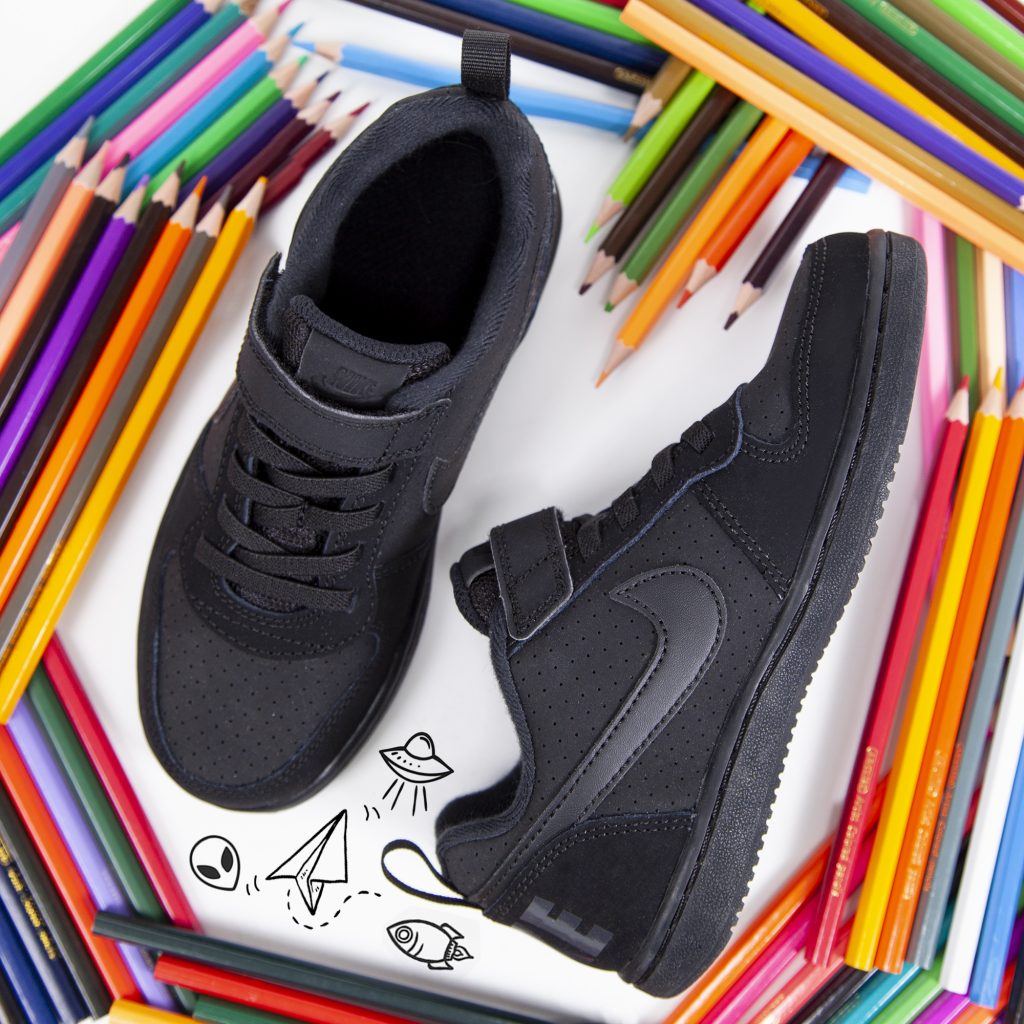 Share your Back to School buys and deals with us by commenting below!