As part of the Masha and the Bear Toys Takeover, with toymaker Simba Toys UK, we've got a superb recipe for you to try out! Ideal for birthday parties and special occasions, your little fans will be blown away by these adorable bear cupcakes!
Toymaker Simba Toys UK has taken over on UKMUMS.TV to bring our lucky readers a fortnight of fun with its un-bear-ably cute Masha and the Bear Toy collection! A must-have in any child's toy box, the collection is available now from The Masha and the Bear collection is available from Smyths Toys Superstores, Amazon, The Entertainer, Very, and many independent toy stores.
But if your little one simply can't get enough of Masha and the Bear, then this awesome cupcake recipe will be the ace up your sleeve when their birthday comes around!
Pst .. we found this recipe on Annabel Karmel's website. If you don't already know her, then get to know her! This London-born, mum of three is a best-selling children's author. Her website is an absolute goldmine for parents, packed full of incredible recipes and loaded with great methods for feeding babies and children. Check it out here: https://www.annabelkarmel.com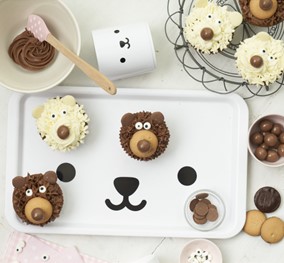 Image credit: Annabel Karmel
Bear Cupcake Recipe
Prep Time: 20 minutes  |  Cook Time: 20-25 minutes  |  Makes: 12 cupcakes
Ingredients
Cupcakes
3 eggs
175g soft unsalted butter, softened
150g self raising fllur
25g cocoa powder
175g caster sugar
2 tbsp milk
1 tsp baking powder
Chocolate Butter Icing
150g butter, softened
300g icing sugar, sieved
2 tbsp milk
6 tbsp cocoa powder, sieved
To Decorate
Milk chocolate buttons
12 Maltesers
6 mini Jaffa Cakes
24 edible eyes (available from Tesco)
Equipment required
12-hole muffin tin
12 paper cases
Piping bag with a fluted nozzle
Scales
Large mixing bowl
Another
Spoon
Whisk
Wire Rack
Method
Preheat the oven to 160C Fan.
Line a 12-hole muffin tin with paper cases.
Measure all of the cupcake ingredients into a large mixing bowl.
Whisk the ingredients together until well mixed, and then spoon into the cases.
Bake for 20 to 25 minutes until well risen and firm to the touch.
Leave to cool on a wire rack.
To make the frosting, mix the butter, icing sugar, cocoa powder and milk together in a large bowl. Whisk until light and fluffy.
Spoon into a piping bag fitted with a fluted nozzle.
Pipe on top of each cupcakes. Put one Mini Jaffa Cake on top to make the face. Put a Malteser on top for the nose, sticking it on with icing. Insert 2 milk chocolate buttons for the ear and add 2 edible eyes.
Don't forget to share your baking creations with us on social media!
For more Masha and the Bear fun, click here. Don't forget to enter our competition for your chance to win a fabulous Masha Doll and Bear Plush Toy Bundle!