Who knew that an outfit or even a school uniform could be transformed into a textile design? With a little imagination and an array of materials, textile designer and business woman, Sarah Burghard designs the most wonderful and whacky bespoke fabrics and furnishings from beautifully soft cushions to a fun school uniform armchair. Using a digital fabric image, Sarah designed a bold school uniform armchair for a headmaster who was retiring and it would make for a truly special feature in a child's bedroom. Strengthening her niche, Sarah aims to move away from the perception that a textile design needs to feature flowers, stripes or swirly patterns when actually it could be as bizarre as your son or daughter's Beaver Scouts or Girlguiding uniform.
Based at Spike Design (part of Spike Island) in Bristol, Sarah works with a range of clients from individuals to businesses and hotel owners. In 2014, she launched her own business 'Sarah Burghard Designs' with the help of a SWIG (South West Investment Group) Start Up loan, where each piece that she makes is tailor-made to reflect the customer's business identity and character.
Sarah hasn't always been a textile designer; she is a former actress who appeared on our TV screens in the 90s when she starred in Drop the Dead Donkey and Bergerac. She has also played lead roles in West End theatres such as the Old Vic and the Criterion, but when Sarah became a mother she found that she wouldn't be able to juggle life on the road as well as looking after her children. "Being an actress with children is not a great combination… because I'm a mother, I'm not able to work anywhere in the country, I need to be around for my family," Sarah says. Now that Sarah is her own boss, she is able to focus her time on both her family and her profound love for textiles.
Shortly after having children, Sarah went back to study an Art & Design Foundation as well as a Higher National Diploma (HND) in Fine Art where she achieved distinctions. She then went on to study Textile Design at the reputable Central St Martins in London. Although Sarah left her job as an actress where stories and characters are brought to life, the concept of story-telling has followed through to her much more family-friendly career today.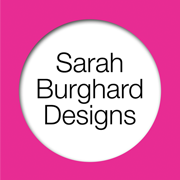 Whether a client is looking to add a few finishing touches or a complete revamp, using digital printing and image manipulation Sarah is capable of designing a range of bespoke products including soft furnishings, cushions, upholstery, furniture, wallpaper and other accessories. "I have a meeting with a customer, hotel or a business or somebody that's interested in working with me and we talk about their business and what their need is," Sarah explains as she walks me through the process of developing a textile design.
When working with her clients, Sarah will ask a variety of questions, if it's a hotel owner or a business she will ask about their relationship with the building, drawing on its history and any particularly special memories that they have had with or in the building. She says: "Then we go onto the concept of the design and that's a two-way conversation really, I ask them about their history and their story with the building and we have a look at the physicality of the actual building." Sarah continues: "We talk about the setting, the location and whether there's anything specific about that that they would like to envelop in the design… I'll ask about their branding to see if there is anything there that we could develop into a textile design and ask them about stories really."
A similar process is followed when adding an element of quirkiness to your child's bedroom with bespoke fabrics or pieces of furniture that display their very own drawings, diary entries or photographs that they may have taken themselves. Showcasing your child's talents and hard work on a piece of fabric or furniture is a wonderful way of capturing the here and now that becomes treasured with age. Sarah has also created some designs that feature the "home life" of her clients taking into view a kind of kaleidoscopic image of their interior and lifestyle that is hand drawn and unique to that period in their life – often a lovely moving home gift that can keep childhood and family memories alive forever.
When decorating a child's room Sarah believes that it's important to let your child have a say instead of deciding on everything for them. "It's just about finding out what they're specifically interested in, reflecting their character, their personality and letting them have an input really rather than just telling them or taking over," Sarah says.
Add a personal touch to your child's bedroom or even their playroom by contacting Sarah Burghard on: 07766927311 or send an email to: [email protected] to discuss further details.
(Main image from Hospitality Interiors).