Getting out of the house with baby comes with a few challenges! But luckily, there are some brilliant products that can make life that little bit easier! For this year's Mums Choice Awards, our mums have been putting baby products to the test! From baby carriers and slings to changing bags, as well as baby toys and general on-the-go products, our mums have found the best products on the market! Keep reading to see this year's baby must-haves.
Best Baby Carriers and Slings:
Carriers and slings have long been popular! Freeing up your arms so that you can go about everyday tasks, while keeping baby safe, close and comforted, slings and carriers are a great on-the-go product! For this year's awards, mums have been reviewing slings and carriers to find out which products perform best and offer good value for money. We are delighted to announce that a winner has been selected. Heading up the category this year is: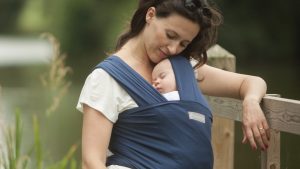 About the product: "Suitable from birth, the Amawrap allows you to get on with your day with baby close to you. Baby is soothed feeling your voice, breathing and heartbeat. It ensures comfort for all. The contact is proven to regulate baby's heartbeat and temperature, increase breastfeeding success and help to ward off baby blues. The sling is made in the UK, from 100% natural cotton. As a company, Amawrap is passionate about babywearing and getting the message across about the benefits of skin-to-skin contact!"
What our tester said: "A really good quality wrap! It's not too long, and it's really easy to use. I'd definitely recommend the product!"
Best Changing Bags:
Every mum needs a good quality changing bag. It's the absolute must-have! So what makes for the ideal changing bag? Quality – absolutely! Ample storage – 100%! A cute design – of course! Well keep reading, as fellow mums have picked their fave! We are pleased to announce the winner in this category as: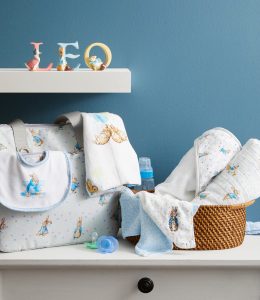 About the product: "Featuring Peter Rabbit on a wipe-down PU fabric, off-set against pastel splashes of colour on a cool grey background, the bag measures 31cm x 35cm and is sized to fit everything you and your baby might need while enjoying a day out together. Having worked closely with Penguin to create the totally exclusive artwork to Enesco, the new licensed collection follows the theme 'Come Rain or Shine', making it a gender neutral yet stylish piece."
What our tester said: "The design of this changing bag is beautiful – very aesthetically pleasing. There are also lots of pockets, which is great!"
Best Baby On-The-Go Products:
In the modern world, there are some great products on the market, which have been designed to make parenting easier. Imagine taking baby out and about 100 years ago… it wouldn't be quite so straightforward! But what products could our mums not live without? They've made their baby must-have selections! In this year's Mums Choice Awards Best Baby On-The-Go category, the winners are as follows: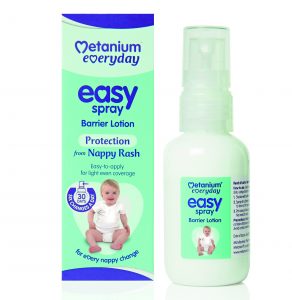 About the product: "Metanium Everyday Easy Spray Barrier Lotion is a quick and simple-to-use spray. It cares for delicate skin by forming a barrier to help protect against the external irritants that can cause nappy rash. It's 100% vegan-friendly; it's also unscented and does not contain lanolin. Perfect for popping in the nappy bag for changing on-the-go!
What our tester said: "Great value for money and a good size for the toiletry bag!"
Best Baby Toy:
There's no shortage of baby toys on the market, but not all baby toys are created equally! Have you tried holding a baby's attention for more than a few moments? Toys for very small children have to be super entertaining, and they also have to be incredibly safe and easily washable. Of course, if they're able to support a child's early development, that's a massive plus! With so many boxes to tick, where do you start? You'll be pleased to hear that our mums and their little ones have been busy putting baby toys to the test. We can now announce the winner in this category as: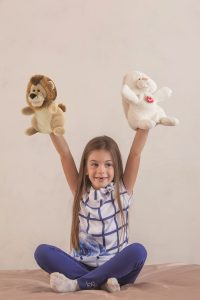 About the product: "Each Trudi Puppet character makes a beautiful soft toy or a fun puppet for play! The super soft plush puppet is characterised by simple colours and an open smiley mouth, designed to develop a child's imagination through imaginative play as they have fun inventing countless stories to act out with their new puppet friend. The soft toy is machine washable at 30 °, or by hand, using a sponge and neutral soap. Safe and entertaining for the youngest of children, including little ones in their infant years."
What our tester said: "These characters are adorable! We loved how soft the Trudi Puppets are, and it's great how much control you have over their movement. You can move their arms, their heads and their mouths – this made them very entertaining for my children! When the puppet play ends, they really do make for lovely, cuddly soft toy companions. With Christmas coming up, I'm sure we'll be buying a few for special friends and family."