Main image as seen on PublicDomainPictures.net by Petr Kratochvil
Hay fever is the bane of summer with pollen tickling the noses of over 10 million people in the UK, causing tiresome symptoms of coughing and sneezing, a runny or blocked nose and itchy eyes. Just lock us up in a tower like Rapunzel already. Unfortunately, there's no cure to hay fever but there are plenty of products on the market that can help ease your symptoms and make your summer a little more bearable. Here's our pick of the best…
Qu-Chi Acupressure Band – Child Size – RRP £13.99 including p&p.
Hay fever is a nightmare for adults and children alike, and as mums it's always difficult to find something that's suitable for our children when they are suffering with seasonal sneezes (eye drops are an absolute pain fyi). Qu-Chi is a fabric band which is designed to sit at the elbow and gently exert pressure on the LI-11 (Large Intestine 11) acupuncture point via a small button. The band can be worn on either arm and as it's natural, has no side effects and doesn't cause drowsiness it can be worn at school, when out and about or at home. It should be worn when your child's symptoms begin. If they need an extra boost, they can just press of the button to give extra stimulation to the pressure point. Acupuncturists believe stimulation of this point pulls energy away from the head, nose, face and throat. It was created to balance and harmonise the body's energy or Chi, and help promote a feeling of well-being.
HayMax Kids Allergen Barrier Balm – RRP £6.99
HayMax Kids is a totally natural allergen barrier balm. Made from beeswax and sunflower oil, it builds an effective protective pollen barrier under the eyes and nose of the sufferer.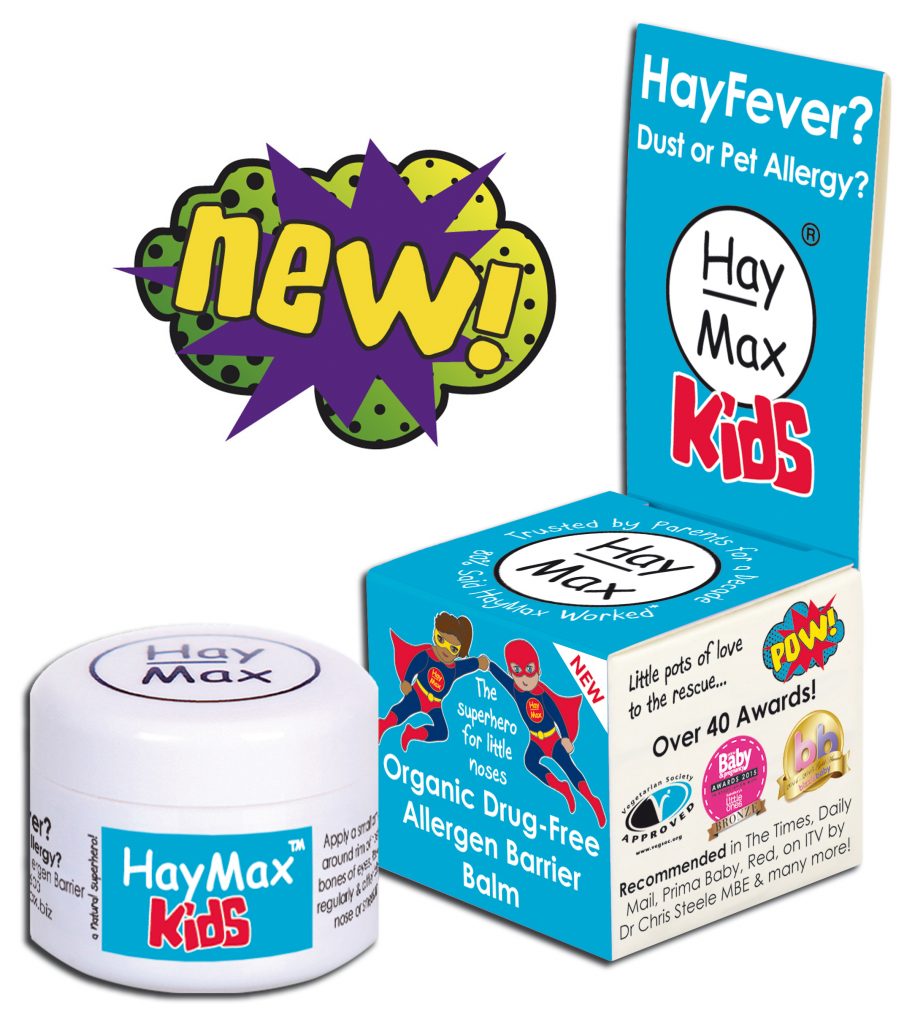 Ultra Chloraseptic Anaesthetic Throat Spray – RRP £5.99 / 15ml
A sore or scratchy throat is another symptom of hay fever and it's not surprising with all that coughing, so make sure you're armed with a throat spray to relieve your symptoms – fast.
Heath & Heather Tea Nettle 50 Tea Bags – RRP £3.19
Nettles have long been thought to alleviate allergy symptoms, including hay fever and one of the easiest ways to take the natural remedy is in a tea. Although, you should avoid drinking it if you are pregnant.
New ERA Combination H – 240 tablets – RRP £8.99
These melt-under-the-tongue tablets contribute towards the maintenance of normal mucous membranes, such as sinuses and nasal passages, to naturally build the body's defences. Melt-under-the-tongue tablets mean that the nutrients are more rapidly absorbed into the blood stream than any ordinary tablet can be expected to achieve when chewed, swallowed or taken with a drink.
What are your go-to products when hay fever strikes? Let us know over on Facebook and Twitter @UKMums.TV.