We don't know about you, but in the winter we always feel so 'cooped' up…Get it? That's why my fabulous team of mums and I have tried and tested some of the best meals to cook with chicken. Let's step away from the traditional roast and be a little more adventurous with our dinners!
Chicken Skewers with Tzatziki
Now don't get us wrong, we love a good roast but why not spark up your Sunday with these fantastically fun chicken skewers hot off the griddle! Your little ones will love tucking into this simple, hands-on and easy to make dish. For the ultimate healthy finish, wrap the chicken up in green salad and Tzatziki to take on a fabulous family picnic! For more information, click here!
Pulled Chicken Sandwiches
Now there's nothing wrong with a little treat every now and then…or so we keep reluctantly telling ourselves. So why not check out these incredible pulled chicken sandwiches. With little time required, this recipe can serve up to eight people, depending on whether you can resist the temptation to just devour them all, we know we couldn't (although we probably shouldn't admit that!). Anyway, your friends, family and little ones are sure to be impressed by these deceptively easy chicken sandwiches. Why not go one step further and make the sauce to compliment the chicken, it'll take you less than 10 minutes! For the full recipe courtesy of My Recipes, please click here!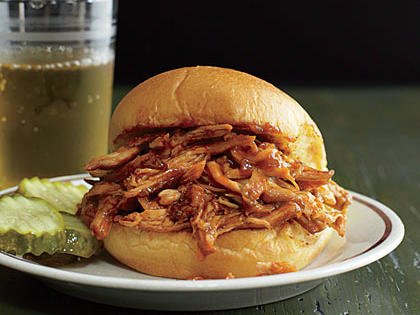 Photo: Raymond Hom; Styling: Pamela Duncan Silver
Grilled Chicken Tacos
Made with succulent chicken thighs and full of flavour, these affordable, yet scrumptious, tacos are perfect for cooking on any weekday! Who doesn't love a crispy taco? I made these for my two little boys last week and not a crumb was spared, which was surprising considering my children usually take one bite, then say they're full but immediately ask "mummy, what's for desert?" Can anyone else relate to this? Click here and give this recipe a bash!
Simple Buttermilk Chicken Rolls
Courtesy of Olive Magazine, these rolls are perfect if you and your little ones fancy some tender chicken with a crispy yet sticky coating that melts in the mouth, have we won you over yet? This easy-to-make recipe serves up to four and is a fabulous take on the DIY takeaway. Tantalise your taste buds and click here to get the recipe!
Cider-braised Chicken and Panzanella
As mums, we understand the importance of spending time with your partner and yet the dream of spending a quiet night in so regularly fades away (for us anyway!). However, my little ones went away with their grandparents last weekend so my hubby and I were able to try out this chicken dish. The verdict: Oh my goodness, it was AMAZING! If you are looking for something a little more up-market without sacrificing your night in the kitchen, why not try out this healthy fall salad and chicken combo! Why not try out this recipe as seen on Country Living!
We don't know about you, but we are so hungry! Let us know over on our social media if you decide to try out any of these recipes, we would love to hear from you!
Main image taken from Pexels.