Kids love role play toys and kitchens are one of the best for developing their skills and interest for later years. There are many available, as well as pots and pans sets, all manner of plastic food items and tins and packets of popular brands on the market at present to complement them and make the fun last for hours and hours. We can't decide whose kitchen is nicer ours or the role play ones!
1. Cherry Tree Play Kitchen from GLTC – £150.50
Your little one is sure to have an endless amount of fun in this Cherry Tree Kitchen from GLTC, that's packed full things to do and learn. Paying close attention to detail, the design team have named the taps 'hot' and 'cold' to help your little one recognise the words while the washing machine has symbols and words around the clicking dial and a soap drawer! In addition, you'll notice that the hob has a glowing, flame effect as well as a dishwasher, a fridge/freezer a removable sink and more!
2. Duktig Play Kitchen £60 from IKEA
This is a dream come true for tiny master chefs and bakers, where they can cook just like grown-ups and let the whole family taste their new creations! The height of the legs can be adjusted so that it grows with your child. With lots of accessory sets available as well, this is sure to be a winner.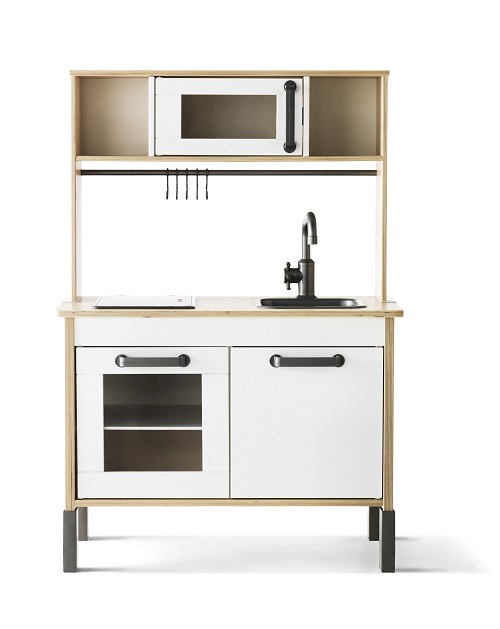 3. Tefal French Touch Kitchen by Smoby – £69.99
The Tefal French Touch Kitchen by Smoby includes a stove with two hotplates, grill, removable sink, extractor hood, clock, oven, coffee machine and 45 cooking, dining and play food accessories. The fridge even has an ice machine dispensing ice cubes at the push of a button! It has enough features to keep the kids occupied for hours with realistic cooking sounds and a pancake flipping frying pan.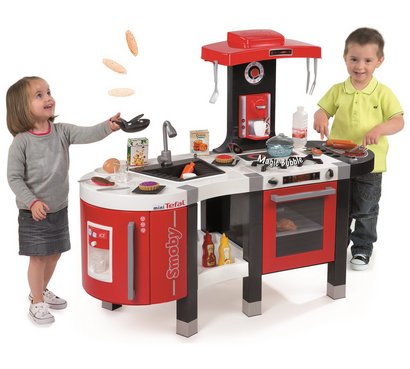 4. Little Tikes Cook 'N' Store Kitchen – £59.99
This play kitchen comes fully assembled (hooray!) and also folds up compactly for easy storage. It has plenty of storage for all of its 34 accessories, which include utensils, pots, food and much more. The oven and stove top have clicking knobs, while the cupboards have spinning shelves to help find those all-important ingredients!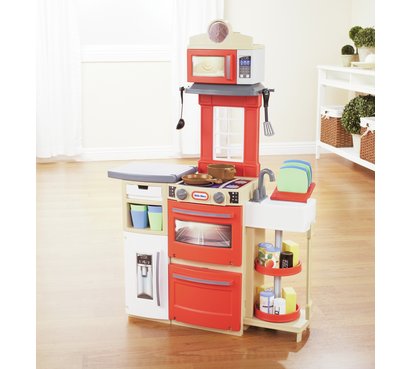 5. Little Tikes Gourmet Prep 'n Serve Kitchen – £60.00
The Little Tikes Gourmet Prep N Serve Kitchen is an ultramodern kitchen that has everything little chefs need to play pretend. It includes real cooking sounds, "granite" countertops, "stainless steel" appliances, ample cabinet space and separate cooking and eating areas. The microwave, refrigerator and oven all have working doors and there is also a large sink with modern-style tap and electronic stove burners that make real cooking sounds. Includes 18 accessories.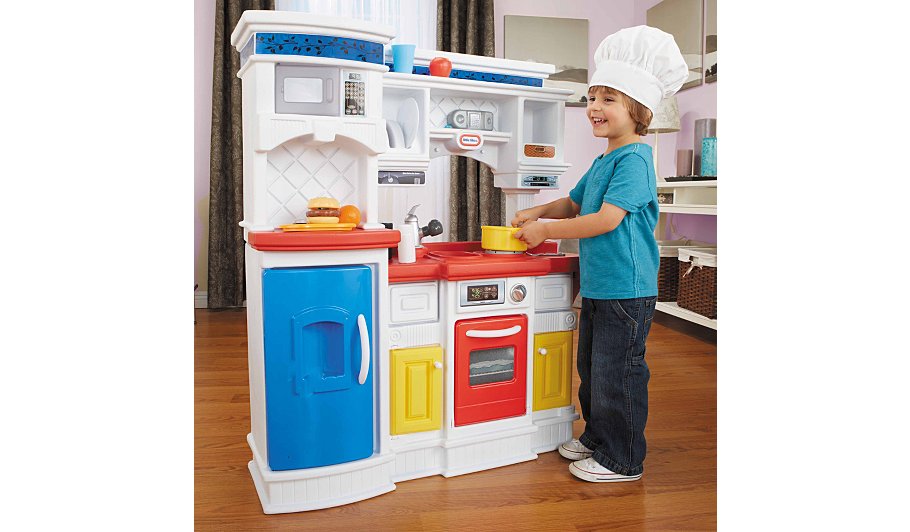 Does your little one have a play kitchen? If so, send us some pics of your budding little MasterChef to our Facebook and Twitter pages!