It's the Character Pre-School Week on UKMums.TV and we're taking time out to play with Character Options, and to talk about the importance of imaginative play time! As part of this takeover, we're highlighting some of Character Options' most popular Pre-school toys.
This is a company that is famous for bringing children's favourite TV characters into the playroom, and one of their most magical ranges is Ben & Holly's Little Kingdom!
Ben & Holly's Little Kingdom is an enchanting pre-school series set in a magical place where fairies and elves really exist! It's become a top viewing choice for families, thanks to the way it promotes friendship, perseverance and positive values. It's perhaps unsurprising that the show translates so well into toys that children can't put down!
Character Options' Ben & Holly's Little Kingdom toys invite kids to be imaginative. Little ones can use the toys to re-enact the episodes they've seen on TV and they can also create original storylines of their own. They offer endless hours amusement for Ben & Holly's Little Kingdom fans!
You can read more about the Ben & Holly's Little Kingdom range over at the Character Options website, but before you head off, check out some of our top toys from the Ben & Holly collection below:
Ben & Holly's Little Kingdom 5 Figure Set
Available from Smyths Toys (RRP £9.99)
This pack of five collectable Ben & Holly figures includes five of the most popular characters from the pre-school show! There's King Thistle, Queen Thistle, Ben Elf, Princess Holly and Gaston. Kids can make up their own magical Ben & Holly adventures with these adorable, super detailed figures! Each character comes with a removable base and they're scaled for play with other Ben & Holly vehicles and playsets from Character Options.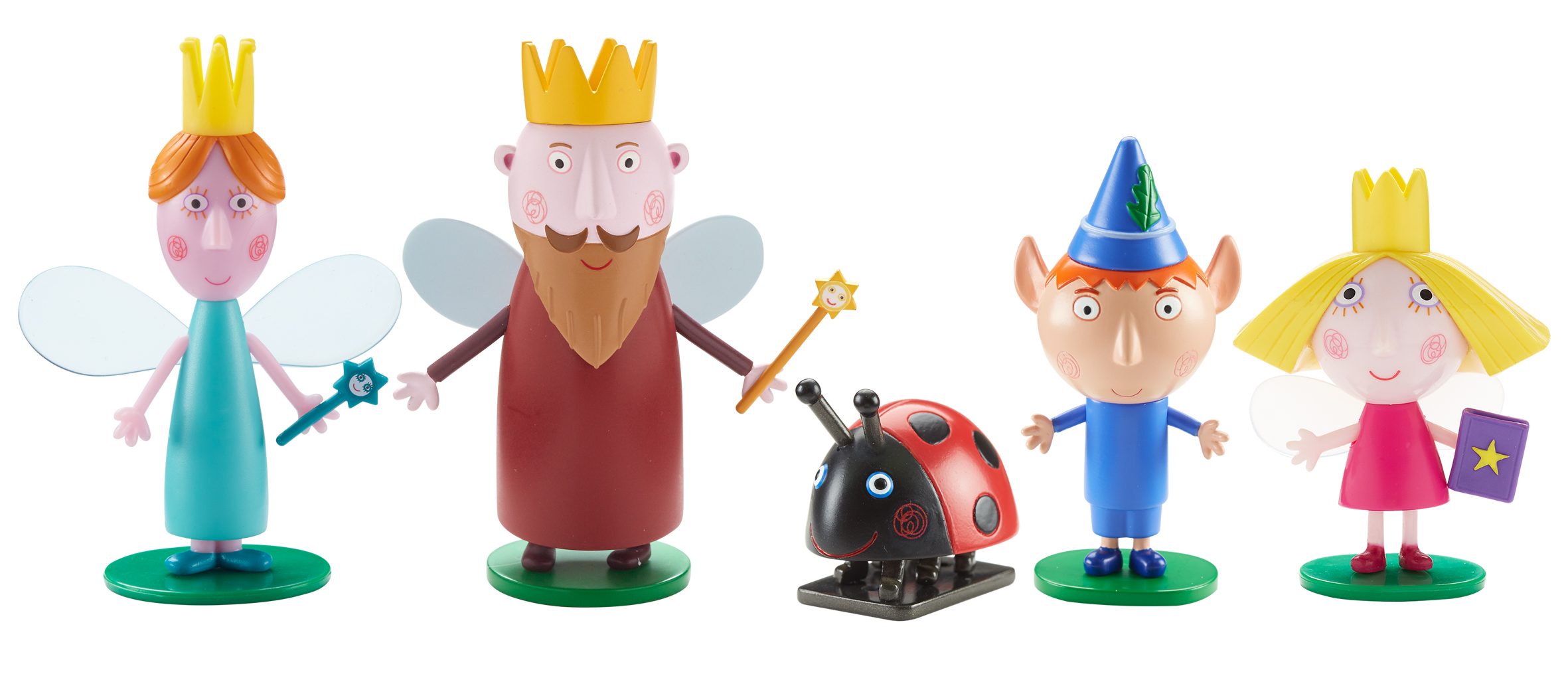 Ben & Holly's Little Kingdom Magic Classroom
Available from Smyths Toys (RRP £14.99)
There's always time for fun with magic lessons and Nanny Plum! With this sweet little classroom set, children can help Nanny Plum teach magic to her students: Ben Elf, Princess Holly and Strawberry. Little ones can dream up and act out lots of enchanting storylines thanks to all the magical classroom accessories included! 

Ben & Holly's Little Kingdom Talking Plush
Available from Argos (RRP £8.99)
Little ones' eyes will be full of surprise as these beloved Ben & Holly soft toy characters come to life! There are two talking plush characters to collect: cute Holly with her wand and Ben, who's wearing his favourite hat! Simply push on their tummies to hear them say magical Ben & Holly phrases! Made from a super soft fabric, these cuddle buddies are ideal for pretend play, as they'll help fuel young imaginations!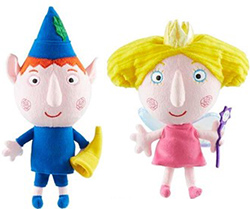 Ben & Holly's Little Kingdom Elf Rocket
Available from Smyths Toys (RRP £19.99)
Ben & Holly fans will LOVE this Elf Rocket toy! Complete with light and sound effects, kids can open the rocket's door, and place Space Ben Elf into the control room, ready for an out-of-this-world adventure! Little ones will enjoy turning the rotating magic jelly fuel, and then, WHOOSH! It's all systems go, with the take-off and landing sounds! Adding to the fun are four fun phrases, as well as a torch light with flashing and steady modes! Children's imagination will go on a magical ride as they dream up lots of exciting storylines.
Ben & Holly's Little Kingdom Thistle Castle Playset  Available from Very (RRP £29.99)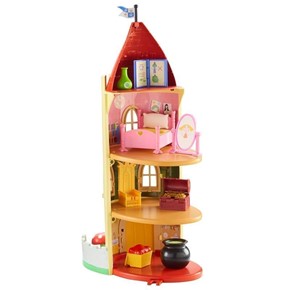 Children can make playtime a magical adventure with the Ben & Holly Thistle Castle playset. Scaled for play with other Ben & Holly toys from Character Options, kids will love recreating the magic of the show! It's packed full of features, including a magic toadstool that opens the door when twisted, and it comes with lots of cool accessories, including a magical treasure chest, a royal throne, a spell book, and so much more!
If you love the look of this range, then check out our competition page for your chance to win a bundle of Ben & Holly toys, worth £40! Click here to find out how to enter this awesome competition.
What Ben & Holly toys will your little one be adding to their wish lists this year? Let us know by commenting down below or over on Facebook and Twitter @UKMums.TV.