Main image as seen on Make, Do & Push.
All aboard! It's time for discovery and adventure with the Thomas & Friends electronic learning toys from Trends UK. This exciting range makes learning fun through the use of familiar characters from the world of Thomas & Friends. Every product is designed to introduce colours, shapes, the alphabet, spelling, counting and more through play.
Perfect for learning on the go, Thomas & Friends Flip & Learn Phone is a chunky, classic flip-up phone with a backlit answer screen that children as young as 18 months will love. It allows children to 'call' Thomas and his friends and hear their greetings, pretend to take pictures, or use the quiz key to hear questions and answer with the colour or number keys.  (SRP £10.99)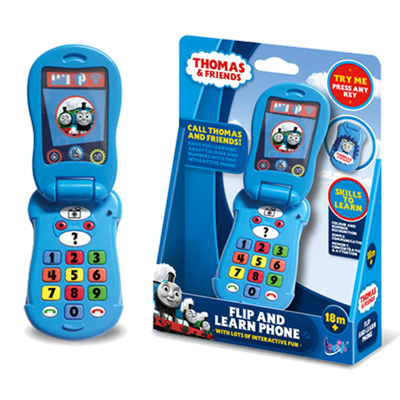 Older children (3 years +) will love the interactive, feature-packed Learn with Thomas AlphaphonicsTM. Explore the alphabet, early words and spellings with the 7 different activities which aid early letter and number recognition, communication skills, listening and understanding, memory and concentration skills. (SRP £19.99)
Top of the Christmas list will surely be the Thomas & Friends Smart Tablet. This interactive and colourful first tablet helps little ones learn whilst having fun with 6 activities to encourage learning about colours, numbers, letters, characters and destinations. The touch sensitive screen is printed with destinations, characters, numbers/shapes, letters, colours and songs to explore; all with appropriate questions and sound effects. (SRP £17.99)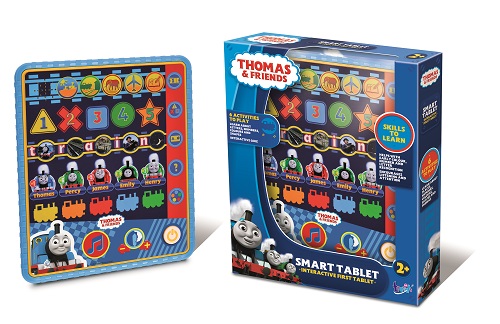 The entire collection is available from John Lewis.
We're sure parents and children alike will benefit from these brilliant interactive toys. Let us know what you think – get involved with our Twitter frenzy later in the takeover, enter our competition and much more!