Looking for Some Cool Halloween Gifts?
Looking for some cool Halloween gifts? From games to clothes, books to baby items, if you want something a little different for your VIP trick or treater, these are the ones for you!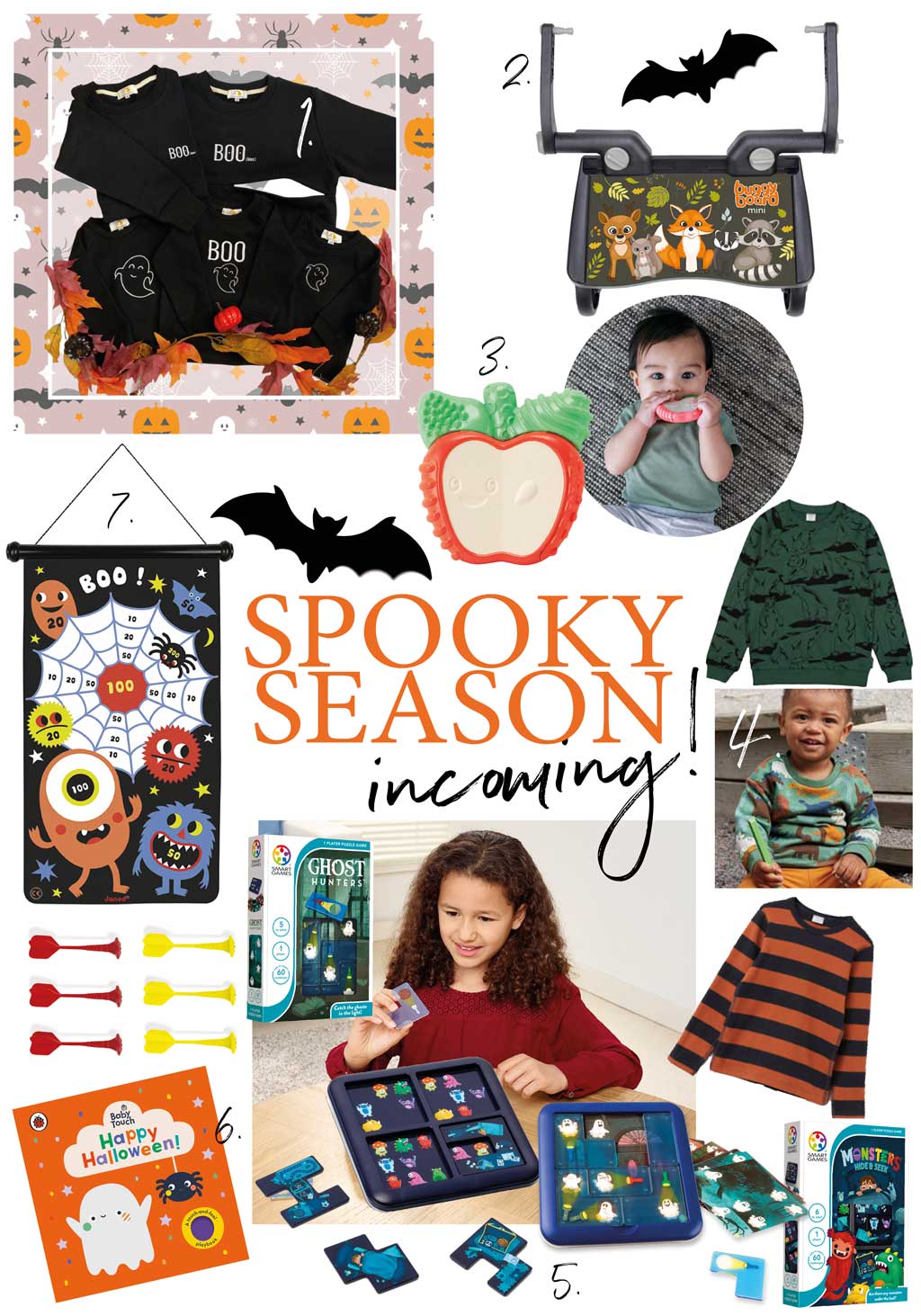 Innovative breastfeeding friendly clothing brand Juno Jack's has unveiled a set of brand-new spooky Halloween inspired sweaters! Add the adorable twinning option for little ones; this super cute set is perfect for any Halloween party – or the whole season!
Trick or treating needn't tire out little legs, BuggyBoard will keep little spooks travelling door to door in style! Featuring a whimsical, autumn inspired woodland design, the Mini Buggyboard is ideal for little ones with younger siblings, enabling families to enjoy autumnal walks, pumpkin picking or trick or treating adventures with ease. Attaching to 99% of pushchairs, prams and strollers, this handy invention saves little ones' legs and adds a touch of fun and adventure during family strolls.
For those who can't indulge in a toffee apple this season, the Lil' Nibbles Vibrating Apple Teether from Infantino is sure to hit their sweet spot and get them in the spirit!
From grizzly bears to ROARsome dinosaurs and even classic orange and black stripes, Polarn O. Pyret (POP for short) have the perfect cosy attire for Halloween! Made from gorgeous GOTS organic cotton and designed to last, these cosy jumpers, leggings and t-shirts can be passed down for generations. Suitable for ages 0-12 years, there's something for every little trick or treater!
Smart Toys and Games is the worldwide leader in multi-level logic games and it has two games which are sure to be a 'treat' this Halloween!
Monsters 'Hide & Seek' (6+) challenges players to place the four playing pieces on the game board to hide all monsters – except those pictured in your challenge. Adventurers of all ages can explore the 60 challenges included in a travel-friendly case.
Play Ghost Hunters and use your brain to find out what ghosts do in a haunted mansion?! Light up all of the ghosts in each challenge by placing all the torch puzzle pieces correctly. With 60 challenges it's a scary good time for players young and old!
Share the Halloween fun with the smallest members of the family with Ladybird's Baby Touch Happy Halloween Book! With a spooky discovery on each page, little ones can explore the different textures and colours. The perfect way to celebrate their first Halloween!
The perfect activity for the upcoming Halloween parties for little monsters – the Janod Magnetic Dart Game! Suitable from 4 years +, the grown ups will want to get stuck in with this spooky game too!