Afternoon tea you say? How quintessentially British! We all enjoy going out for afternoon tea and grazing on sandwiches and fluffy cakes. However, it's not something that many of us can afford to indulge in on a regular basis and as a cheaper alternative, why not host your very own afternoon tea?
Afternoon tea is one of Britain's finest traditions that can easily be enjoyed at home your friends and family. It means that you can decide on how much you'd like to spend and select your favourite finger foods too. You can make as much of the food as you want at home, or buy in the nice cakes and biscuits for those of you who haven't got the time to make them!
Here are some ideas to help you create that special afternoon tea at home.
1. Get kitted out
Every afternoon tea needs a tiered cake stand to balance all of those sweet naughty treats on and if you have one make sure that you use it as the centrepiece of your table. If not, then don't worry, just use your best crockery and make it look a little more special with lacy doilies and don't forget the folded napkins either!  If you do want to get some special crockery, then charity shops are a good source and it doesn't matter if the patterns don't match. Don't forget that you'll need a teapot, cutlery and cake slices too!
2. Table
Dress your table with a table cloth for the occasion. Table cloths come in an array of colours and patterns and if you don't have one, then why not take a look in fabric shops where you can get an idea for how they look and feel rather than buying online. If you want to set places, why not ice your guests' names onto home-made cookies and place them around the table.
3. Tea
The most important part of afternoon tea, is of course, the tea, so you'll need to offer a wide selection of the drink, from Earl Grey tea to peppermint and camomile tea. For those of you who don't drink tea (you're missing out), a nice strong quality coffee served in a cafetière with cream and a demerara sugar cube always goes down well!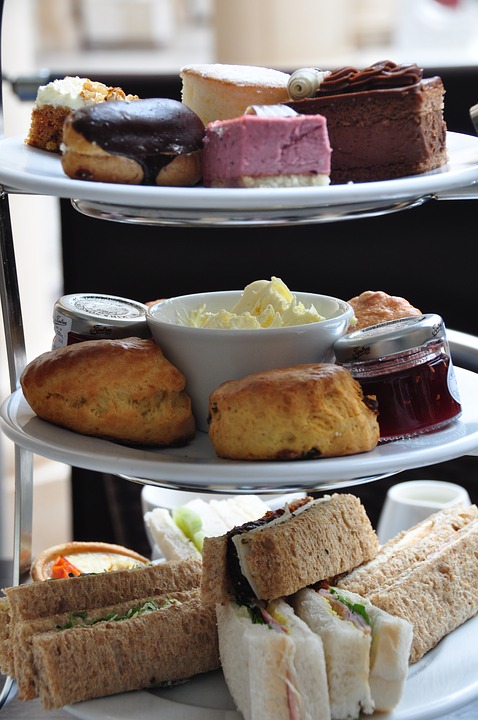 4. Sandwiches
There are no rules with the food but we all have our favourites that we like to enjoy with a cuppa, for some it will a chunky biscuit that's ideal for dunking and for others it will be sandwiches. Speaking of sandwiches, if you plan on serving them at your afternoon tea, you'll need a mix of breads, from white, seeded, wholemeal or even mini rolls, as well as your favourite fillings. While you can prepare the fillings in advance, it's best to make the sandwiches just before the afternoon tea starts, so that they don't go soggy!
5. Scones
Oh the good old scone debate. Firstly, do you put cream or jam on your scones first? Secondly, how do you pronounce the word scone? Is it scone as in gone, or scone as in cone? Well, however you like your scones they always go down a treat, so don't forget the butter, conserves and cream to help them on their way.
6. Sweet treats
No afternoon tea would be complete without cake!  A nice slice of fruit cake, Victoria sponge or individual cupcakes are ideal. Or you could include fruit pastries and biscuits, where again, you can always choose your favourites.
Have you ever hosted an afternoon tea at home?  If so, share your pics and ideas over on Facebook and Twitter.