Did you know that you can now dive into the exciting world of Kangaroo Beach at Smiggle?!
That's right, Smiggle has just launched a super-cute collection of backpacks, lunchboxes, pencil cases, and more – all inspired by the adorable preschool series that follows the adventures of four young animal friends, sharing an action-packed summer of surf, sand and sun!
You can find out more about this loveable series via the Kangaroo Beach takeover here but, first, keep reading to learn more about this must-have merch that's sure to make a splash with little Kangaroo Beach fans…
Kangaroo Beach Gemma Junior Character Backpack £32
Pack your mini-marine biologist gear and get set to explore the ocean with our sea-riously cute Gemma Character Backpack. This classic junior backpack is packed with features young cadets are 'shore' to love, including two spacious zipped compartments, dual drink bottle sleeves and tri-colour strap detailing. Plus, beach fun is sorted with the incredible Gemma design including applique flippers and a 3D bill! Perfect for stacks of sea and land adventures.
Kangaroo Beach Teeny Tiny Backpack £28
Over the ocean and over the reef, this backpack is perfect for a trip to Kangaroo Beach! Our Teeny Tiny Backpack has been perfectly designed to be smaller in size for preschool cadets! It features three zipped compartments, dual drink bottle sleeves and stacks of spe-shell design features including a fun Kangaroo Beach print, embossed wave fabrication and tri-coloured strap detailing. Pack your beach day goodies inside and let the fun begin!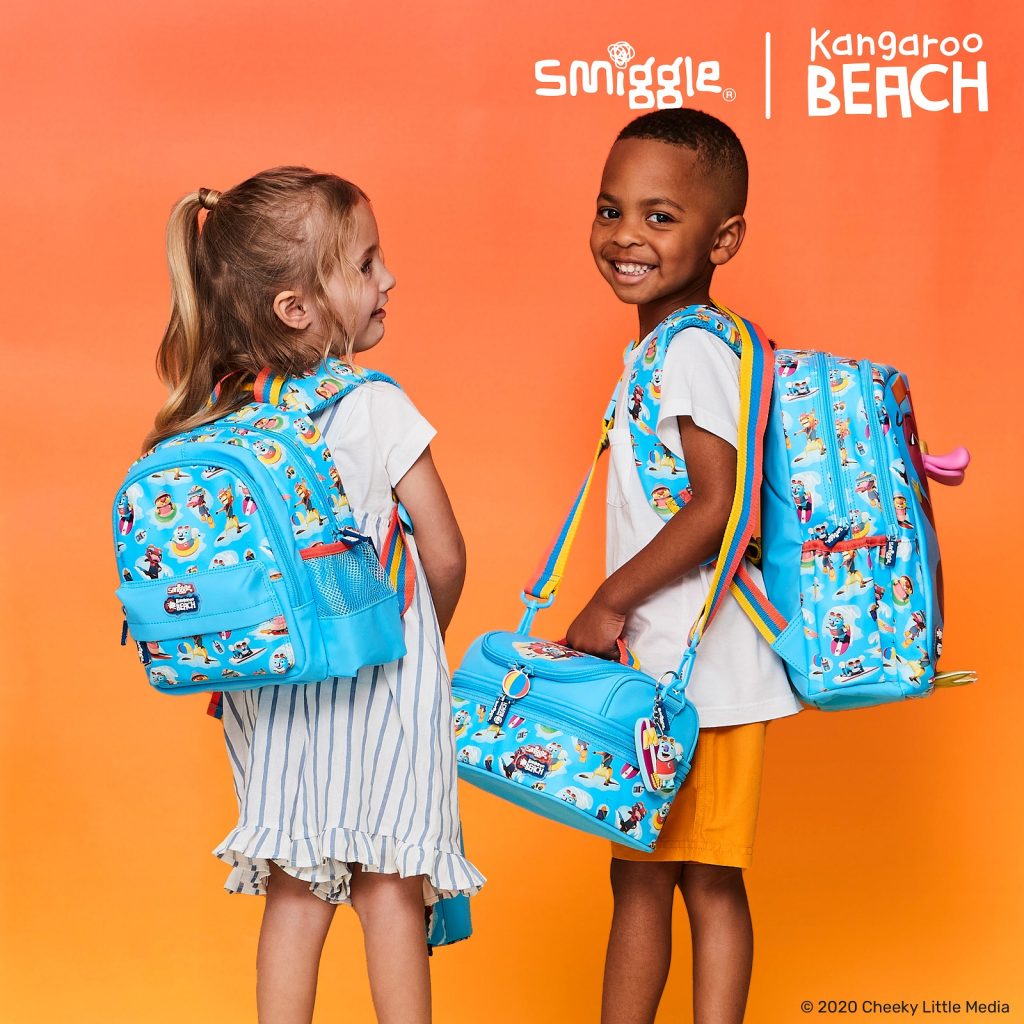 Kangaroo Beach Double Decker Lunchbox £21
Make waves at lunchtime with our classic Double Decker Lunchbox! Featuring two tiers of storage to stash away on and off duty snacks separately. Plus insulated lining helps to keep lunch cool even in the blazing beach sun! Plus, check out the ultra-fun design details including beach ball zips, embossed waves and tri-colour strap.
Kangaroo Beach Medium Bento Lunchbox £25
Help the cadets clean up the ocean one snack at a time with our bestselling Bento Lunchbox! Featuring a sand-tastic reusable design that encourages a waste-free lunchtime with four individually sealed compartments to store snacks! Plus, this size perfectly fits into our Kangaroo Beach Double Decker Lunchbox to create a complete lunchtime set. Now that's something to shell-abrate!
Kangaroo Beach Stainless Steel Flip Drink Bottle £15.50
Stay as cool as a cadet with our Stainless Steel Flip Drink Bottle. Featuring an easy to sip, flip top spout for easy on-the-go use while patrolling the beach, it has insulated stainless steel walls that keep water cool for up to six hours for all day refreshment.
Kangaroo Beach Zip It Stationery Kit £20
Sand-tastic stationery fun has arrived! Colour and create alongside the cadets with our Zip It Stationery Kit. Pack full of 40+ stationery goodies including colouring pencils, markers, sticker sheets and more, the awesome Kangaroo Beach printed pencil case will keep everything ready for adventure. Plus, it comes with a handy gift box for easy gifting!
Kangaroo Beach Character Pencil Case £12.50
Surfs up with this stationery favourite! Our Kangaroo Beach Character Pencil Case features sea-rously fun character details of all the cadets, plus a tri-colour carry handle, embossed waves and a handy ID card pocket! Perfect for stashing away stationery faves for any on-the-go adventure.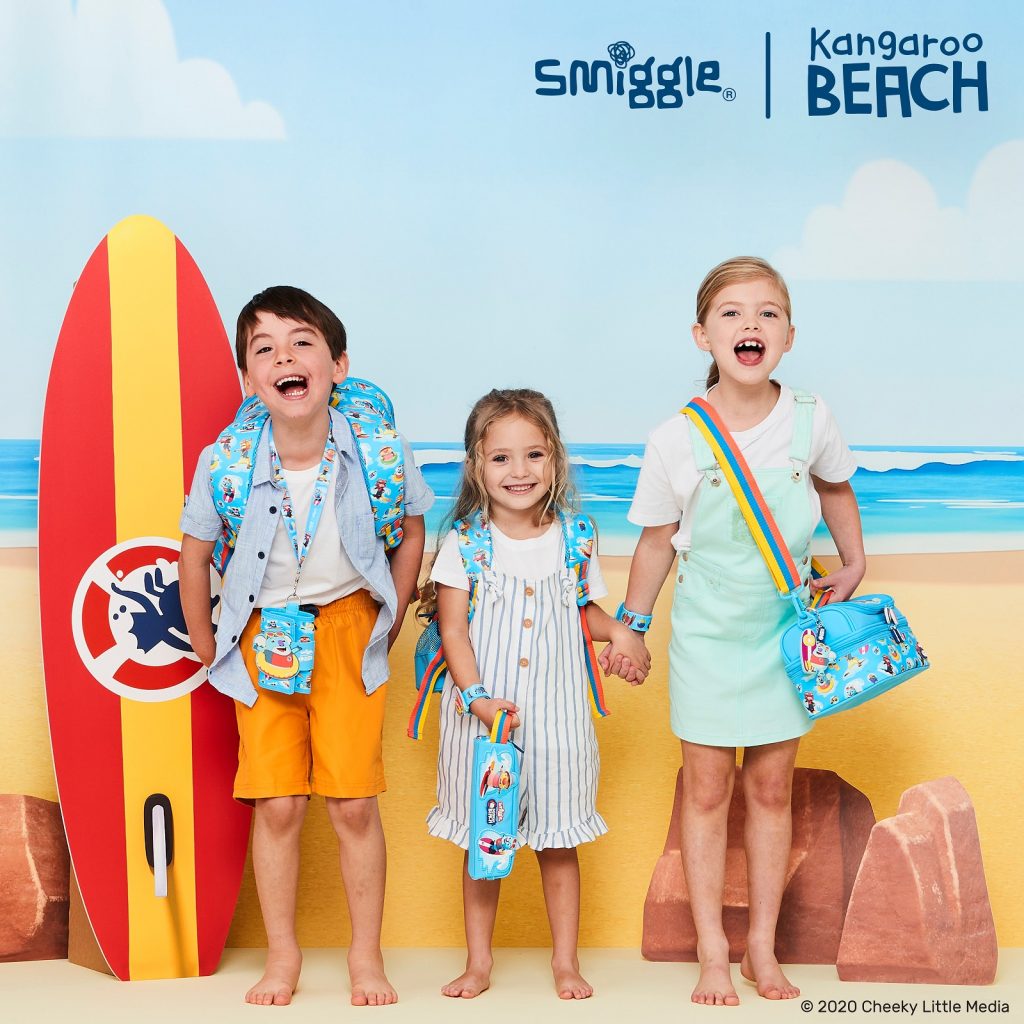 Kangaroo Beach Frizzy Hooded Towel £20
Heading off for a day at Kangaroo Beach? Don't forget your Frizzy towel! This awesome Hooded Towel is perfect for a day filled with surfing, swimming and sun. The handy hooded design makes it super easy to dry off in between all of your rescues and ocean adventures! Plus, it covers and protects from the sun for extra beach safety.
Kangaroo Beach Frizzy Wallet Lanyard £11
Beach style is sorted with this cray-sea cute Frizzy Wallet Lanyard! The tri-fold wallet has a secure, velcro closure so all cash and cards are kept safe, plus the fun lanyard makes it easy to carry goodies around! Also features a totally cool Kangaroo Beach print and embossed Frizzy badge for added fun.
Kangaroo Beach Frizzy Alphabet Keyring £7
Become the star of the show just like our favourite Frizzy with our Alphabet Keyring! Perfect for personalising a beach bag, lifeguard whistle and more. Plus, it features a totally tropical pineapple scent for extra fun!
Kangaroo Beach Character Slapband £5
Slip, slop and slap on this awesome Character Slapband featuring embossed badges of either Neville or Frizzy! Also features a totally tropical pineapple scented for added fun.
Be sure to shop the full Kangaroo Beach collection at Smiggle!
Pst… You can tune into Kangaroo Beach this summer, on Milkshake!, weekdays at 7:35am.