BeKind is the beautiful, eco-friendly doll collection that helps promote kindness, whilst encouraging inclusivity, compassion and creativity.
Since the dolls first launched, earlier this year, they have been super-popular with families, who have loved their positive messaging (don't just take our word for it – check out these reviews here). And now, there are three brand-new characters to collect – all available in a cute, new, mini-doll size, alongside the original, larger characters!
Introducing the NEW 15cm BeKind Dolls
Meet Rose Avery, Joy Marie and Turquoise Ann – the latest additions to the BeKind Doll collection. At 15cm, these new characters are half the size of the existing dolls in the range – and they're every bit as adorable!
Like all BeKind friends, these new characters have been designed to help teach children valuable lessons on how important it is to be kind to the environment and to each other. In line with the brand's eco-centric mission, parts of the dolls are made from recycled plastics, the ink used on the dolls and accessories is made from soybeans, the dolls wear eco-fashions, and the plastic-free packaging is reusable.
What's more, every BeKind friend has her own interest, from going green, to saving the oceans, to ending bullying. Matched to their interest, each character comes with four accessories and a pet figurine to support imaginative play and encourage children to explore their new friend's passion. Children can even decorate their doll's pet with the provided stickers!
The OG BeKind Dolls…
The larger, original BeKind friends are must-haves in any child's doll collection (RRP £29.99 each). These dolls are twice the size of the newer 15cm characters, and each comes with an adorable pet, bag accessory and a different DIY activity, such as making an upcycled doll's outfit, creating a set of BFF bracelets, and more.
There are five larger characters to collect – Brianna, Koral, Ivy, Nora, and Daisy. The box in which they're packaged can be used to construct a Kindness Board – a space to share kindness goals, which can also be used as a background play scene. Meanwhile, the ribbon that serves as the box handle can be used as a hair tie.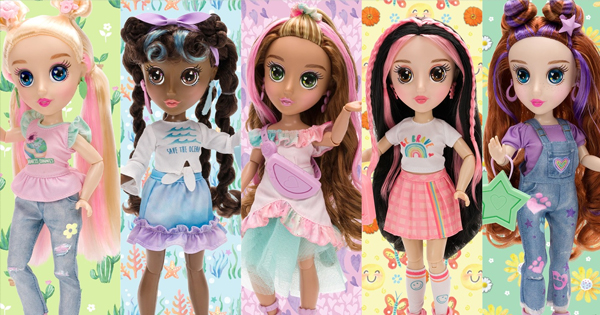 Both the larger BeKind Dolls and the new, 15cm BeKind Dolls are available now from Argos, Tesco, Sainsbury's, and Amazon.
You can meet all the characters from the BeKind doll collection in our on-site feature here.
And, whilst you're on-site, be sure to enter our competition for a chance to win all the new characters in the range!