Know a little one who loves Hey Duggee? Keep reading!
Duggee is the lovable big dog from children's TV, who helps inspire young children to learn new things and gain experience through fun activities and adventures with The Squirrels.
He is funny, cute and entertaining, making him the PERFECT learning buddy for children. And now, thanks to Trends UK, the fun with Duggee and his Squirrel Club needn't stop when the TV gets switched off. Introducing the latest collection of Hey Duggee electronic learning toys…
Hey Duggee Game Show
Available from Argos (RRP £24.99)
With Hey Duggee Game Show, children aged three-years-plus answer questions to win five different topics of Squirrel badges – get them all right and they'll earn their 'Gameshow badge'! Kids can play whilst learning about letters, numbers, objects, sounds and colours. To begin, insert one of the five interactive game keys to access the quiz questions; answers can be selected on the touch screen panel. Turn the key around and reinsert to hear fun tunes.
Key skills that can be developed through playing with Hey Duggee Game Show include object, colour and character recognition, fine motor skills, and cognition. Plus, children will gain practice listening to questions and searching for answers.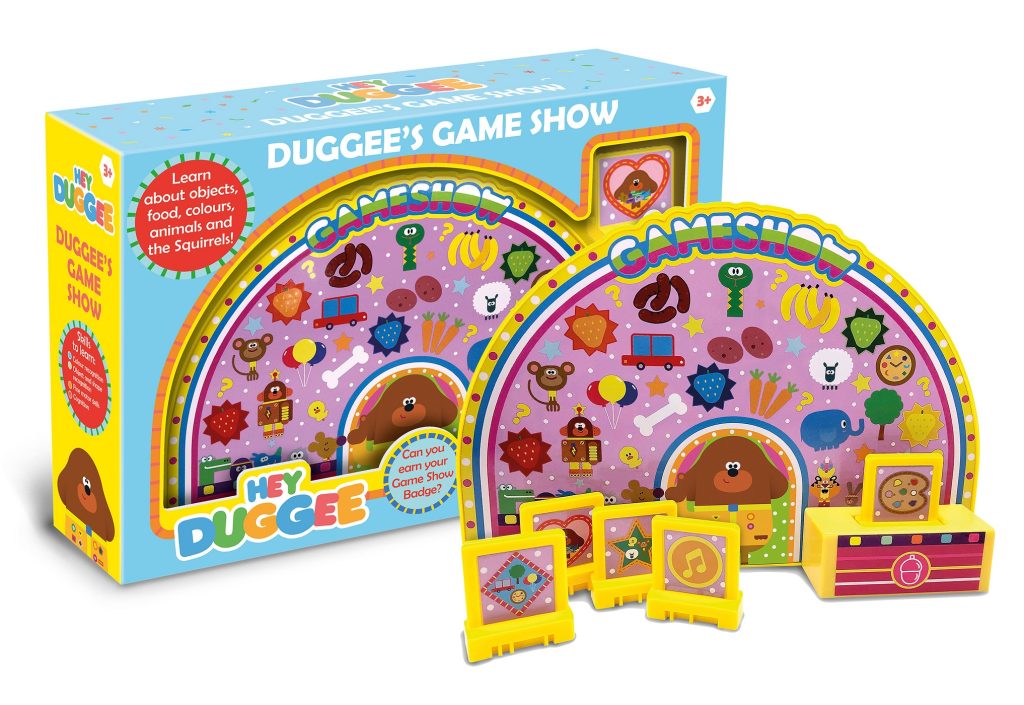 Hey Duggee Sing & Learn Microphone
Available from Amazon (RRP £19.99)
Let's sing together! Kids can choose from two modes of play: Quiz Time, when the narrator from Hey Duggee will test children's observation and listening skills, or Sing-Along, where they can pick one of four songs from the show to sing along with including the Stick Song, or music only versions to sing over by themselves karaoke style.
Children will be listening, following instructions and enjoying imaginative play – all whilst honing early colour and letter recognition, and speech and communication skills.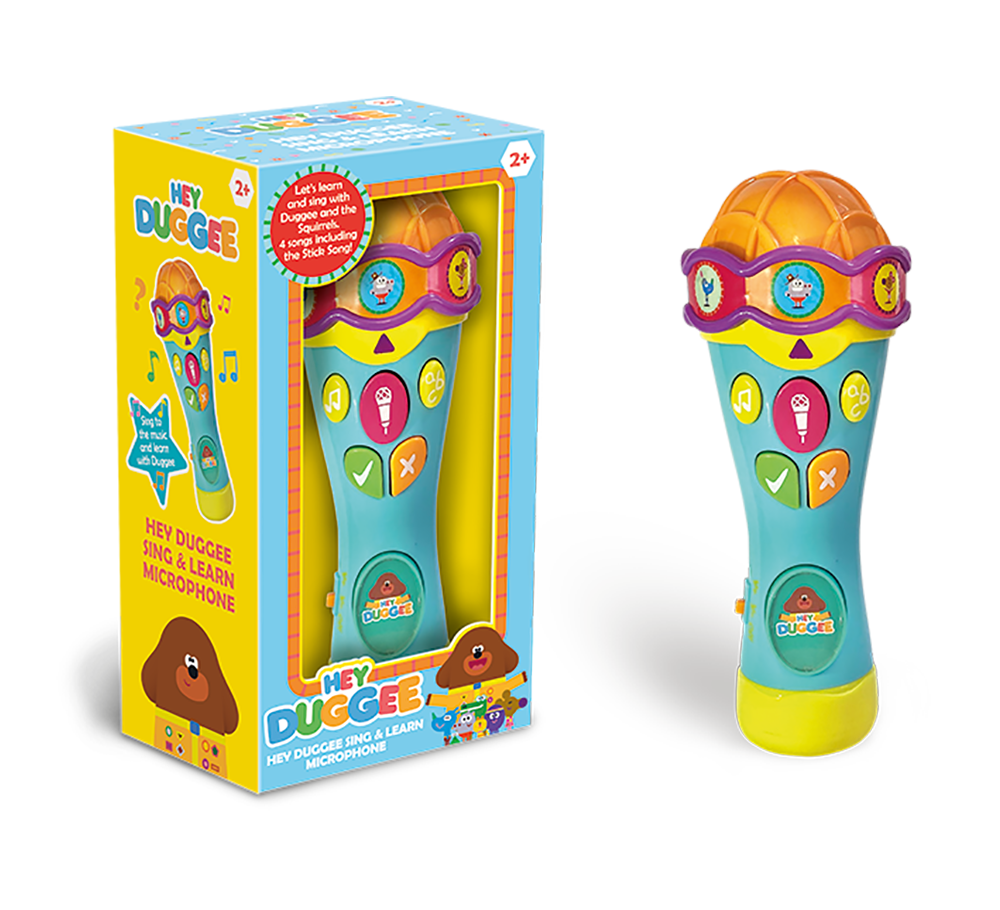 Hey Duggee Smart Tablet
Available from Amazon (RRP £18.99)
The Hey Duggee Smart Tablet comes with five games to encourage learning about colours, numbers, shapes, letters, characters and badges. The touch sensitive screen feature makes exploration fun and easy to follow; press images to discover character names and sounds! Children will love finding out more about the Squirrel Badges, they can meet the Squirrels, and they'll also learn to identify different shapes, colours and numbers 1 to 5, as well as learning phonetic spellings of five simple words. Watch as Duggee lights up when the questions are being asked!
This fun play experience will help teach colour and number recognition, helping to refine fine motor skills and children's understanding and ability to follow a sequence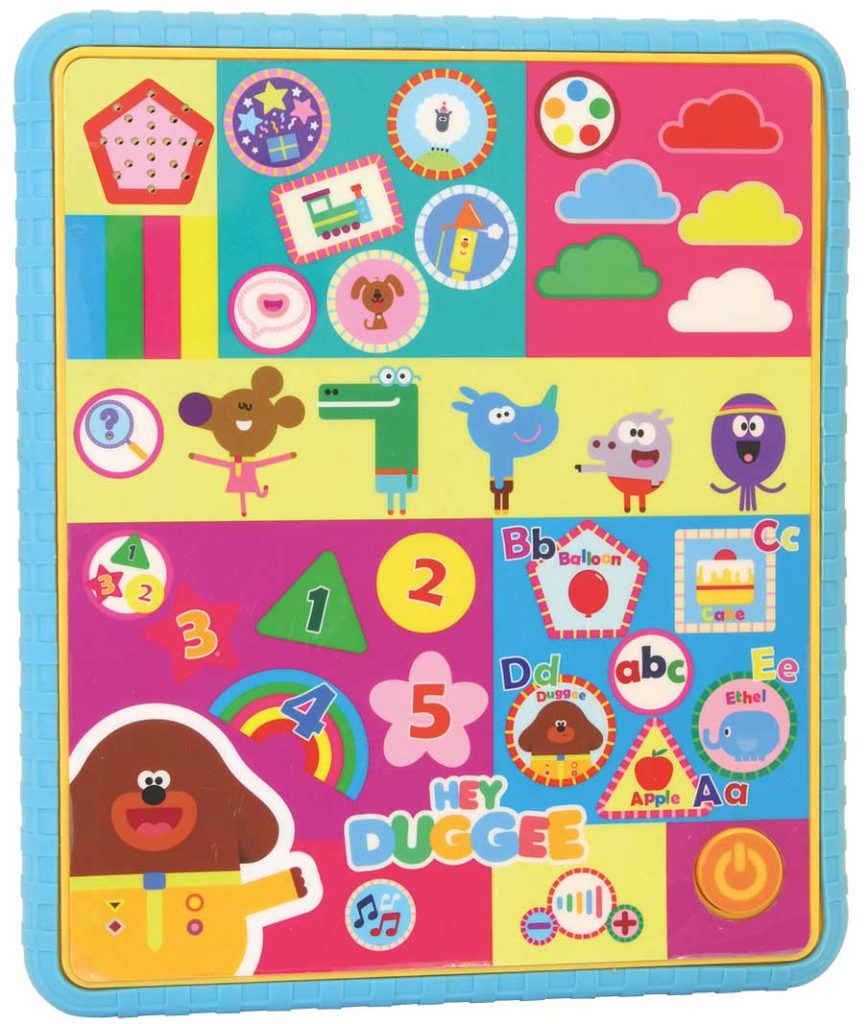 Hey Duggee Flip & Learn Phone
Available from Argos (RRP £11.49)
Call Duggee and the Squirrels! Children will have great fun learning about colours, numbers and fun facts from the Squirrels with this interactive flip up phone. Kids are encouraged to find numbers and colours, listen to greetings and pretend to take pictures.
Whilst playing, children aged 18-months-plus can gain important skills, including colour, number and sound recognition, basic communication and early vocabulary and problem solving, whilst also developing their fine motor skills and practising hand-eye coordination.