Little ones love imaginative play and Smoby has an impressive range of role play toys and playsets, which are designed to inspire children to dream up and act out endless pretend play scenarios.
To get a feel for Smoby's role play range, check out some of our favourites below!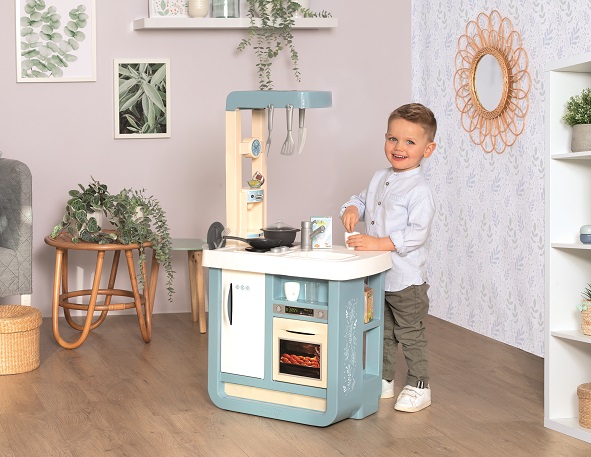 Smoby Bon Appétit Kitchen(SRP £59.99)
Mini master chefs will love the Bon Appétit Kitchen from Smoby! It features everything needed for a cooking extravaganza: an oven, fridge, countertop with a hotplate, an espresso machine, and a sink for doing the dishes. It even comes with 23 accessories, including cutlery and pans! Kids will love listening to the real cooking sounds as they prepare a yummy selection of tasty treats!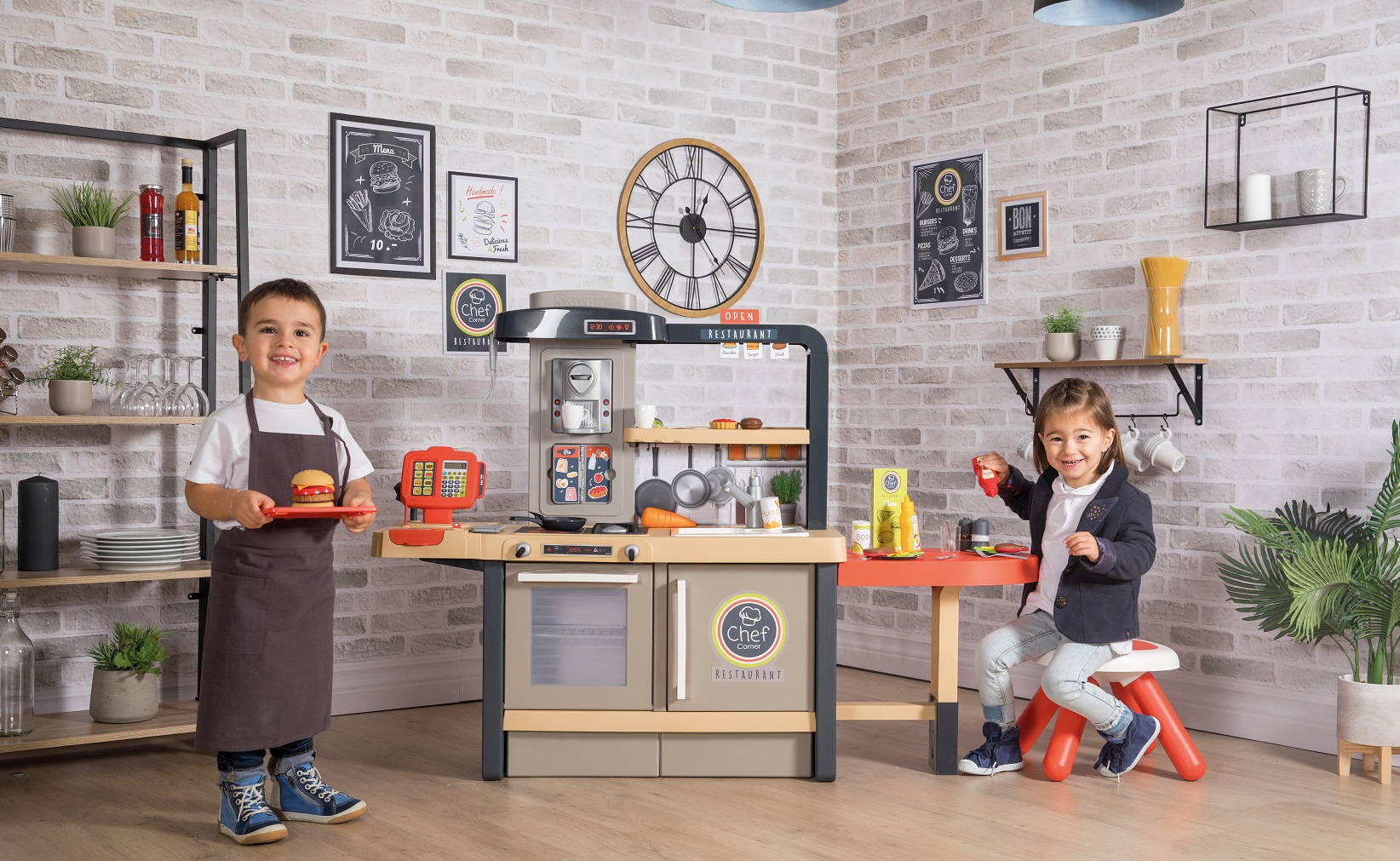 Smoby Chef Corner Restaurant (SRP £149.99)
Budding restaurateurs can set up an on-trend café with the impressive playset. The kitchen has everything a child will need to cook up a feast including a fridge, oven and hotplate with sound effects for the food prep and over 70 accessories to make the meal complete. A sink with tap and real water function is the perfect place to wash up while the customers relax over coffee from the espresso machine. And the cash machine, with calculator and credit card reader will ensure everyone pays up!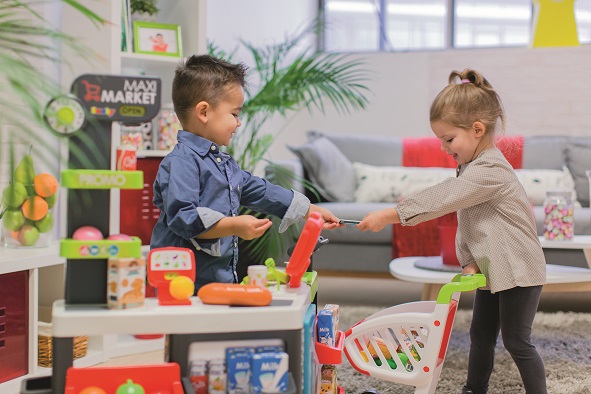 Smoby Supermarket Maxi (SRP £89.99)
Kids can take a trip down the aisles with the fun supermarket setup. It includes all tots need to shop, shop, shop! The Supermarket Maxi has several game spaces, fruit and veg areas, a checkout, money drawer, and scale. It also features fab electronic items: a cash register, a real calculator with an LCD screen, a barcode scanner with working lights and sounds, and more! Plus, there's a mini trolley included so kids can grab items from the shelves and take them on-the-go!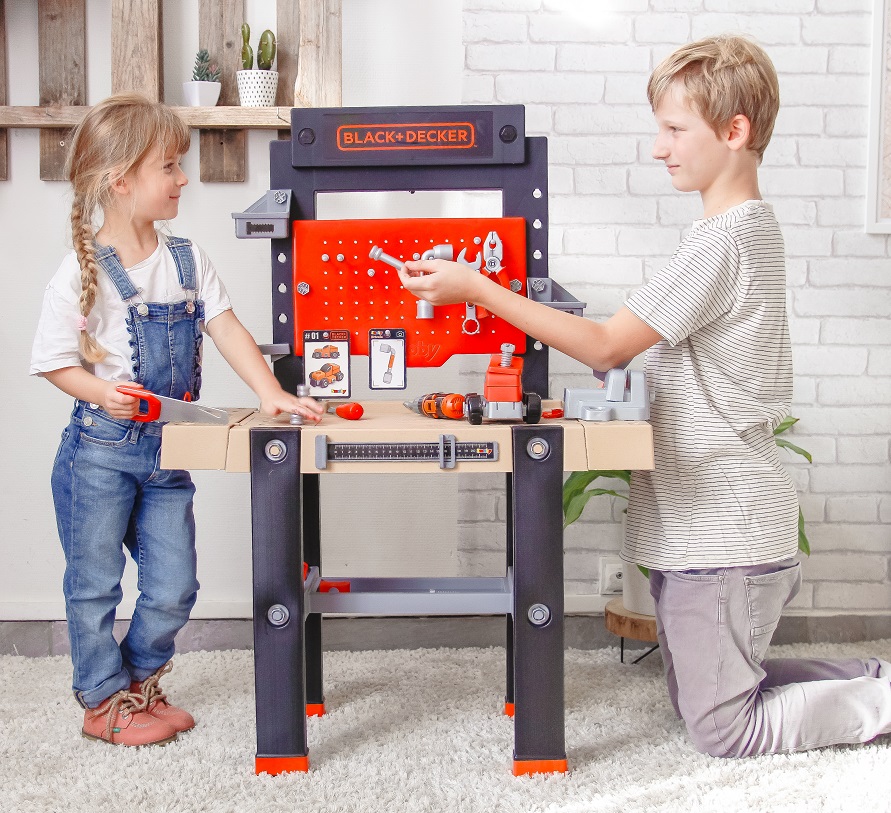 Smoby Black + Decker Ultimate Workbench (SRP £89.99)
The Smoby Black + Decker replica range offers little builders all they need to get to work with their big construction plans! Designed to look just like the real thing, the Bricolo Ultimate Workbench comes equipped with 90+ accessories, including a mechanical drill to assemble the free-wheeling buildable car, as well as a mechanical saw with sound effects! Once play has come to an end, the accessories can be neatly stored away, in the large storage compartments.
Smoby Medical Rescue Trolley  (SRP £49.99)
Wannabe doctors and nurses will love this Medical Rescue Trolley, which comes with loads of features for future key workers to learn from. The trolley contains lots of accessories including stethoscope, bottles, syringes, tweezers and reflex hammer. It is also equipped with sounds such as heartbeats and health status plus a little siren when more help is needed!
Love the look of the Smoby role play collection? Shop the range now at Very, Amazon and Argos.
Which role play toys would your little one love best? Let us know on our Facebook/Twitter pages!
To head back to the main takeover page, click here – there's competitions, free downloadable activities and plenty more to discover from Smoby!