This week, it's Stay Active takeover week. Today we're bringing you up to speed on all the latest and greatest toys and games in the Stay Active collection.
Stay Active is the brilliant range of family-inclusive toys and games that can be played with both inside and outside whilst having great active fun. Character Options created the collection with the goal of helping to improve the general wellbeing of kids. These activity toys have each been designed to not only provide families with endless entertainment, whatever the weather, but also to encourage kids to get active – and stay active – promoting both a health body and a healthy mind.
This collection includes some brand-new lines for families to enjoy, as well as classic favourites, including Jump It Lap Counter, KickerBall and Moon Shoes.
Stay Active Jump-it Wipeout is the fast and fun musical jump challenge fitness game! Try your luck against the rotating soft foam jump bar and battle it out try to stop yourself being wiped out! Stay Active Jump-It Wipeout has three modes of play. In Normal Mode players jump against the clock for a set time at a set speed of low, medium or high speed. In Challenge Mode players jump the sweep jump bar speed increases faster and faster! And in Reverse Mode the sweep jump bar will randomly change direction, testing timing, reactions and agility.
Take a swing with Bubble Skip and have double the fun!
This brand-new, super-fun jump and skipping game can be played with indoors and outdoors!
It combines two fun activities – skipping and jumping. Kids will be amazed as they create bubbles as they jump and skip.
It's so easy to use and suitable for ages 6+
There's so much fun to be had with Splash Atom! In this exciting action game, players have to avoid being drenched!
It's a great way to stay active. Start the fun by filling with water balloons, then LOAD, SLIDE, AVOID THE SPLASH! Ideal for ages 6+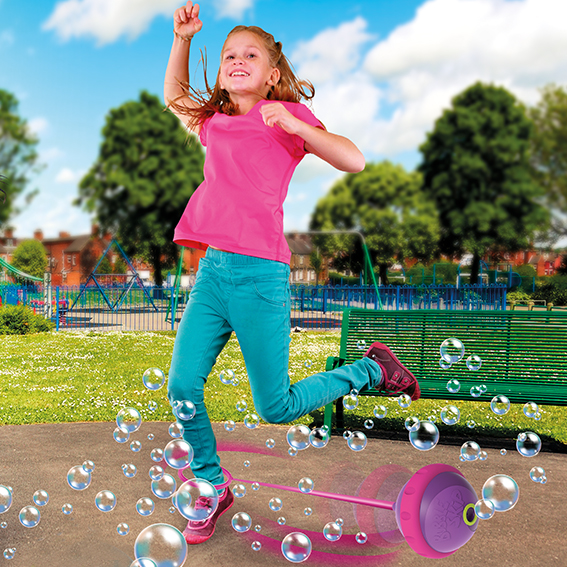 Moon Shoes are 'mini-trampolines' for the feet, which enable kids to jump with anti-gravity effects! They're made of quality, high-density plastic, with adjustable Velcro® closure straps. What's more, thanks to the self-centring shoe platform and non-skid grip surface, kids can get bouncing and enjoy some sure-footed, high-bouncing thrills!
Kids will go hopping mad for Jump It Lap Counter,the fun jumping and skipping game. It's super easy, connect Jump It to one ankle, spin the ball, and jump the cord! Jump It records the laps, so all kids need to focus on is jumping and trying to beat their last score! It'll keep track up to 1,000 laps. Perfect for kids aged six-plus, the activity requires no batteries, just kid-power!
KickerBall is the football that's like no other. KickerBall's special panels channel air in ways your standard football can't. Made with revolutionary aerodynamic materials, budding football freestylers can learn to swerve, bend, and curve this ball with ease.
Sure to be a splash hit with kids and adults alike is Splash Out, a game that requires players to throw the ball on to another person to avoid getting splashed out! The core of Splash Out features a ball that can contain a water- or an air-filled balloon, as well as a wind-up timer. When the timer runs out, the water balloon is popped and whoever is left holding the ball gets splashed with water!
Discover the great active fun that's to be had with this brilliant collection; shop the collection now at Amazon, Argos, The Entertainer, Very, Smyths and Sainsbury's.
For more great active fun, head back to the main takeover page, where you'll be able to enter our competition for a chance to win a Stay Active Bubble Skip, plus more!