Get ready to sit back and chill… as part of the ChillFactor takeover with Character Toys we're about to tell you all about the ChillFactor collection. From slushy cups to poppin' dots, there's a frozen treat for all to enjoy this year, with ChillFactor.
ChillFactor Neon Cups
Three funky neon styles to collect – pink, green and blue
The ChillFactor Slushy Maker allows you to make delicious slushies' in seconds! No ice, no blenders, no mess! So easy to use, all you have to do is put it in the freezer, wait for it to freeze then add your preferred chilled drink and squeeze! Right before your eyes you will see the slushy appear in seconds! Simply freeze, squeeze and enjoy! Once you have made your slushy you can use the spoon straw included to enjoy! The ChillFactor Slushy Maker is transportable so you can enjoy your slushy anywhere once made! You can create slushies' from all your favourite chilled drinks. Use natural fruit juices to make yummy and healthy slushies. The Slushy Maker is reusable. Simply wash in warm soapy water after each use, re freeze and its ready for you to make your next slushy.
Coca-Cola Slushy Maker
And there's something extra special for Coca-Cola fans! It's the same great slushy maker, but styled in the classic red Coca Cola colour. This cool Slushy Maker features the iconic Coca-Cola logo that'll make it instantly recognisable. Kids and big kids alike will be able to create frozen Coca-Cola slushies and other tasty frozen drinks with this super-cool branded Slushy Maker.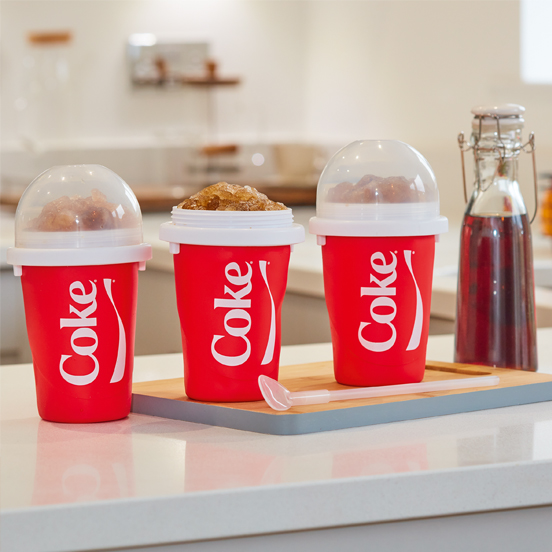 ChillFactor Poppin' Dots Frozen Dot Maker
The ChillFactor Poppin' Dots Frozen Dot Maker is the super cool way to make your very own Frozen Dots at home! Use your favourite drinks to make your favourite treat – no mess, no fuss! Simply fill the unit with your favourite drink, then turn the lever to release the liquid into the Poppin Dots trays. When your trays are filled, put in the freezer, and once frozen you are ready to enjoy your delicious Poppin Dots!
The set includes reusable cups and spoons so you're ready to serve up once made! Use your imagination or use the recipe suggestions included to give you some flavour inspiration! Top off your Poppin' Dots with fruit, sprinkles, chocolate chips or syrups – the possibilities are endless!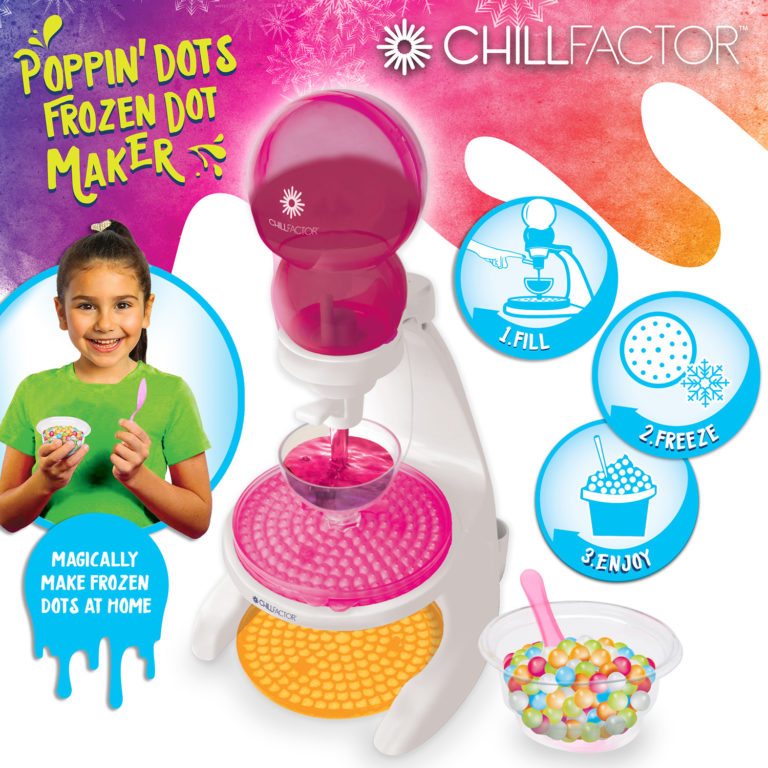 For more chill time and creative fun, head back to the ChillFactor takeover hub page by clicking here.