Main image as seen on Pixabay by PublicDomainPictures.
Halloween is only two weeks away, so we've been busy looking at the best baby grows and clothing for your little ones in shops now!
Take a look at our favourites!
Perfect Pumpkin Halloween Babygrow – RRP £16.95
Halloween costumes aren't just for adults… this one is especially for Mummy's perfect pumpkin! The word Mummy can be left off or substituted if you'd rather, as we don't like our Dad's to feel left out! This soft feel, 100% pure cotton babygrow is a lovely outfit for baby this Halloween.
John Lewis Skeleton Onesie – from £22 – £28
Your little one is sure to love this spooky onesie from John Lewis & Partners. Made from a soft fabric, this onesie features a fun skeleton design with arrows to show the names of the bones in the body. It's completed with a zip-through front for ease of dressing and a skull on the hood!
Black Glitter Daddy Slogan Tutu Bodysuit and Tights Halloween Outfit – RRP £7
Keep your spooky cutie looking sweet in this adorable tutu bodysuit and soft black tights ensemble! Featuring a silvery glitter "I've Got Daddy Under My Spell" slogan and a matching polka dot print on the tutu, it's perfect for their first Halloween.
JuJuni Dungarees – RRP £38
Stand out in pumpkin orange this Halloween with JuJuni dungarees! There's nothing scary about how these dungarees are created! Crafted from high quality and hard wearing organic Needle Corduroy, every aspect of the dungarees is ethical – right down to the buttons (and the bum as they are designed to fit over cloth nappies!). The perfect outfit for trick or treating this autumn!
Little Spooks Ghost Zip-Up Sleepsuit – RRP £34.50
Even ghosts and monsters need to sleep comfortably, which is why MORI has made this Little Spooks Ghost Zip-Up Sleepsuit in the softest organic cotton and bamboo fabric. The Zip-Up front makes for simpler night time changes so they can sleep peacefully on the scariest night of the year.
Grey Halloween Interactive Bat Sleepsuit – RRP £8
Keep little ones cosy this Halloween with the Interactive Bat Sleepsuit from Next. This sleepsuit can also be personalised with your child's name and features flappable wings for added fun!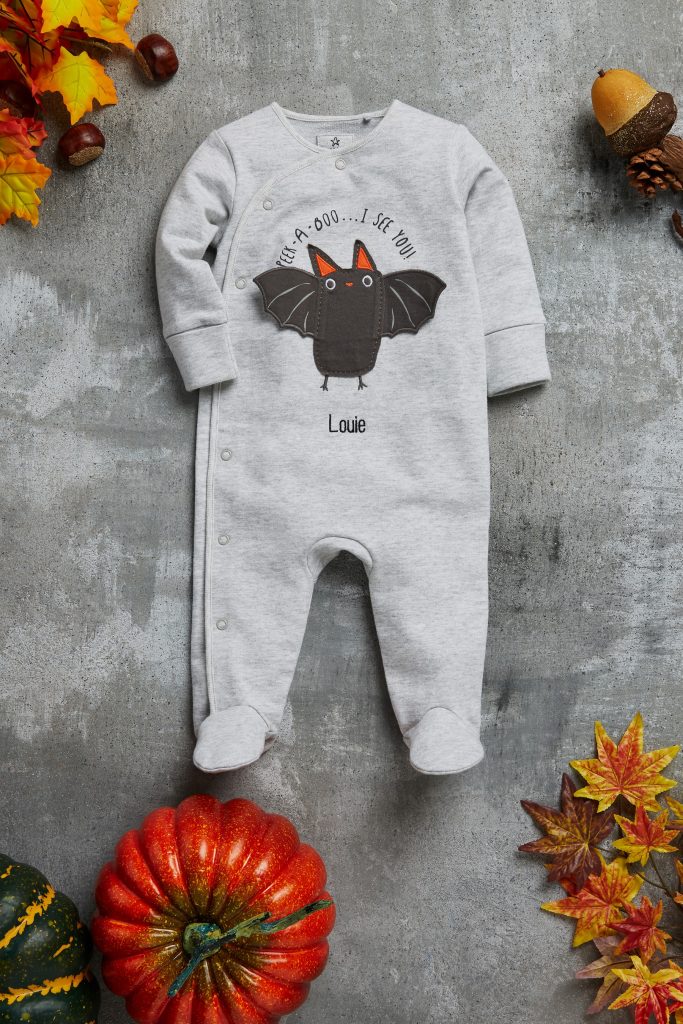 Are you dressing up your little monster for Halloween? Let us know by commenting down below and share your pictures with us over on social media @UKMumsTV!