Baking is a really great activity to do with the kids, not only does it keep them busy for a couple of hours but you get to eat cake at the end of it all! Ellie from Ellie's Kitchen UK has shared the recipe for her yummy Oreo inspired Cookies and Cream Tray bake which is super simple to make and just as delicious!
Ingredients – makes 9 large slices
For the cake:
190g caster sugar
60ml vegetable oil
2 large eggs
1 tsp vanilla extract
50ml sour cream
190g self-raising flour
150ml milk
1/2 crushed Oreos
For the frosting:
300ml double cream
150g mascarpone
150g icing sugar
1/2 pack crushed Oreos to top
Method
Pre-heat your oven to 180C and line a square tin with parchment.
Make your cake batter using the "all in one" method (leaving out the Oreos). Simply mix all the cake ingredients together until lump free.
TIP: You want the mix to be quite thick so that the Oreo bits stay suspended and don't all sink to the bottom of the cake.
Once your batter is smooth, add the crushed Oreos, and combine.
Pour the batter into the prepared tin and bake until golden and cooked through (40-60 minutes depending on the depth of your cake)
While the cake cools, make the frosting
To make the frosting put all of the ingredients in a stand mixer with a balloon whisk attachment and WHISK!
TIP:  This is a quick frosting and won't need too much whisking, and be careful not to overdo it, just go until it's light and spreadable but still able to hold shape.
Once the cake is cool spread on the frosting (as thick as you like) and sprinkle a generous helping of crush Oreos on top.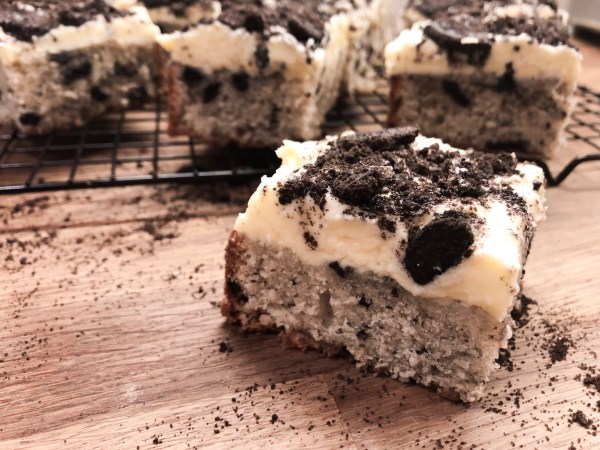 Voila!
Love the sound of this? If you try it out don't forget to share your snaps with us on social media! For more recipes to try out with your family visit Ellie's Kitchen UK.