Are you on the lookout for an easy to make, yet impressive pudding? Then look no further. These mousse pots are lovely come summertime and are made extra special with amazing quality Manuka Honey. See below for the quick and easy recipe!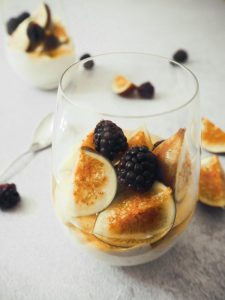 Ingredients – Makes 4 pots:
-20g soft goat's cheese
-30g caster sugar
-100ml double cream
-60ml Greek yoghurt
-2 tbsp Manuka Honey
-Generous amounts of extra honey to garnish
-Fresh figs (and blackberries go well too!)
Method:
1. In a stand mixer with the balloon whisk attachment, whisk all of the ingredients together until fairly stiff.
2. Spoon into glasses and leave in the fridge to firm up (at least 2 hours before serving)
3. When you're ready to serve finish each pot off with lashings of Manuka Honey (or regular honey if you prefer a milder taste) and top with your fruit!
Love this recipe from Ellie's Kitchen UK? Click here for more.