Simba Toys UK has taken over on UKMums.TV for a fortnight of fun with its Disney Marvel soft toys takeover!
The perfect gift or collector's piece for any Marvel fan, these soft toys do a wonderful job of capturing the cinematic magic of Marvel. Each character in the collection is chunky, soft, and comes fashioned in a cute cartoon style is instantly recognisable to fans.
Available in a range of styles, these huggable soft toys are perfect for gifting (and yes, that can include self-gifting!). Suitable for all ages, there are lots of soft and cuddly Marvel characters to collect. Check out some of our favorites in the range below…
Marvel Poseable 25cm Soft Toys (RRP £14.99 each)
Available from Smyths Toys Superstores
In this super-cool poseable collection, Marvel fans can collect four favourite crime-fighting heroes: the Hulk, Ironman, Captain America and Spider-Man. Each stands 25cm tall, and comes dressed in their iconic superhero outfit. But what makes these toys extra super is that they feature flexible and poseable arms and legs with a soft outer body. The bendy, poseable skeleton allows fans to flex and position their limbs into amazing action poses, perfect for creating playtime adventures.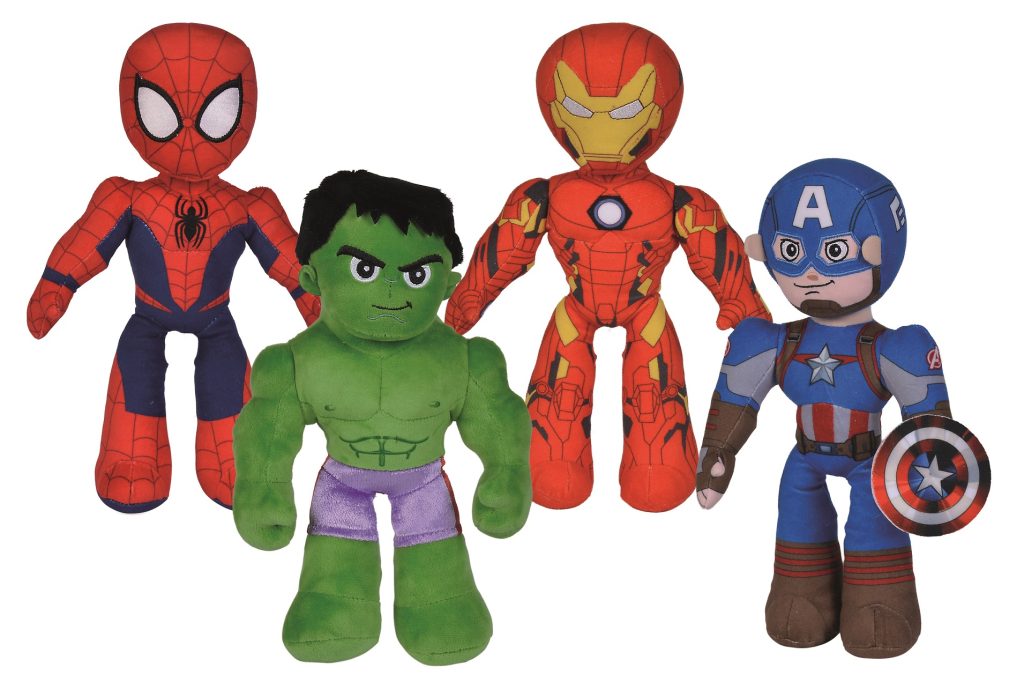 Marvel's Spidey and his Amazing Friends Soft Toys (RRP £9.99 each)
Available from The Entertainer
Collect spider-ific versions of Spidey and his Amazing Friends! Peter Parker comes in his red and blue Spider-Man suit, whilst Miles Morales or Spin wears his navy and red Spider-Man suit, and Gwen Stacey or Ghost sports her white, pink and purple suit. The toys feature a chunky, squishy body, moveable legs and ears, and an oversized head with large glow-in-the-dark eyes – perfect for navigating through the city at night and taking down bad guys! Each stands 27cm tall and has been recreated with authentic character likeness.
Marvel Mini Action 20cm Soft Toys (RRP £8.99 each)
These Disney Marvel Mini Action 20cm Soft Toys are oh so cute! Dressed in their iconic super suits, these chunky soft toys are great for cuddling! The collection includes Spider-Man, Captain America, Ironman, Hulk and Captain Marvel. Each toy is 20cm tall.
Marvel Young Groot Floppy 25cm Soft Toy (RRP £14.99)
Available from Smyths Toys Superstores and Tesco
Fans can now add to their Marvel collection the adorable Guardians of the Galaxy hero as a seriously cute and cuddly 25cm tall toy. The Floppy Groot Plushie is based on the popular teen Groot stylisation. Larger than baby Groot, the cuddly toy has moveable arms and legs with a squishy body that resembles his iconic tree-like frame.
The Disney Marvel soft toy collection is available now from Morrisons and The Entertainer.
For more Disney Marvel fun, head back to the main takeover page.