As children grow and develop, playtime becomes an important aspect of their life. It helps them to learn and develop new skills. Construction toys help children to make sense of the world. They can help shape the way they think about and complete tasks.
The open-ended activities inspired by construction toys encourage children to think independently. And also, challenge themselves and learn by trial and error, as they ask themselves 'What if…?'.
Why Kids Love Playing with Construction Toys
Construction play is loved by children of all ages, and given the choice children will naturally gravitate to construction toys. They are a fun and engaging way to develop many skills. While also giving children a sense of pride and accomplishment when they have created something new.
Construction toys come in many different shapes, sizes and materials – wooden blocks, Lego, sand, Playdough, beads, fabric etc – therefore appealing to many children.
Playing with these toys encourages children to use their imagination, be creative and express themselves. While they are busy experimenting and creating, children are not only developing skills such as hand-eye coordination and problem-solving. But also important communication and social skills if playing alongside others.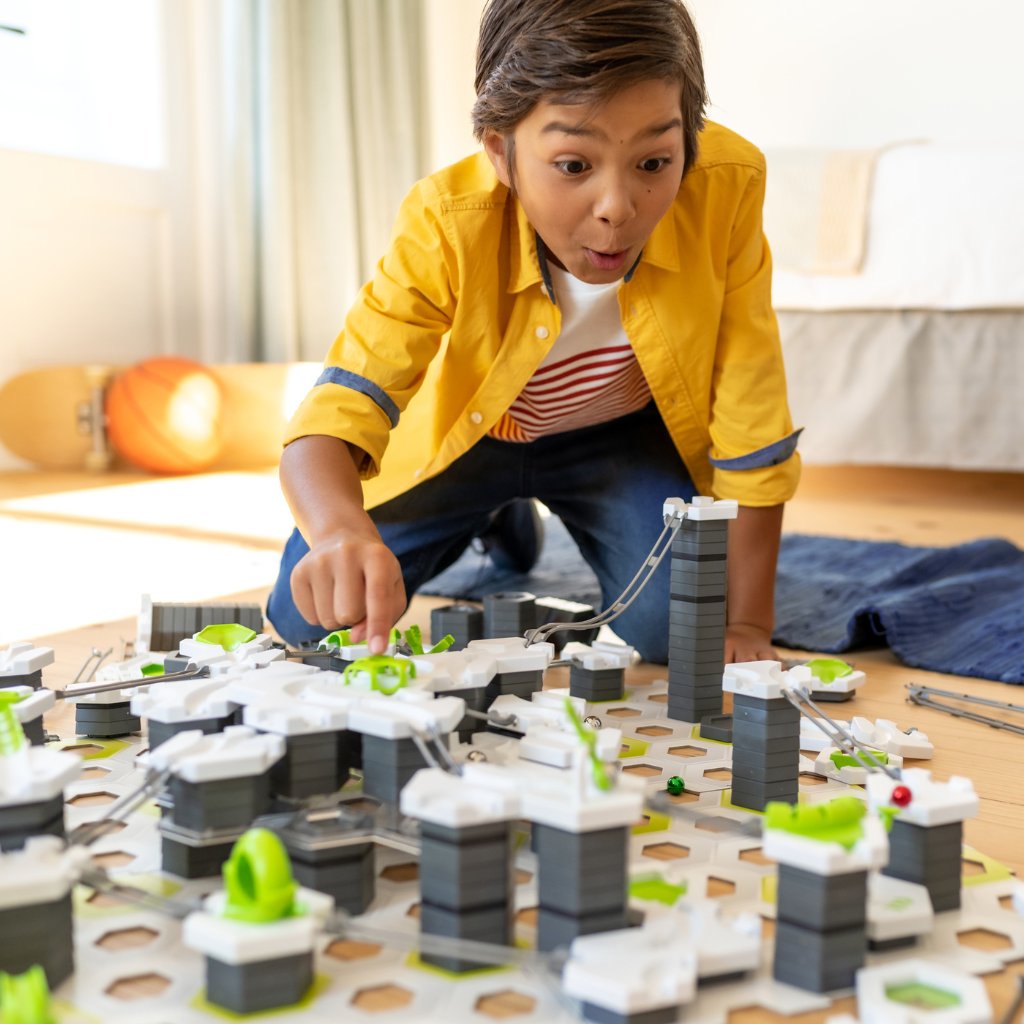 How Construction Toys Help in a Child's Development
Playing with construction toys helps children's development in numerous ways. Here are some of the many benefits:
• Develops fine motor and gross motor skills
Gripping, moving and connecting small construction materials such as Lego, wooden blocks or magnetic shapes allows children to practise and hone their fine motor skills. Plus strengthen the muscles in their fingers, hands and arms. Lifting and supporting larger materials such as planks, large bricks or pipes, helps to build children's larger muscles. And is especially important for promoting core strength and balance.
• Enhances problem-solving and critical-thinking skills
Testing ideas to see what works and what doesn't; maybe they need to use a bigger base for their tower. Or think of a way of transporting sand from one place to another. The thought process, risk assessing and learning through trial and error is incredibly important for a child's cognitive development.
• Encourages creativity and imagination
Construction play can really ignite the imagination and often inspires children to engage in roleplay. Whether it's dressing up as a construction worker or building a house for Barbies, construction play gives children a chance to express themselves. A variety of resources and materials will allow children to create and test whatever their imagination will allow, and be whatever character they like!
• Builds an understanding of cause and effect
Building an understanding of cause and effect is an important part of a child's development. Construction play helps children to learn that their actions can cause something to happen – when a child exerts pressure on a tower they have just built, the tower will fall down. Or if a gap is left in the train track, the train will fall off.
• Improves hand-eye coordination
Construction play gives children the opportunity to coordinate their hand and eye movements. Fitting loose parts together, hitting a nail with a hammer, and filling a bucket with sand will all give children the opportunity to practise and develop these movements.
Having strong hand-eye coordination is really important for children to be able to go on to learn life skills such as feeding and dressing themselves.
• Supports communication and social skills
Whether children are collaborating on a building project together. Or taking it in turns to use the glue, the nature of construction play encourages children to work together and develop their communication skills and emotional development.
As children play together there are lots of opportunities for discussion, development of new vocabulary and opportunities to practise sharing resources.
• Builds confidence
Construction play allows children to take risks in their play, helping them to discover that they have independent ideas. Children experience a sense of achievement as they 'have a go' at planning and creating something new that was their idea.
And as their confidence grows, they will feel more confident to try more complex tasks.
• Develops focus and patience
Constructing something can take time and concentration. Children may face challenges as they try to build a marble run or racing track. But by persevering and being patient children will eventually learn that in order to get good results, taking time and working hard pays off.
Following instructions, planning what comes next and waiting for their turn all take focus. Plus helps develop concentration; all valuable life skills.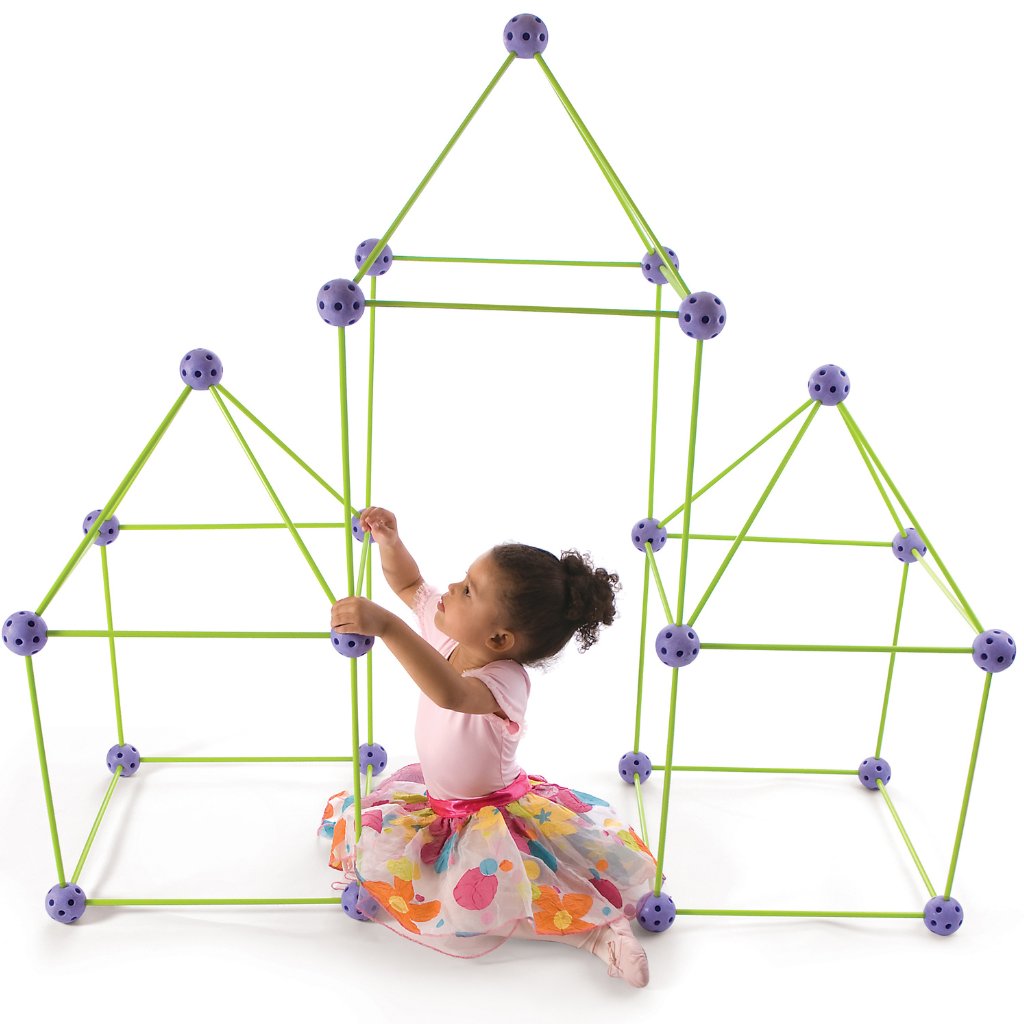 ---
Construction Toys Recommended By the Good Play Guide
Dr Gummer's Good Play Guide is an independent, expert organisation, dedicated to ensuring every child develops the skills they need to thrive during a happy healthy childhood.
Founded by child development expert Dr Amanda Gummer in 2012, the Good Play Guide provides independent, expert accreditation for children's products. And is a trusted resource for parents and gift-givers alike.
All Good Play Guide reviews are independent and based on real feedback from children, parents, and childcare professionals. Our experts review and rate each product using the five-star system below!

There are so many fantastic Good Play Guide accredited construction toys – here's a selection: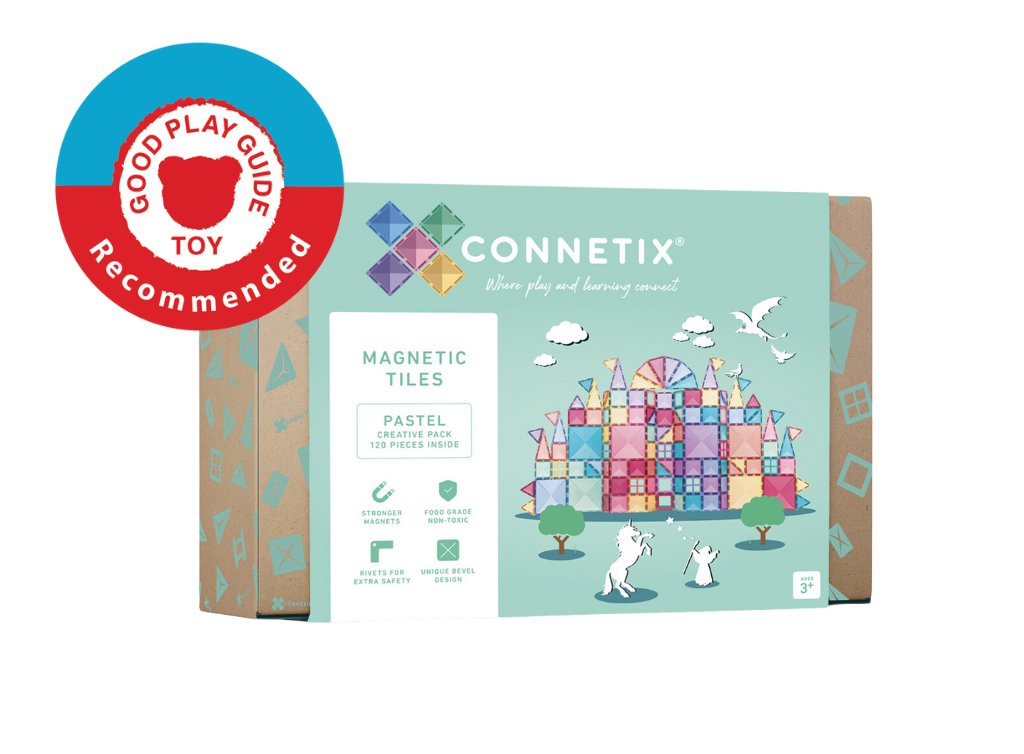 Connetix 120 Piece Pastel Creative Pack
Price: £110
Age: 3 years +
The Connetix 120-Piece Pastel Creative Pack is a versatile construction toy that is perfect for children of all ages.
With its unique magnetic tiles and various shapes and sizes, this toy allows children to build a wide range of structures and creations. From simple houses to complex towers and bridges. What's more, the pastel colours make it a visually appealing toy that is sure to capture your child's attention.
What Our Experts Think:
The children really enjoyed using the magnetic pieces to build their creations. It was clear to see that the children had a lot of fun and were very engaged in experimenting with the possibilities using their imagination and creativity.
Read more about the Connetix Pastel Creative Pack on the Good Play Guide
Good Play Guide Rating:
Fun: 5/5

Educational: 4/5

Ease of use: 5/5

Crazy Forts
Price: £42
Age: 5 years +
Crazy Forts is a fun and engaging construction set. It allows children to build their own forts and playhouses using a variety of plastic rods and connectors.
With its unique design and endless building possibilities, this toy is sure to spark your child's imagination and encourage hours of creative play.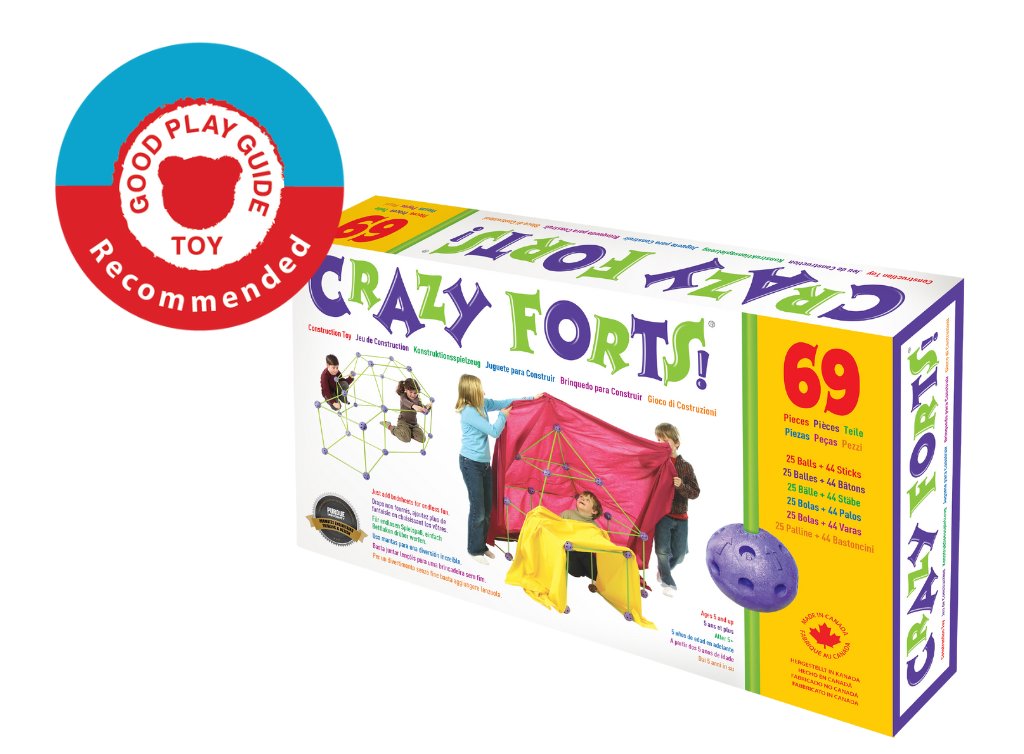 What Our Experts Think:
As children plan out what they are going to make, they are developing important STEM skills. Including visual planning, logical thinking and creative problem solving to work out the floor plan and shape of their structure.
Read more about Crazy Forts on the Good Play Guide
Good Play Guide Rating:
Fun: 4/5

Educational: 4/5

Ease of use: 4/5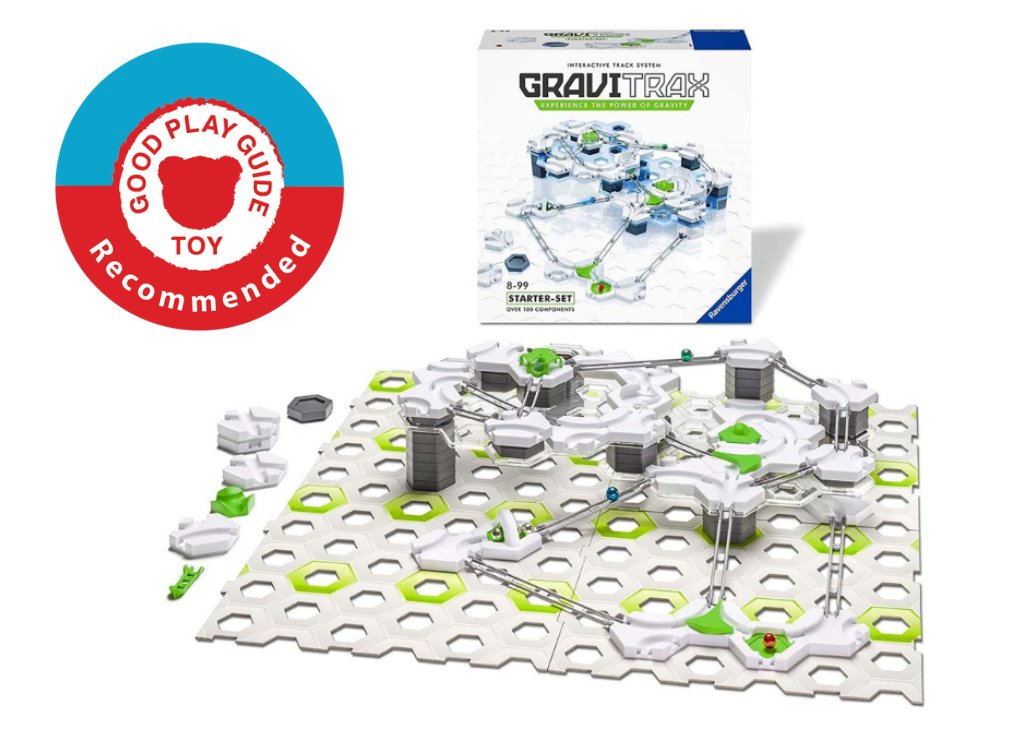 GraviTrax Starter Set
Price: £49.99
Age: 8 years + *
The GraviTrax Starter Set is a unique and innovative construction toy. It allows children to create their own marble runs. The set comes with over 100 pieces, including tracks, curves, and junctions, that can be used to build complex structures. The set also includes a base plate, marbles and a range of accessories. Including a cannon, scoop, and trampoline to add to the fun.
* Younger children may require adult supervision when building and playing with the set.
What Our Experts Think:
Our testers were intrigued and eager to get started. They used their imagination to build the tracks, promoting creativity and spatial awareness. As well as logic when fitting and building pieces together.
This kind of construction toy also allows for trial-and-error learning. With players required to rebuild and use their problem-solving skills when the balls didn't roll along the track properly.
Read more about the GraviTrax Starter Set on the Good Play Guide
Good Play Guide Rating:
Fun: 4/5

Educational: 4/5

Ease of use: 4/5

Waterwall
Price: £39.99
Age: 3 years +
The Waterwall is a unique construction toy that combines building and water play. The set comes with a variety of pipes, connectors and cups. All of which can be assembled in different ways to create a water run.
Children can pour water into the top of the Waterwall and watch as it flows down the pipes, spins wheels and creates a waterfall effect.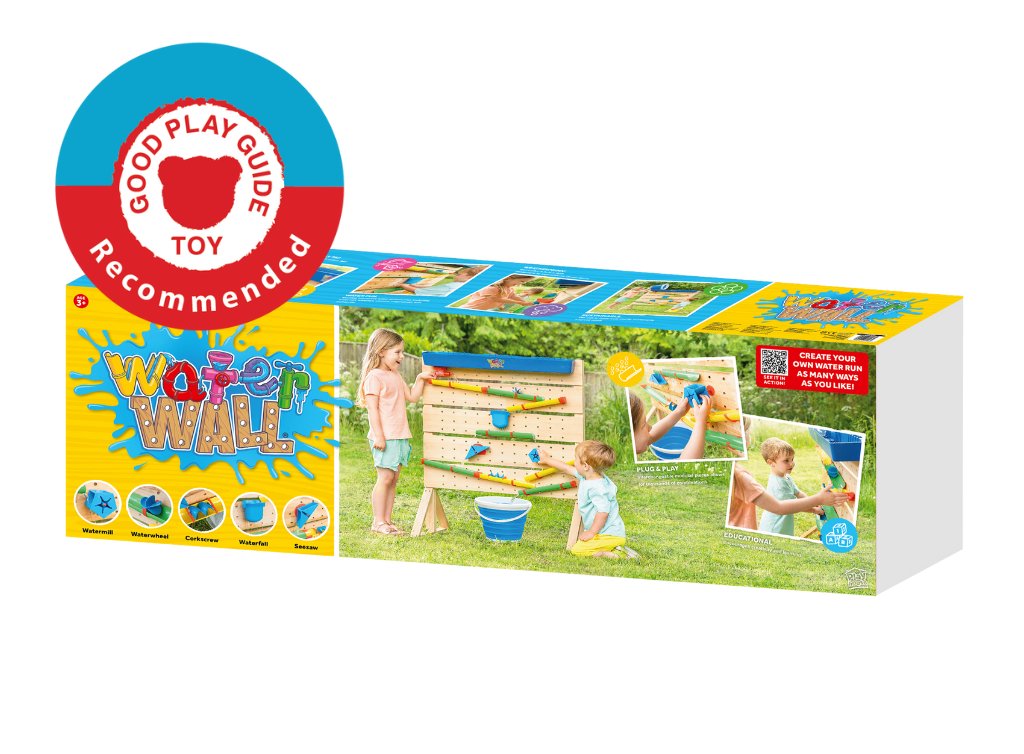 What Our Experts Think:
Waterwall encourages children to get active outdoors, use teamwork and logical thinking skills to make the water flow down the pipes.
Using a cup to transfer water into the tray is a great way to help children develop skills in hand-eye coordination, logical thinking and visual processing.
Read more about Waterwall on the Good Play Guide.
Good Play Guide Rating:
Fun: 4/5

Educational: 4/5

Ease of use: 4/5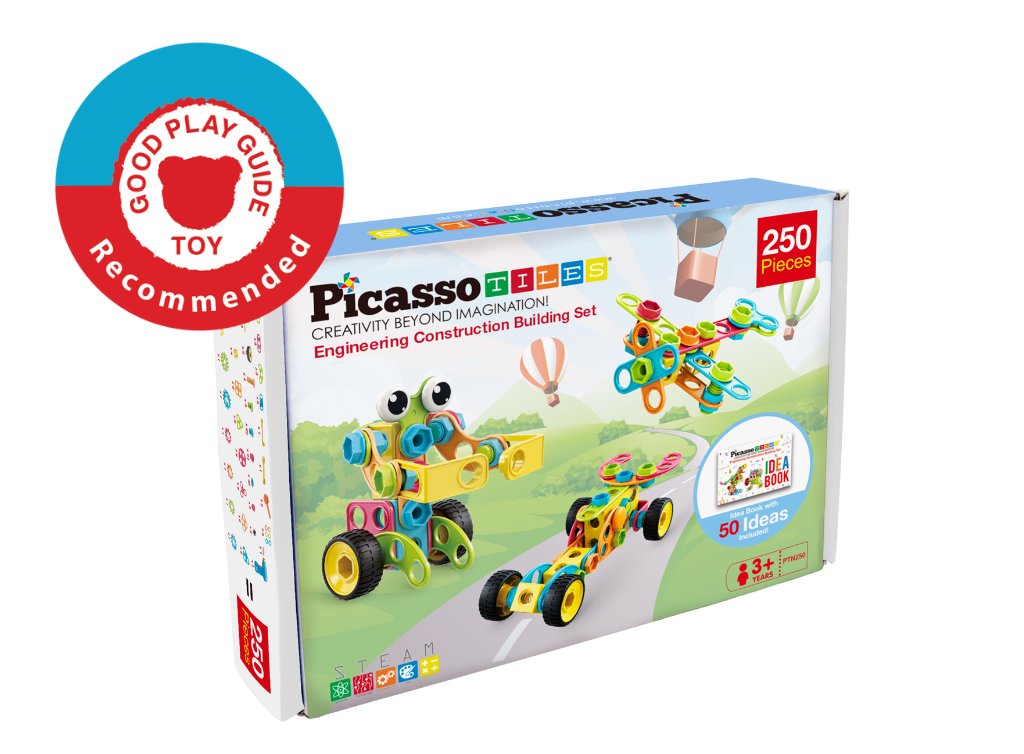 Picasso Tiles Engineering Construction 250 piece Set
Price: £29.99
Age: 3 years +
The Picasso Tiles Engineering Construction 250-piece set includes various tools. Includes nuts, bolts, wheels, and shapes to encourage children in exploring the world of engineering and construction. All while having fun and using their imaginations.
What Our Experts Think:
Our testers were engaged and excited to use "real" tools to bring their ideas to life.
Witnessing the children build, create, and interact with their structures was fun for the whole family. Repeat play with the finished designs, as well as building of new creations, was a huge hit.
Read more about the Picasso Tiles Engineering Construction Set on the Good Play Guide.
Good Play Guide Rating:
Fun: 5/5

Educational: 5/5

Ease of use: 4/5

Magicube Full Color 100% Recycled Cubes
Price: from £18
Age: 18 Months+
The Magicube Full Color 100% Recycled cubes set is a magnetic building toy that offers endless possibilities for creative play.
The set is available in 8 or 16 cubes made from 100% recycled materials. Featuring a range of vibrant colours to engage children's imaginations.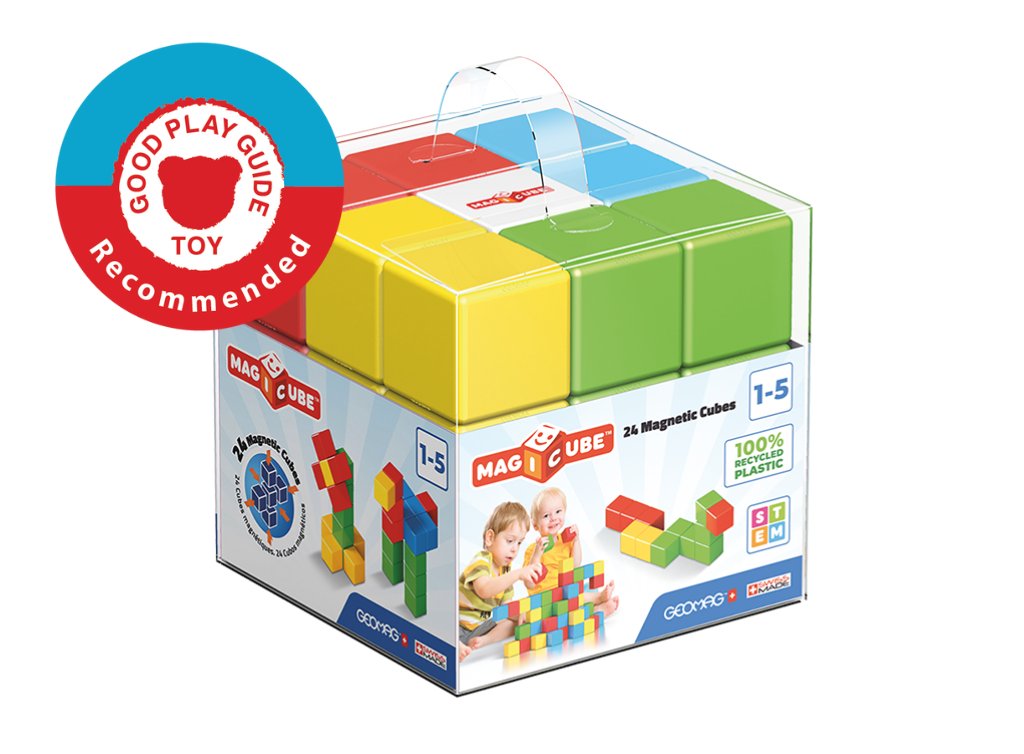 What Our Experts Think:
Magicube Full Color lets little ones get creative while helping their colour matching and logical thinking skills.
The blocks are sturdy and easy to stack for small hands, which is great for building dexterity and hand-eye coordination.
Read more about the Magicube Full Color Set on the Good Play Guide.
Good Play Guide Rating:
Fun: 5/5

Educational: 4/5

Ease of use: 4/5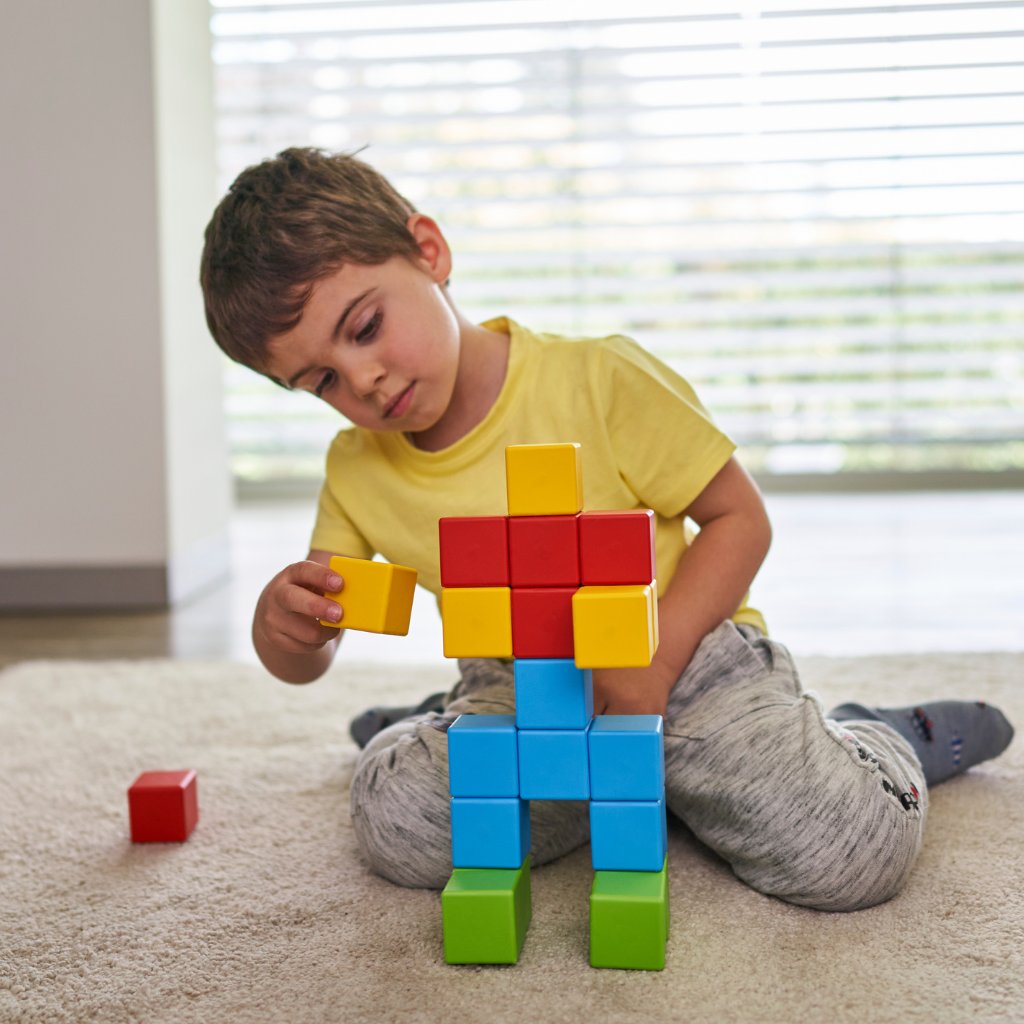 Construction play is an incredibly powerful and versatile learning tool, which will help equip children with many important skills they will carry with them throughout their life.
We hope you find this information and our toy suggestions useful!