This is a sponsored post by Sibel Beadle
We all know an amicable divorce – where parents treat each other with respect, with or without third-party supervision or mediation – is the best way to help children cope with a divorce.
Unfortunately, when my marriage started to dissolve, too many hurt feelings prevented my ex-husband and I from being nice to each other. Every disagreement led to hostile email exchanges and thousands spent on lawyers in endless bitter arguments. My kids suffered most because of our hostilities and I'm sure the damage we caused will haunt them in later life. My ex and I struggled to communicate, and we would have lawyer letters exchanged over simple things such as his lack of cooperation in giving me hotel details where taking the kids on holiday or (in the beginning) about me calling my kids (then aged five and seven) while they were with him.
My advice to anybody going through a divorce is, whatever you do, don't behave like we did. However, not everybody can conclude a marriage in a civilized way and so I'll explain what I did in order to stay in touch with my children during this difficult time. When they were younger they found it hard to go to their dads, and missed me. My eldest sometimes cried and tried to resist; on a few occasions, even refusing to go. She couldn't understand WHY I had to let her go. I had to explain the rules of divorce and her father's right to see her. She wasn't happy with this and didn't understand why nobody asked what she wanted. I hope in future that divorce proceedings will need to give more weight to children's wishes at a younger age.
To help, I bought my children an iPhone and taught them how to use WhatsApp, so they could message me when they wanted. At first I tried calling often, but my seven-year old told me: "Dad gets really upset when you call, it becomes difficult." After listening to my daughter I decided that even though I really missed them, I'd try and restrain my desire to call. Instead, we agreed we'd text each other. They could check my messages when alone, avoiding conflict. This  reduced tensions with my ex and opened a whole new world to me and my kids. At first our messages were simple: "I love you's" followed by loads of emoji's. But when my girls went away on their first summer holiday, my daughter texted to ask me to tell her a story. I'd gone hiking in the Lake District, trying to cope with the separation from my kids. I was so happy about the message that I texted her a few paragraphs of an imaginary story. They loved it and asked for more. I spent the rest of that week working on a story and sending new paragraphs each day. Later, this story became a children's book I published, "Sleepless in Stonehenge."
This turned into a game and soon they expected a new story each time they went on holiday. The writing helped me to cope with the separation and allowed me to maintain a connection with my daughters. This is how I started writing the children's book series "Witchy Travel Tales."  My younger daughter loves animals and I made up a story for her about a witch who took her daughter on a magical adventure to the Lake District to get a pet. She loved the story and I told her many versions. Her favourite became The Golden Bunny of the Lake District, which I published in 2018.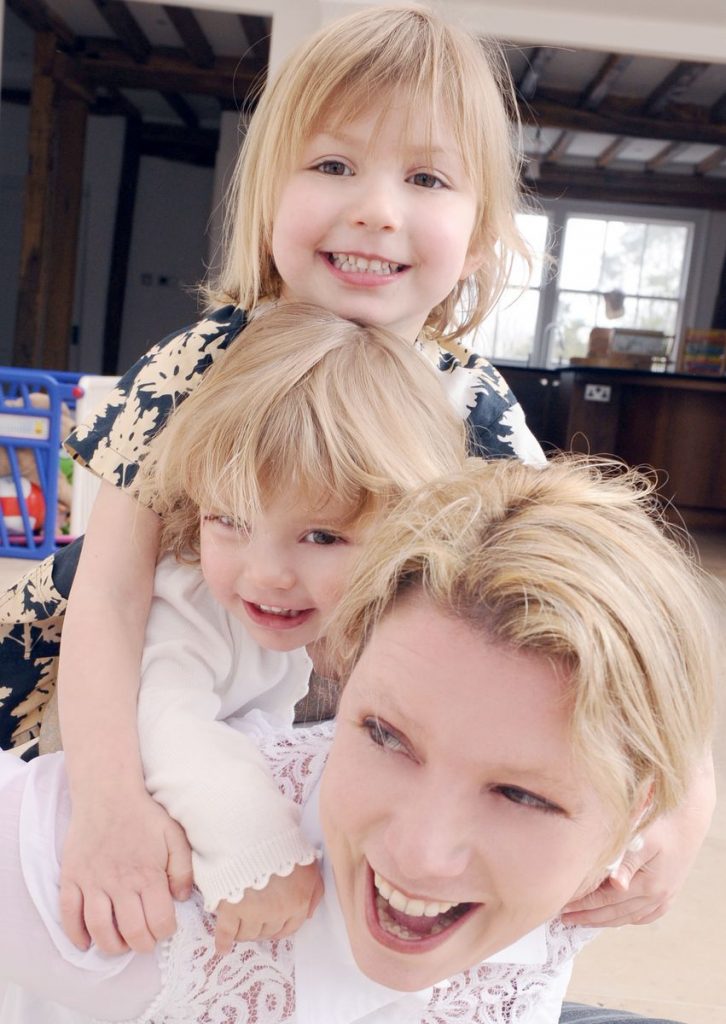 My older daughter often suffered from anxiety and struggled to sleep, having developed insomnia and often having nightmares. I felt guilty, since our hostile divorce was the obvious cause of her unhappiness. To help her fall asleep I decided to tell a story about 'Mimi', the half-cat, half-human daughter of the witch, who falls sick and one of her sisters flies to the redwood forest to find a magical tree that helps a child to meditate. I intended for the story to be a fun and exciting story, full of adventure, but in the core, I was just trying to get my own daughter to meditate. In order to do that my kids had to imitate Mimi in the story and close their eyes, work on their breathing and tell me 10 memories they loved and tie these wishes to their feet, and 10 wishes they had and tie these wishes to their hands. In that one week we went over endless versions of  wishes and memories, and playing this game helped them relax and fall asleep more easily. I'm currently working on finalising this story to publish in 2019, again as part of the "Witchy Travel Tales" series.
If you want to try the same with your kids, you don't need to invent stories. You can read other people's stories and text or tell them on the phone. Another idea is to agree to help with their homework. Most parents don't enjoy doing homework so your ex might be very cooperative if you offered to do so on Skype or WhatsApp with your kids. This could help to stay in touch and make your kids feel connected despite the physical distance. Four years into our split, both my ex and I managed to bury some of the hostilities. I can now call my daughters on holiday and we don't need a lawyer's help any longer. However, for the sake of our children, I still wish that in the early days of our split we could have been more civilized.
Witchy Travel Tales 4: Nessie's Husband is available now from Amazon, priced £6.99 in paperback and £4 in Kindle edition. For further information about the series, please click here.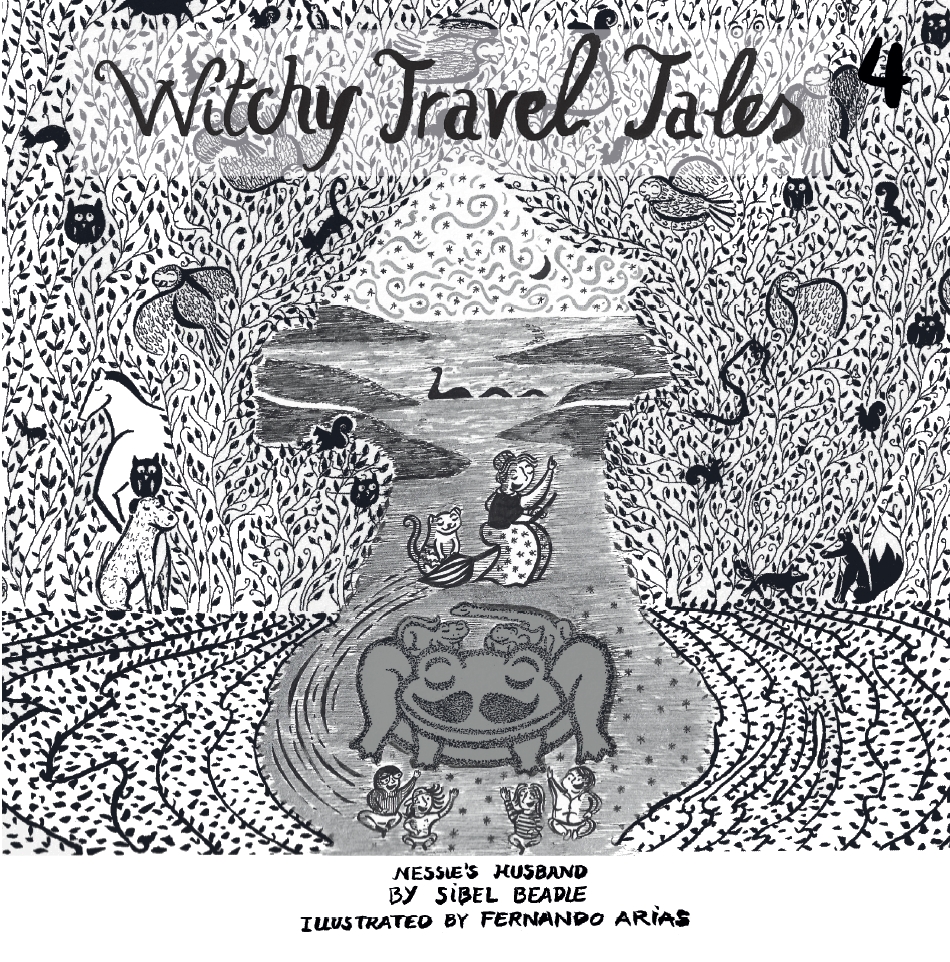 Q&A: Sibel Beadle
To stay connected with her children after divorce, Sibel Beadle told them bedtime stories using WhatsApp. Today, those tales form the basis of her hugely popular Witchy Travel Tales series of kid's books. Here, Sibel talks candidly to us about her remarkable literary journey.
UKMums.TV: Why did you decide to base the Witchy Travel Tales series around a witch and her seven daughters?
Sibel Beadle (SB): In history, many strong women were described and hunted as a witch, so it seemed natural to me to have the main character, a rather eccentric single mum, to be a witch. The reason I chose for her to have seven daughters has many different reasons. First of all, I have two daughters and many of the stories have elements of things I have observed watching my own daughters, so I decided for the witch to only have daughters. The number seven came after I went on a trip to the Seven Sister's Cliffs, while my kids were on holiday with their dad. I fell in love with the scenery and decided that in my series, the Seven Sister Cliffs needed to be the home of the witch and her daughters. The number 7 came as a natural result out of that decision.
UKMums.TV: How do hope your books can help children to understand 'grown up' issues?
SB: Unfortunately, in reality many children are exposed to 'grown up' issues at a very young age. I myself had to go through a very difficult and painful divorce and whether I liked it or not, my children were in the middle of the storm. We are not the only family in this modern world who have this problem. My books encourage children to think, to question and to open up to a trusted adult. Learning to have a conversation about your emotions is very important as a child. I believe that if you miss the opportunity to teach a child how to have a conversation about a difficult subject, they are unlikely to be able to do that as an adult. In addition, I believe that you have an opportunity to broaden a child's horizon at a young age, but if you miss that it might be too late. My 11-year-old is already a fully developed individual and I'm glad I had many difficult discussions with her at a much younger age. I read my books in primary schools and you would be surprised how inquisitive and emotionally smart young kids can be. Tackling difficult subjects with the help of a story helps kids to visualise the problem. The books serve as a portal into these discussions.
UKMums.TV: The story in Nessie's Husband is told from the perspective of a child who is bullied for being 'different'- what messages would you like young readers to take away from the story, and what experiences did you draw on?
SB: When I read Nessie's Husband in schools, the main message that children take away from the book is that if you have a problem you should talk to an adult that you trust. I think talking about your problems is the most important message I would like young readers to take away. Mimi is a fictional character; however, some of my childhood experiences helped me to write her story.
UKMums.TV: The central characters in the Witchy Travel Tales series are all female – does this make them more popular with girl readers, or do boys enjoy them too?
SB: I have been to hundreds of schools to read my books and when I read my stories boys seem to love them as much as girls do. In my observation, boys tend to like the half-cat, half-human daughter of the witch, because she is exciting. They also like Kai, the animal lover and animal healer. In addition, they tend to like Richard, the magical bunny in the story. I think it's sometimes the parents who think that boys need books with boys as main characters; I do not think and haven't observed that young children have such a bias.
UKMums.TV: Nessie's Husband looks at the importance of discussing feelings and emotions. Would you encourage parents/carers to read the story to (or with) their child?
SB: The book is suitable for young solo readers (Year 3 – 6), however, it is a lot of fun to read the book as a parent or teacher to that age group because it sparks a very interesting discussion about many complex topics. The kids tend to first discuss Mimi and Mimi's experience; however, they quickly jump to their own experiences and volunteer examples from their own life. Younger kids enjoy the book as well, but it would be best to read it to them.
UKMums.TV: The idea for the Witchy Travel Tales series came about from telling your children bed-time stories after your divorce. Do you still come up with ideas for new books by telling them to your daughters first, and how much of an influence on your books overall would you say your children have?
SB: I no longer text them paragraphs of the stories, since my oldest is now in secondary school and a bit too much a teenager for that game. Currently, I write more for my 9-year old who still enjoys being involved in the creative part and sometimes I test different story lines on her. She also often comes up to me to ask whether I would write a story about this or that and I have a long list of stories that she would like me to finish. Due to my parenting style, my kids are very used to having in-depth conversations with me and I still collect a lot of inspiration from them. I'm not sure what I will do when she is too old for my stories.
UKMums.TV: As the name suggests, there's a vivid sense of place in the Witchy Travel Tales series. Do you visit all the places covered in the book before you write about them, and what makes a particular location magical enough to feature?
SB: Regarding the setting of the first four books, these are all in England, the Seven Sister Cliffs, Stonehenge, the Lake District, Loch Lomond. It wasn't difficult to pick these four, since they are absolutely magical places. I travel a lot. If I fall in love with a place, I take my kids and go on a road trips with them to these magical places.