This week on UKMUMS.TV we're introducing the latest collection of Disney Junior Minnie Mouse toys from Flair, which includes the Minnie Mouse Bow-Tel Hotel!
The Minnie Mouse Bow-Tel Hotel invites kids to pack their bags and check-in at the Bow-Tel Hotel! Kids will have so much fun re-enacting Minnie Mouse's fun adventures with this chic hotel! At almost 2-feet tall, this two-sided playset features 4 floors with 7 fully furnished rooms.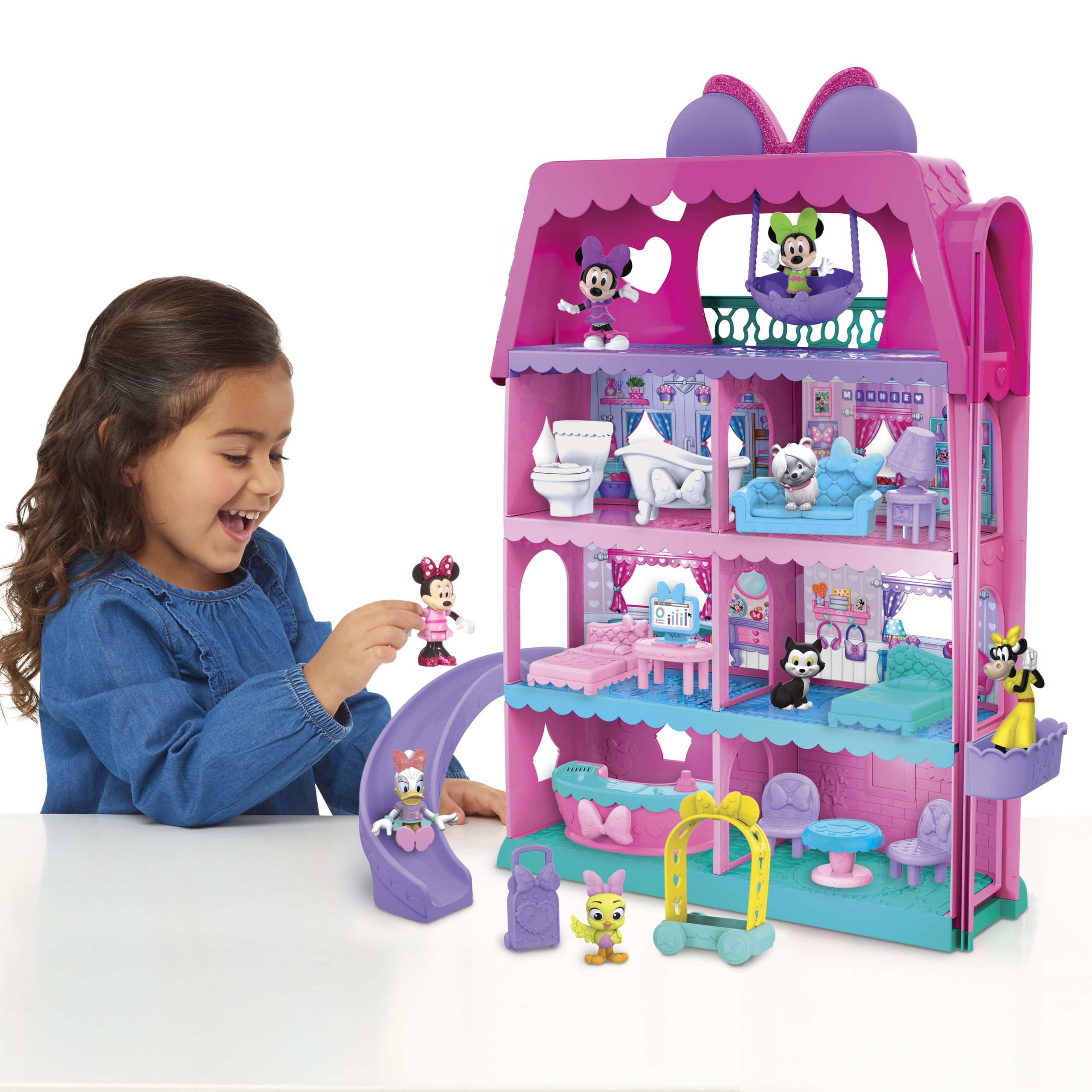 Playtime at the Bow-tel Hotel begins at the lights and sounds reception desk. Press the bell to light up Minnie's bow and hear fun phrases. Minnie Mouse, Daisy Duck, and Snowpuff are ready for hotel adventures! These best friends will enjoy their stay with dinner in the dining room and relaxing on the sofa in the living room. Next, take a ride on the super fun slide! When it's time to go to sleep, place their bags in the luggage cart and roll it onto the kid-powered elevator to bring them to their rooms.
Minnie Mouse and Daisy Duck each have their own customised rooms with comfy beds. The top of the playset even features a balcony and a hammock, perfect for any relaxing hotel stay.
The Minnie Mouse Bow-Tel Hotel is brilliant for playtime adventures! But if you're planning some real-life hotel adventures, you might appreciate a couple of tips on how to have a successful hotel trip with your little ones. So have yourself a stress-free hotel break this summer with these top tips:
Choose your hotel well
When it comes to booking your trip away, be sure to look for 'family friendly' hotels. In a hotel that openly welcomes younger guests you'll be able to able better facilities to keep all members of the family entertained, as well as more sympathetic clientele if your children are acting up!
Forget the rules
Rules can be key to keeping the family safe and the household functioning. But when you're all on holiday, some of those rules can fall by the wayside. There is that bit of wriggle room when it comes to 'treats' for instance!
Remember home comforts
Not that your little ones would let you forget.. but be sure to bring with you their favourite soft toy or comfort toy. Bringing your baby/toddlers own bedlinen can also help to soothe them come bedtime, making it all feel that little bit more normal for them.
The Minnie and Mickey toy collection is available now from Smyths Toys Superstores, Amazon, Argos Very, and many independent toy stores.
©Disney. Disney Mickey Mouse & Friends is a franchise owned by the Walt Disney Company.