At UKMums.TV we're taking time out to play, with the Character Pre-School Week. As part of this takeover, we're spotlighting some of Character Options' best pre-school toy collections.
From Fireman Sam to Ben & Holly's Little Kingdom, Character Options has brought to life some of the most beloved pre-school shows, in the shape of toys. But it's Peppa Pig that remains one of their biggest and most popular pre-school ranges.
Peppa Pig is full of fun and cute characters, and it also has an educational element. It's for all these reasons, among others, that the show translates so well to toys.
Watch children play with a Peppa Pig toy and they'll start re-enacting storylines they've seen on TV. But, soon enough, you'll also see that these toys can also act as a springboard for children's imaginations, as they begin to create stories of their own! So, if you're looking to add a new toy to the toy box, rest assured that Peppa Pig is always a great option!
But don't just take our word for it, check out this lovely review from Life with the Busbys for the Peppa Pig Wooden Toy range: http://lifewiththebusbys.com/peppa-pig-wooden-toys-review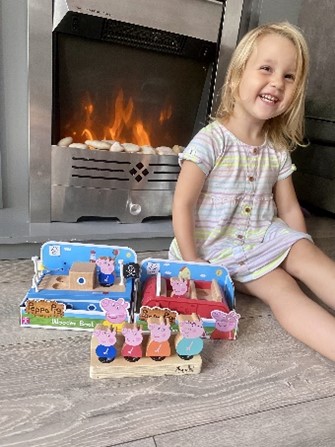 You can find out more about the full Peppa Pig range over at the Character Options website, but before you head off, check out some of our favourite Peppa Pig toys below:
Peppa Pig Eco Plush – Red Dress Peppa
Available from The Entertainer (RRP £9.99)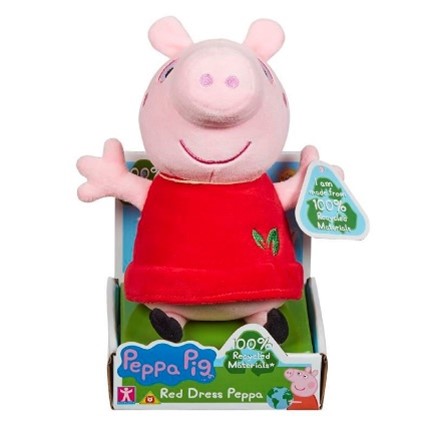 Peppa's Eco range of soft cuddly toys are excellent quality and made with 100% recycled materials. Fashioned for young Peppa fans, whilst staying true to the classic Peppa styling, these environmentally friendly toys aim to bring super soft fun to playtime. Red Dress Peppa measures eight-inches tall, and she's instantly recognisable in her red dress!
Peppa Pig Eco Plush Collectables – Peppa and George
Available from The Entertainer (RRP £5.99)
Also available from Peppa's Eco range, which is made with 100% recycled materials, are two adorable six-inch soft toys. These collectable soft toys make for perfect on-the-go companions. They're soft and cuddly, and they're a supper affordable, environmentally friendly toy option! Kids can choose from George and Peppa; each is sold separately.
Peppa Pig Doctors & Nurses Figure Packs
Available from Smyths Toys (RRP £14.99)
Peppa and all her friend's love dressing up and playing Doctors and Nurses. This themed figure pack includes Peppa Pig, Suzy Sheep, Mandy Mouse, Zoe Zebra and George Pig, in doctor and nurses' outfits, and patient Pedro Pony with a plaster cast on his leg. It also includes two doctors bags. These exclusive figures are scaled for play with other Peppa Pig figures, vehicles and playsets, and are designed to help inspire young imaginations and encourage pretend play.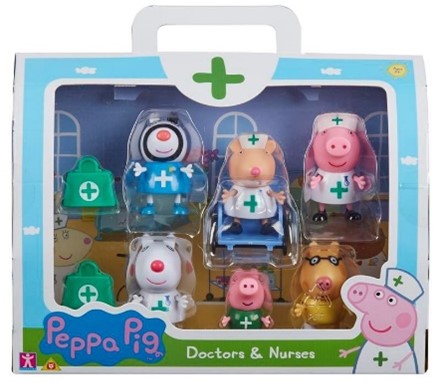 Peppa Pig Dr Hamster Veterinary Plane
Available from Very (RRP £14.99)
The Peppa Pig Dr Hamster Veterinary Plane makes for a super exciting toy for pre-schoolers. Kids can join Peppa Pig and Dr Hamster as they head off in the Veterinary Plane to help poorly animals. This push-along plane includes is great for little hands, and really encourages imaginative play and storytelling! The set includes a fixed Doctor Hamster Figure and an articulated Peppa Pig figure – both are dressed in their adorable vet outfits! A very exciting feature is the propeller, which rotates! There's also a pet carrier that can be lifted up to reveal the pet tortoise inside.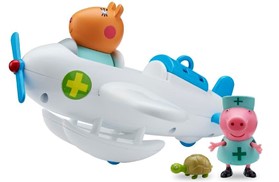 Peppa Pig Wooden Family Home
Available from The Entertainer (RRP £29.99)
There's so much to discover in the Peppa Pig Wooden Family Home! Kids will be delighted when they open it up to reveal the multiple rooms hidden inside; there's even a cute garden area! Made from environmentally responsible FSC® Wood, this beautiful playset comes with one Peppa Pig figure, as well as lots of play accessories, including a bath, oven, dual-purpose tables/beds, bench seat, and more! Helping to inspire creative play, this super set will help children develop early skills, while having lot of fun! The Peppa figure, which features drop n play feet is also scaled to fit with any Peppa Pig wooden vehicle or playset so little ones can recreate endless Peppa adventures.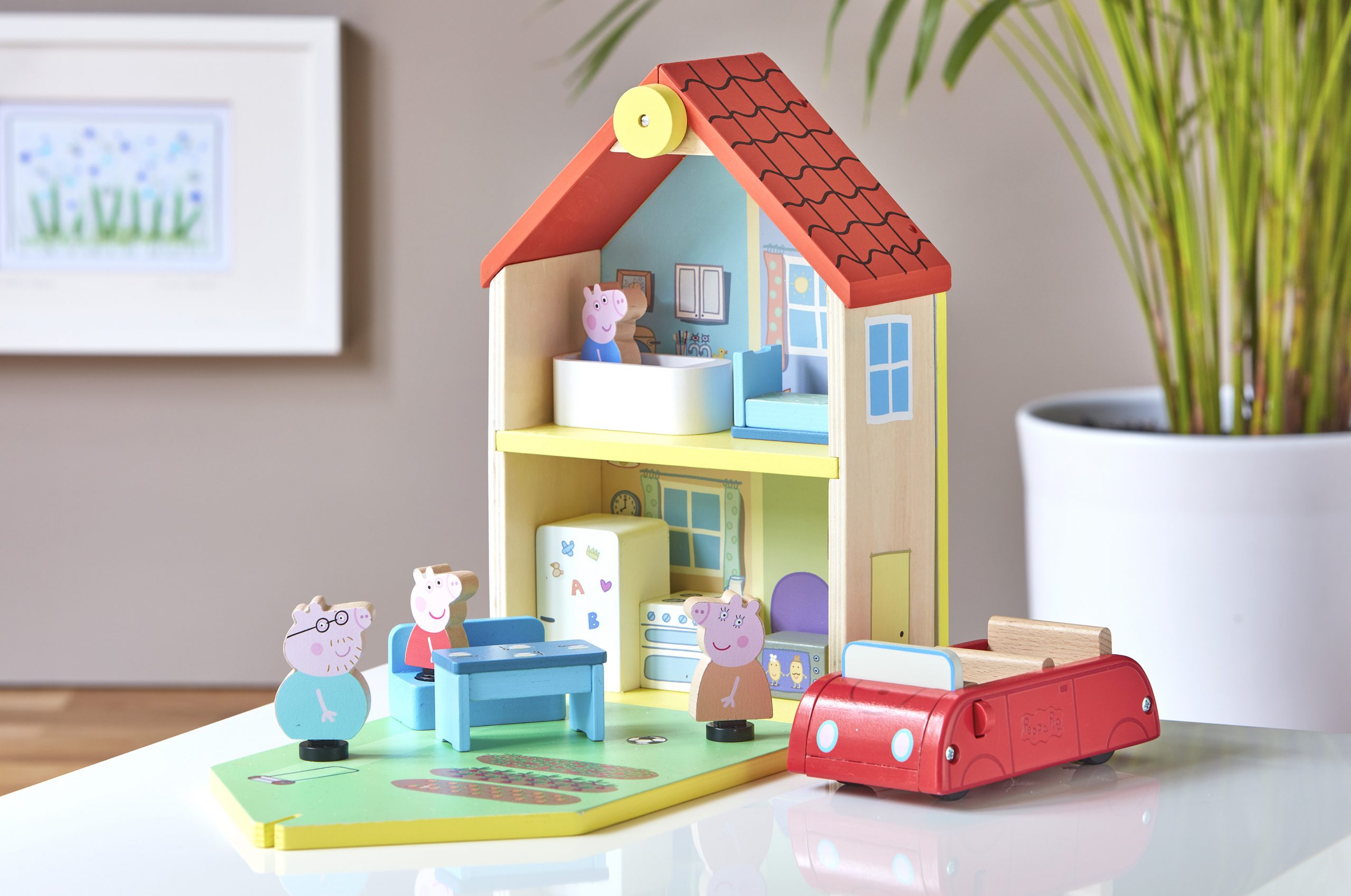 Peppa Pig Wooden Red Car
Available from John Lewis (RRP £12.99)
Toot toot! Peppa Pig is on the road again with her trusty Red Car! Little ones can let their imaginations take the wheel as they push-along Peppa's Wooden Red Car to explore all kinds of destinations! Made from environmentally friendly FSC® Wood, this iconic car comes with one wooden Peppa figure. There's four drop n play slots in the car, which means there's room for the rest of the family, too! These figures can be bought separately; find out more here.
As part of the Character Pre-School Week takeover, we're offering a lucky Pre-schooler the chance to win a bundle of Peppa Pig toys, worth £40! Click here to find out how to enter this awesome competition.
What Peppa Pig toys will your little one be adding to their wish lists this year? Let us know by commenting down below or over on Facebook and Twitter @UKMums.TV.