Flair has taken over UKMums.tv for a fortnight of fun to introduce its exciting collection of Disney Junior Doc McStuffins toys.
Combining education with entertainment, for what we like to call a bit of 'edutainment', Disney Junior's Doc McStuffins show remains a popular viewing choice for little ones. And it's easy to see why…
Doc McStuffins appeals to little ones with its catchy songs, cute characters, and sweet storylines. But, for parents, it's the show's ability to reach and teach children that has won their seal of approval.
Since 2012 Doc McStuffins has been helping to teach kids basic routines, problem-solving, and so much more! The characters serve as great role models for both boys and girls, and the show is also superb for promoting empathy and encouraging kids to embrace their differences.
But this past year, Doc McStuffins has really come into her own! There's one episode, in particular, which has proved invaluable to parents – and that's because it contains a song about hand-washing!
Helping kids to understand the importance of basic hygiene is more important than ever before, and that's why Flair's awesome Doc McStuffins toy range now includes a Wash Your Hands Doll!
Keep reading for a round-up of some of our favourites from the Doc McStuffins range!
Doc McStuffins Wash Your Hands Doll – RRP £24.99
Available from Argos and Smyths Toys
Doc understands how important it is to wash your hands to help prevent the spread of germs, and she's sharing this important message with her fans! This 11-inch Doc McStuffins doll not only speaks, she also sings! Kids will love singing along to her catchy hand-washing song, which, no doubt, they'll recognise from the show! Simply press her stethoscope to activate and the doll will sing and say some of her iconic phrases.
This 11-inch Doc McStuffins doll comes dressed in her classic doctor's outfit – she even comes with a doll-size face mask, as well as a doctor's bag, toy stethoscope, thermometer, and otoscope to help her care for her patients! What's more, her arms and legs are articulated, which means kids can pose her and play out their favourite scenes from the show.
Doc McStuffins Toy Hospital Doctor's Bag Set – £22.99
Kids can get ready for plenty of roleplay fun inspired by their favourite on-screen doctor – Doc McStuffins! This glittery Doctor's Bag Set is perfect for budding physicians and looks just like the one Doc uses in the show! It includes everything a little doctor could ever need to conduct their routine check-ups on all their teddies, toys … and perhaps their parents, too! It comes with a collection of cute toy tools, including an otoscope, a stethoscope with cool light and sound features, a thermometer, syringe, hospital ID badge, and two pages of colourful stickers!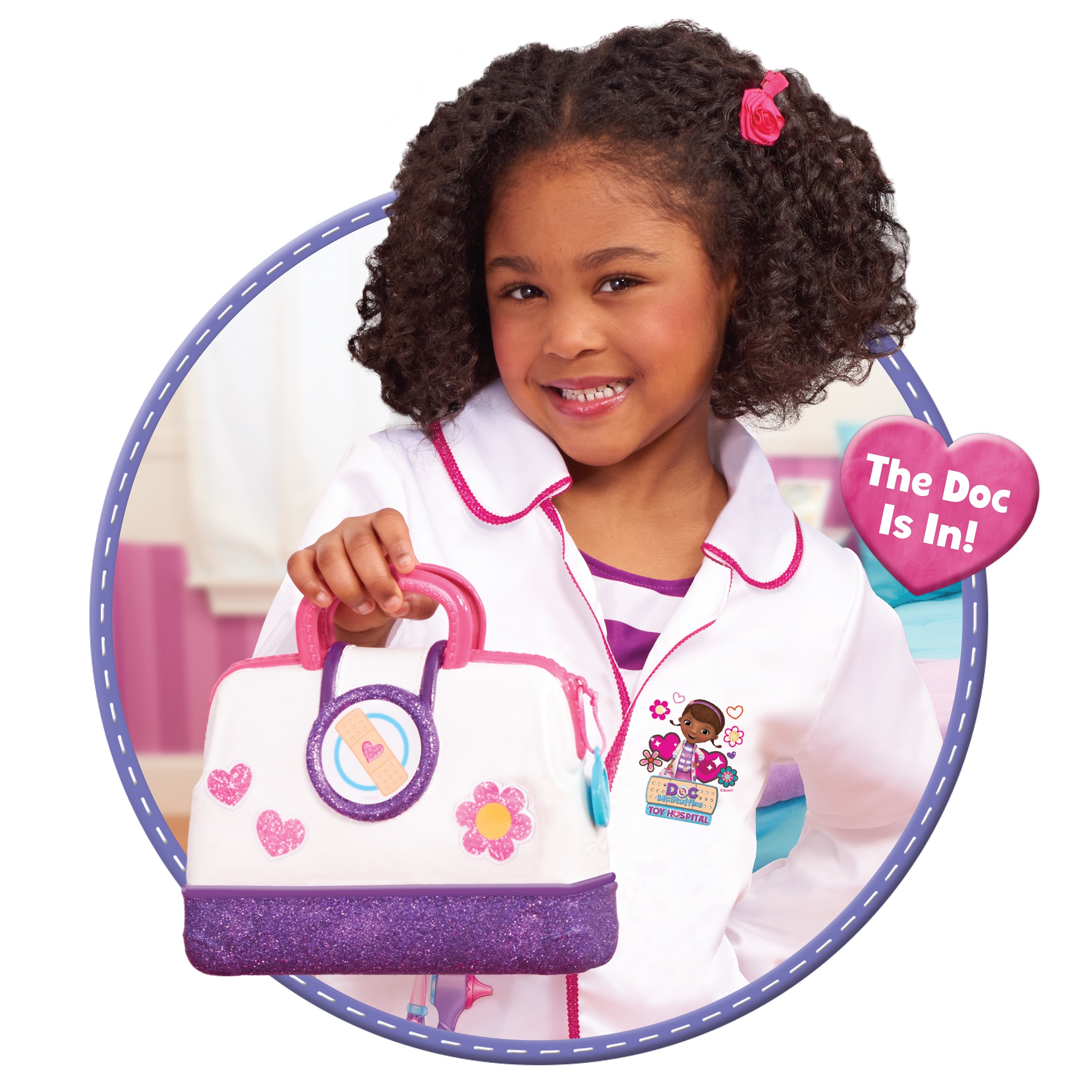 Doc McStuffins Toy Hospital Doctor's Dress Up Set – RRP £24.99
This Doc McStuffins Toy Hospital Dress Up Set is ideal for any Doc McStuffins fan! Helping to inspire a new generation to become doctors, this adorable set will have kids practising their bedside manner, re-enacting scenes from the show, and dreaming up medical scenarios of their own! The play possibilities are endless, thanks to the five roleplay pieces included. Doc's hospital coat will, no doubt, be a firm favourite, allowing children to really dress the part! The set also comes with a doctor's name badge, with interchangeable inserts; Doc's iconic headband; a toy stethoscope; and some other cool tools!
Doc McStuffins Musical Light Up Microphone – RRP £6.99
This cool microphone lets kids take to the stage like a superstar! Fans of Doc McStuffins will love using this musical microphone to sing along to songs from the show, including the ever-popular "Time for your check-up" tune. There's also exciting lights that flash up as they sing! It's portable and has a super-cute Doc design that'll make this a must-have for young children!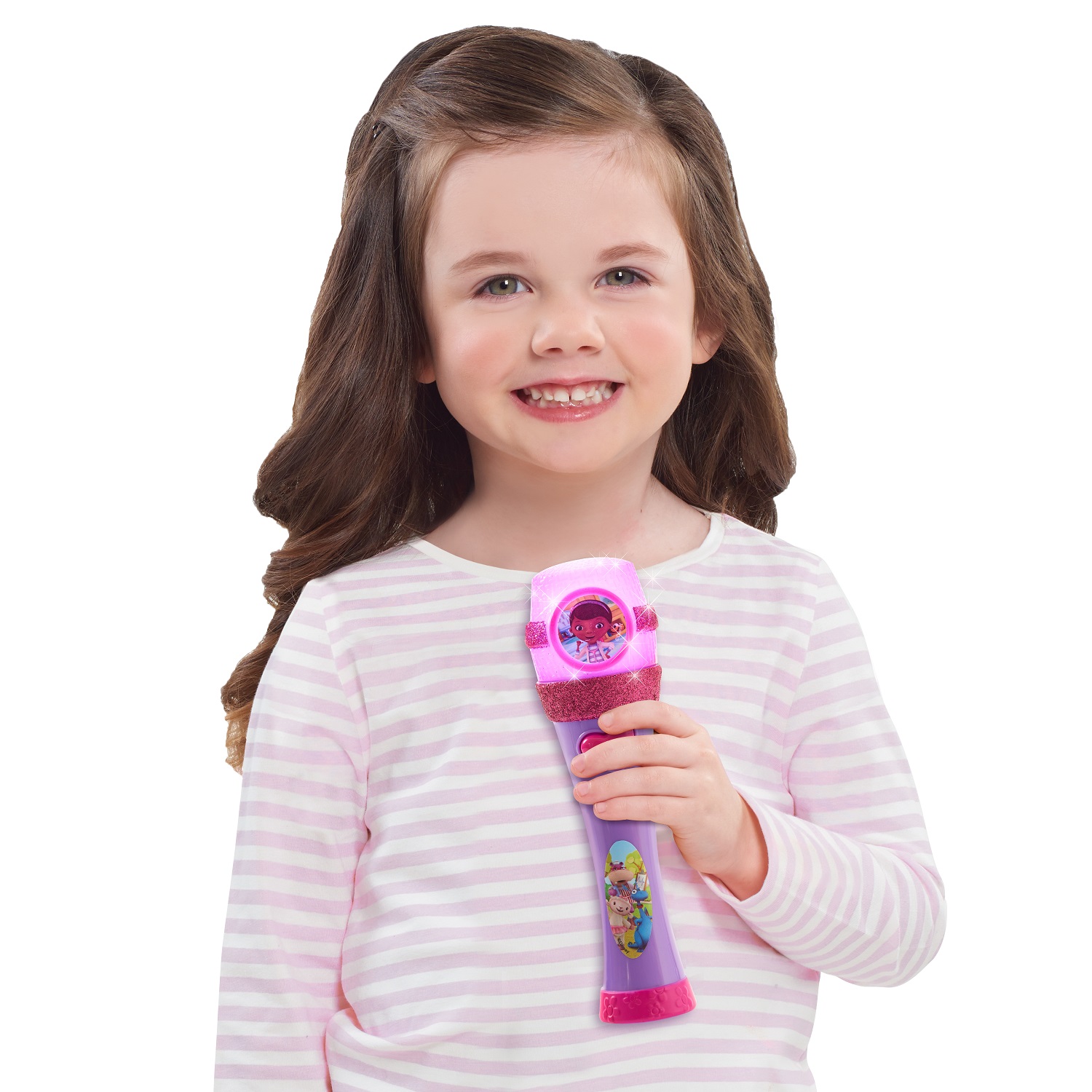 If you love the look of the Doc McStuffins range from Flair, you can shop the collection using the links above. Or, if you're feeling lucky, head to our Doc McStuffins competition page for your chance to win a Doc McStuffins Wash Your Hands Doll!