Yes, we know that the summer holidays have only just started, but you need to start thinking about new school uniform for your little ones, particularly if they are only just starting this year. Even if your little one isn't starting for the first time, they've more than likely grown out of their uniform for last year and it's always nice to start the new year with a new uniform. So, to help you, here's our pick on what's available.
1. Graceland Girls' Scuff Resistant Shoes – 3D Flower Shoes Black, RRP £14.99 (Deichmann)
If your kids are anything like ours you'll know that they can run down a pair of shoes fairly quickly so it's important that you look for a pair of school shoes that can withstand the rigours of the playground, by that you need them to be hardwearing and scuff resistant. For girls, we like these pretty shoes that have a one bar touch fasten strap for easy fastening, are stay-fresh and promise to be scuff resistant.
2. Tyrex Ride Infant Shoes, RRP £38 (Clarks)
Who said school shoes had to be boring? For those of you with young boys, why not add some fun to their school uniform with these roarsome Tyrex Ride Infant Shoes from Clarks. From the Stompos range, these school shoes feature a black leather upper with dinosaur detailing that is sure to get your little one excited about putting their school shoes on in the morning. The rubber sole unit with a toe guard features thick cleats for added grip while the claw detail on the sole is sure to get top marks from your little one's friends. In addition, they have double rip tape fastening and Agion technology to keep their feet fresh throughout the day. They are also available in Junior sizes.

3. Boys' Polo Shirts – from £3.50 (pack of 3) (Sainsburys)
In a pack of 3, these short sleeve polo shirts have been crafted in cotton rich fabric with a classic buttoned collar. With eleven colours to choose from, there's bound to be that meets your uniform requirements.
4. Girls' White Scallop Shape Collar Polo Shirts – from £3.50 (pack of 3) (Sainsbury's)
For your young ladies, take a look at this pack of 3 white short sleeved polo shirts, again in cotton rich fabric and featuring a pretty scalloped polo collar.
5. Easy Iron Girls White School Shirts and Easy Iron Boys White School Shirts – £3.00 (pack of 2) (Asda)
Discover the convenience of easy iron school shirts which are both comfortable and smart. Additionally, they are made with stay white technology to keep them looking like new! What could be better?
6. Grey Drop Waist Pinafore School Dress – 2 pack – from £10.00 (Asda)
As we're heading towards autumn/winter, it's time to leave the summer dresses behind sadly. Take a look at this stylish pinafore that features a drop waist with permanent pleats, a front zip fastening finished with a pretty heart charm and a Teflon® finish to keep those stains at bay!
7. Boys Charcoal School Half Elasticated Trousers – from £3.00 (Asda)
Trousers are an essential piece of clothing for the school year and when the prices start from as little as £3 who can complain? These are smart, practical trousers that are easy to wear and stylish for the classroom.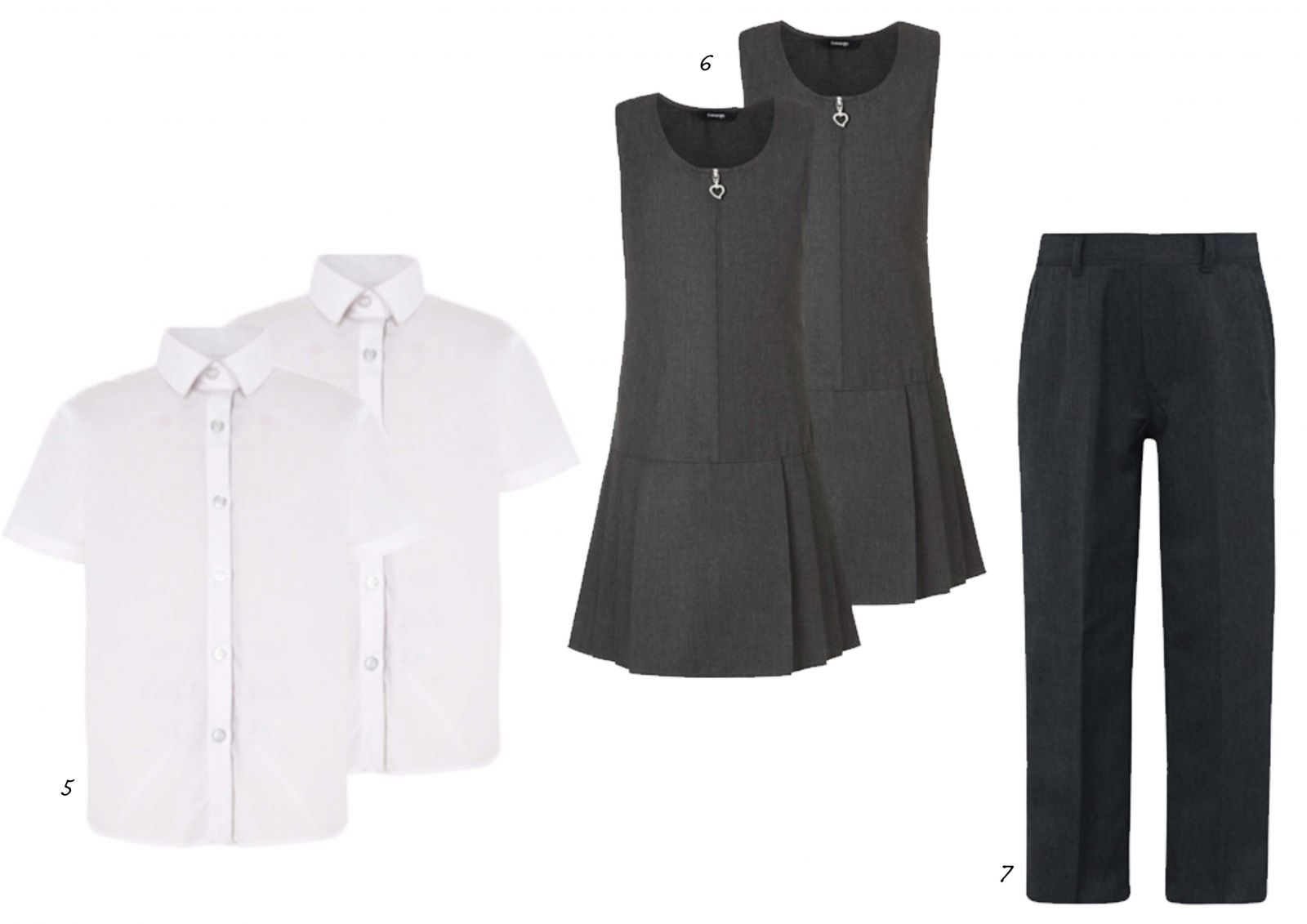 Have you got your little one's school uniform sorted out yet? Let us know over on Facebook and Twitter.