[AD] There's a new TV series on Nick Jr.  that has kids in a spin, Ricky Zoom! We at UKMums.TV love this colourful show that is packed full of adventures which are all about friendships, growing up, family and community. So much so that we want to tell you all about it!
Ricky Zoom is the fastest new friend for pre-schoolers! He's the star of a movie-style animated bike TV show every weekend morning at 9am on Nick Jr.
Created by Alexander Bar, kids TV show expert, whose other kids' favourites include Mike the Knight and Ranger Bob, the series is set in Wheelford, a two-wheeled town designed just for bikes. Each episode is packed full of speed, stunts and excitement as Ricky and his Bike Buddies zoom into thrilling adventures. Ricky is a little red bike who is determined to be a rescue bike just like his mum and dad, Helen and Hank, Wheelford's daring and brave first-responders. Along with his enthusiastic Bike Buddies Loop, Scootio and DJ, they race around Wheelford, using their different skills and talents to overcome all of life's challenges, both big and small, along the way.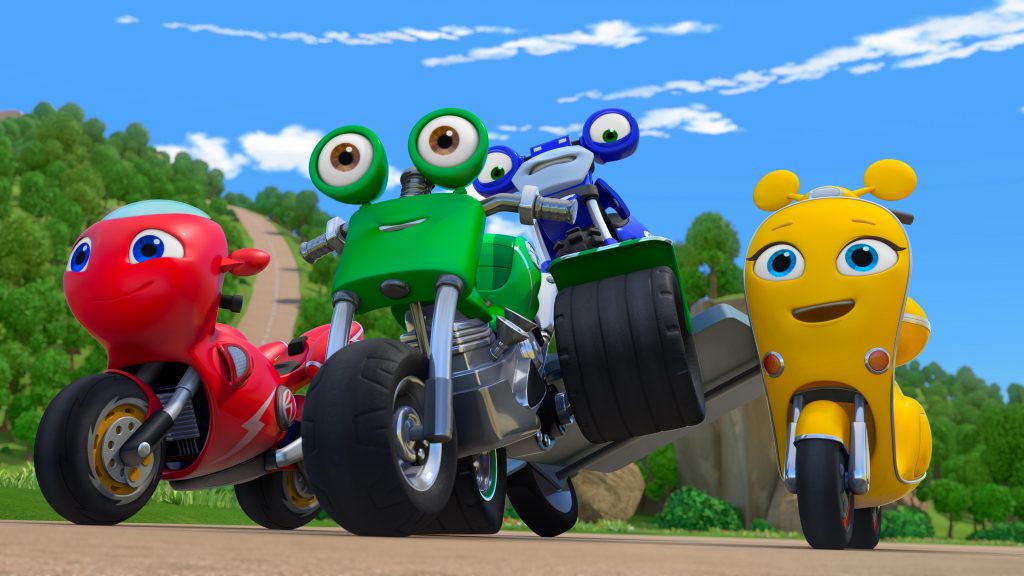 While they don't always get it right first time, they understand the importance of teamwork and know that by working together they can succeed. So, even though Ricky may be the first to race to the rescue, his Buddies support him in every adventure. Ricky's determination and speed, Scootio's brainpower and awesome hi-tech gadgets, DJ's super-toolbox and big heart and Loop's enthusiasm and energy enable them to tackle the toughest problems, having fun and learning valuable life lessons along the track.
As the Bike Buddies learn these key social values, they also encourage the development of young viewers' EQ (their Emotional quotient is the ability to identify, assess, and control the emotions of oneself, of others, and of groups) and IQ, (an intelligence quotient is a score derived from one of several standardized tests designed to assess intelligence.)
Life with Ricky and his friends is always full of fun, comedy, and excitement, while instilling values and themes which support the development of a child's EQ and IQ. Designed to appeal to boys and girls aged 2-5, Ricky Zoom gives pre-schoolers a whole new, two-wheeled world, unlike anything else on screen.
Why not follow the Ricky Zoom takeover every day for the next two weeks on UKMums.TV and discover a Zoomtastic new two-wheeled world full of fun, comedy and excitement that's unlike anything else on screen!
Enter our competition here and join our Twitter frenzy on Thursday 14th November.
Most importantly don't forget to watch with the little ones, and share the Ricky Zoom experience with them! Saturdays and Sundays 9am Nick Jr.