Main image as seen on Pixabay by jelly.
Lunchboxes have a certain criteria to meet, not only must they look cool when your little one pops it on the table in front of their friends or is seen walking into school holding it but lunchboxes need to be portable and of course, keep the food inside it nice and fresh. With these factors it mind it may seem difficult to find a lunchbox for your little one and we're finishing our Back to School week by rounding up our favourites that your child is sure to love just as much as we do.
1. Personalised lunch, RRP £15.49
In a bright blue, this quirky lunch bag can be personalised with your child's first name as well as a rocket and a planet motif so that your little one will never lose their lunch! With an adjustable shoulder strap it measures 122cm at the longest length and it has a hassle-free wipe-able interior with insulated lining.
2. Rawr-some lunch, RRP £14
Every little dino-lover will love lunchtime with a themed dinosaur lunch! Your little one will look rawr-some with this adorable Dinosaur Lunchie Bag from Skip Hop which has a roomy main compartment that can hold sandwiches, snacks, drinks and more. Add to the dino-fun by making dinosaur sandwiches using these cutters to give your little ones a wonderful surprise.
3. Marvel lunch, RRP £13 
Kids and toddlers will feel like a superhero at lunchtime with The Avengers Lunch Bag that features all of their favourite characters from Spiderman to The Hulk and many more. To add to the Marvel fun, why not theme each lunch to a Marvel character? Go for strawberry jam sandwiches, cherry tomatoes, red bell peppers and blueberries for Captain America, or green grapes, celery sticks, green apples and peanut butter sandwiches for The Hulk!
4. Whimsical lunch, RRP £14
If your little one is unicorn obsessed then they'll love the Unicorn Lunchie Bag from Skip Hop! With a cute cloud zip-pull, pink ears and a purple horn this bright and colourful Lunchie will make every lunchtime a truly magical experience.
5. Delightful lunch, RRP £14.98
With two original illustrations from Beatrix Potter's Peter Rabbit printed on the front and back, your little one is sure to fall in love with this charming Petit Jour Peter Rabbit lunch bag. The bag itself features a blue polka dot pattern along with an adjustable shoulder strap and it will keep the contents fresh and cool with its isothermal capabilities.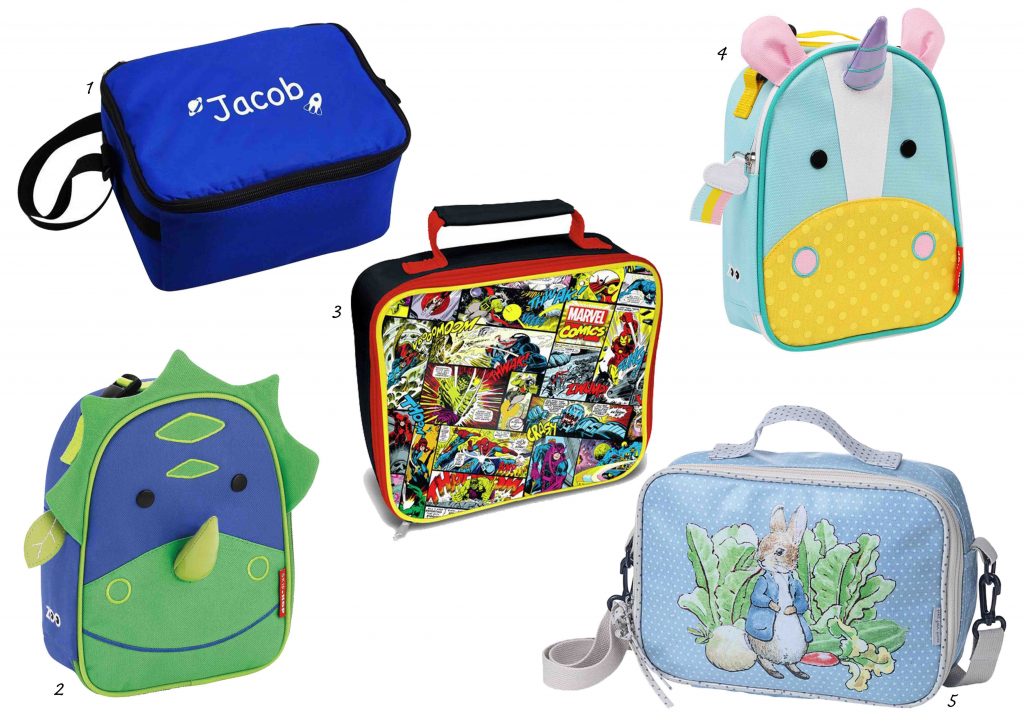 Have you got your little one's lunch box sorted yet? Let us know over on Facebook and Twitter.