Whether it's the science of building robots or the mechanics behind a Formula 1 race car, subjects that might seem way out of reach for young children can actually be brought to life with the fantastic collection from Clementoni.
Suitable for children between the ages of 7 and 10, the range includes robots, race cars and science labs and helps children learn whilst having fun. Parents can get involved too, using a tablet or smartphone to help set up each of the activities and then completing the STEM-based activities together for whole family fun!
Let's take a look at the collection…
The Robomaker (£69.99, available from Smyths) contains everything needed to bring incredible intelligent robots to life. Using the cybernetic brain, 3 electric motors, 2 IR sensors, 1 touch sensor, 1 speaker and more than 250 interchangeable components, your child will be able to build 5 robots of increasing complexity that can be programmed manually or via the app. From the X1-Explorer, which can be programmed for movement, speed and sound effects, to the X5-Droid, which can pick up objects and arrange them according to colour there's loads of fun to be had whilst learning the basics of programming! With the exclusive app, it's easy to program the robots from a tablet or smartphone while you learn.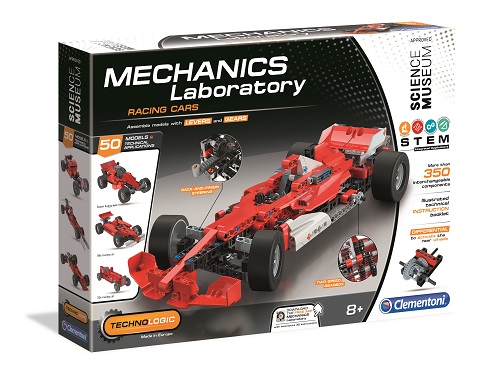 Budding speed demons will be fascinated by the Mechanics Lab Formula One (£29.99, available from Smyths). It contains everything needed to make 10 racing car models from more than 200 interchangeable components: from a Formula 1 car with functioning steering wheel, adjustable rear spoiler and rear wheels that can be operated via a differential, through to go karts, off-roaders and loads more!
Children as young as seven or eight can get to grips with mathematics, arithmetic and geometry with the innovative Mind Designer (£49.99, available from Smyths). This intelligent robot guides your children through the process of learning mathematics, arithmetic and geometry following government guidelines.
It introduces your child to design using the precision motors which enable them to create geometric shapes and designs of varying complexity with extreme precision. This incredible robot can be programmed manually or by voice using the innovative voice recognition function.
With the Arithmetic chart, Mind can be programmed to carry out arithmetical functions, while using the Escape Room chart, your child will be encouraged to solve quests and develop skills in logical thinking. Using the exclusive free App, your child can experiment with coding instruction blocks, create complex geometrical shapes and play with loads of original interactive code-games. Thanks to Bluetooth technology, Mind's content is permanently updatable for limitless playability!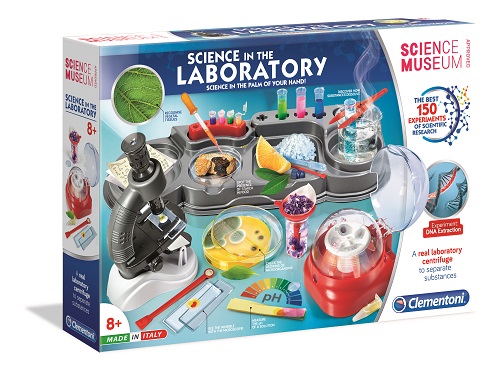 The classic idea of scientists brewing up experiments in the lab can become a reality with Clementoni's fun Science in the Laboratory kit (£34.99, available from Shop Direct). Perform more than 150 experiments using real laboratory instruments, including a microscope, a centrifuge and lots of other materials to explore the secrets of science! The extensive manual will guide children through the experiments in complete safety and will familiarise them with the main science subjects: from chemistry to biology to microbiology and forensic genetics.
Can't quite believe what impressive scientific feats children can accomplish with the Clementoni collection? Neither could we! So we asked our expert mum reviewers to have a go and tell us what they think of this fantastic collection. Find out what they thought later in the week or visit the Clementoni website here.
Don't forget there's still more to come in our Science Week takeover – we'll be giving you some handy tips on how to get kids into science at home and there are some amazing prizes up for grabs in our competitions! Stay tuned!