Family and friendship is at the heart of Ricky Zoom. The show demonstrates how important it is for the young bike buddies to gain love and support from their family and the surrounding community. With this support and guidance, the Bike Buddies begin to understand the value of friendship and teamwork, and ultimately learn to make the right choices.
Family is at the heart of Ricky Zoom
What do you need to know when it comes to Ricky and his family? Well, they are a family of four. There's Hank and Helen Zoom, Ricky's parents and Wheelford's leading rescue bikes. This courageous pair is always the first to respond to any emergency in the town! Meanwhile, their son Ricky Zoom is a rescue bike in the making! Ricky really admires his parents' bravery. Not only are they a key source of inspiration for him, they're also hugely supportive, and you'll often see them helping Ricky and the Bike Buddies! Then there's Toot Zoom, Ricky's cheeky younger sister and honorary Bike Buddy.
When you look at Ricky's nurturing relationship with his younger sister Toot, it's hard not to be warmed by the love they show for one another. Sure, Toot loves to tell embarrassing tales about Ricky, and he can be a bit resistant to having her around, but he adores her and he looks out for his little sister, while she looks up to him!
One of our favourite episodes with Ricky and Toot is Ramp it Up! When Ricky is tasked with the job of looking after his little sister he becomes so overprotective that he won't let Toot go on any of the exciting rides in the adventure park. Keen to try the highest ride, Toot sneaks away from Ricky, but  gets scared when she reaches the top. Luckily Ricky spots his little sister and speeds off to help her! They both learn a good lesson: Ricky learns to give Toot a little independence and Toot learns to take Ricky's advice… sometimes!
So where do the Zooms live? Ricky and his family live in Wheelford, a two-wheeled town tailor-made for bikes. Often featured in the show is the Zoom family home. This family of rescue bikes spends a lot of time at home, because the Zoom household also happens to be the Wheelford Rescue Headquarters! With ramps for the family to roll down, as well as a lookout platform and a telescope to spot any bikes in need, Ricky's home is an exciting place to live!
At UKMums.tv HQ, one of our favourite things about Ricky Zoom is the Zoom family! Rarely do you come across a pre-school show that illustrates the importance of family quite so well! Ricky's parents love their children and the community they live in. They work together, risking everything to rescue other bikes in peril! Their kindness knows no bounds and they are well-respected and loved by their friends and family. In return the community offer their guidance and support to Ricky and his Bike Buddies as they learn to stand on their own two wheels.
Introducing Ricky's bike buddies!
While Ricky loves his family, he also loves his friends. The show is all about the fun that Ricky gets up to with his Bike Buddies Loop, Scootio and DJ. Watch any episode of Ricky Zoom and you'll see that Ricky and his three Buddies are inseparable! Zooming into thrilling adventures together, the show sees these four friends celebrate their differences. They each offer their own special contribution to the group. We love watching this foursome come together to work as a team!
Loop Hoopla brings to the table plenty of fun! Loop is a stunt-loving dirt-bike; he is wide-eyed, adventurous, and he has a thirst for life! He also tries to make the best out of every situation – the ultimate optimist! However, he can be easily distracted!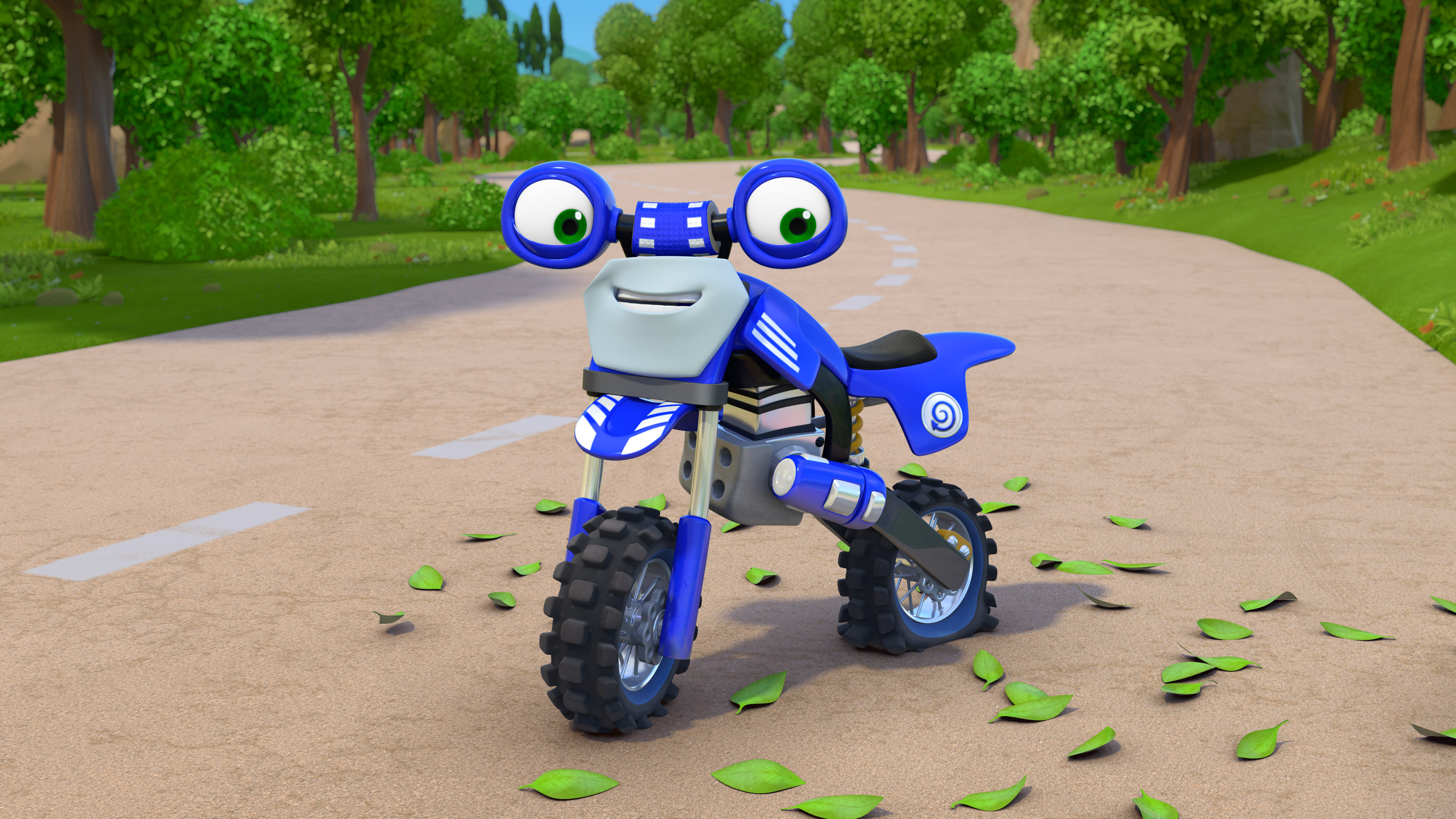 Scootio Whizzbang is the lead girl bike. The go-to bike when you need high-tech answers, this bright young female is never afraid to speak her mind! Scootio is a self-professed "gadget guru"! Her technical genius matches her can-do attitude. She loves nothing better than using her gadgets to try to find a solution to any puzzles or dilemmas the gang might face.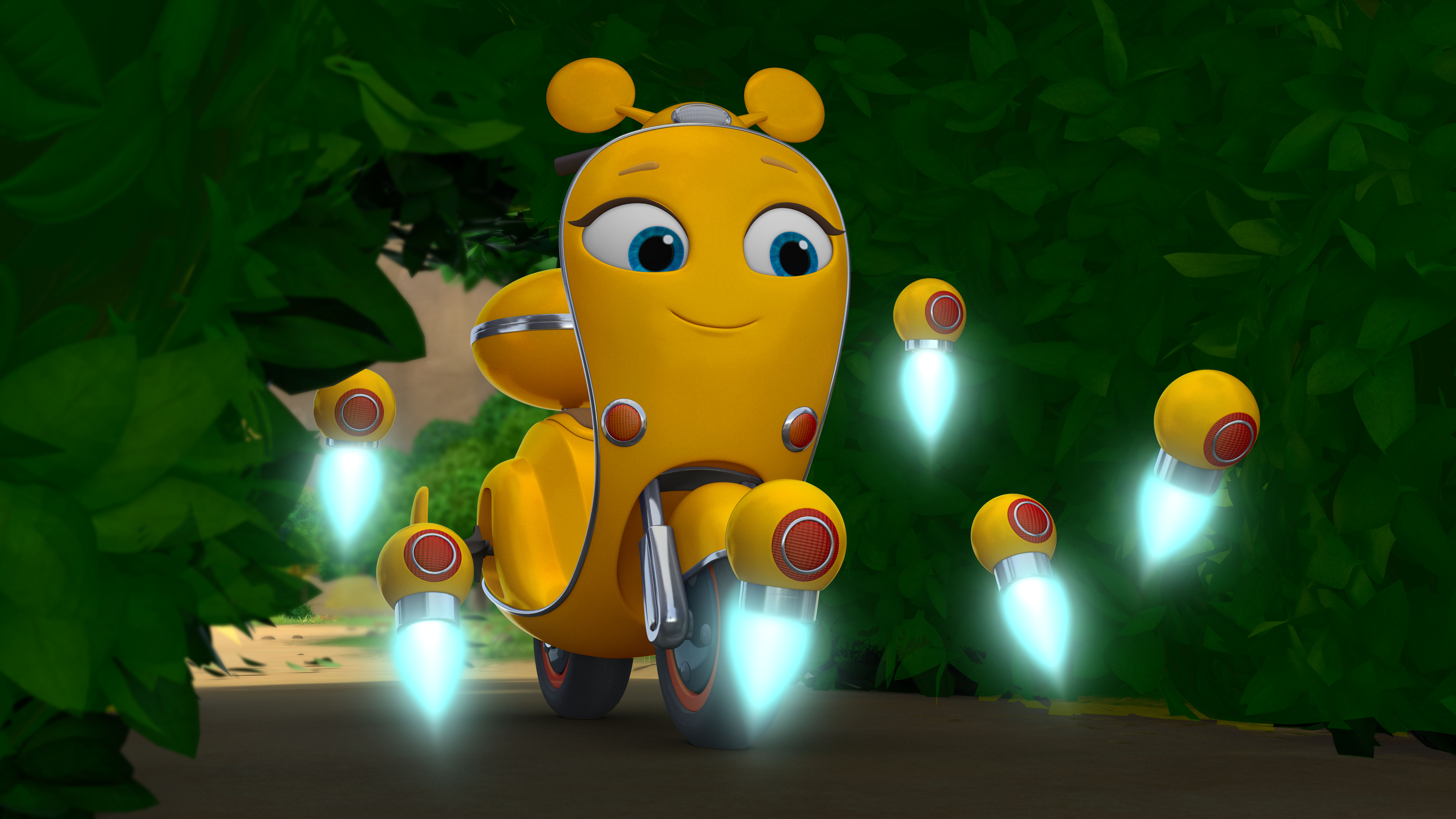 Meanwhile, DJ Rumbler is the rough 'n' tumble trike that has a heart as big as his trunk! There's nothing he can't build – or knock down, thanks to all his tools that fit onto his robotic arm! But despite his powerful wheels and being a little rough around the edges, DJ wears his heart on his sleeve and would do anything for his friends.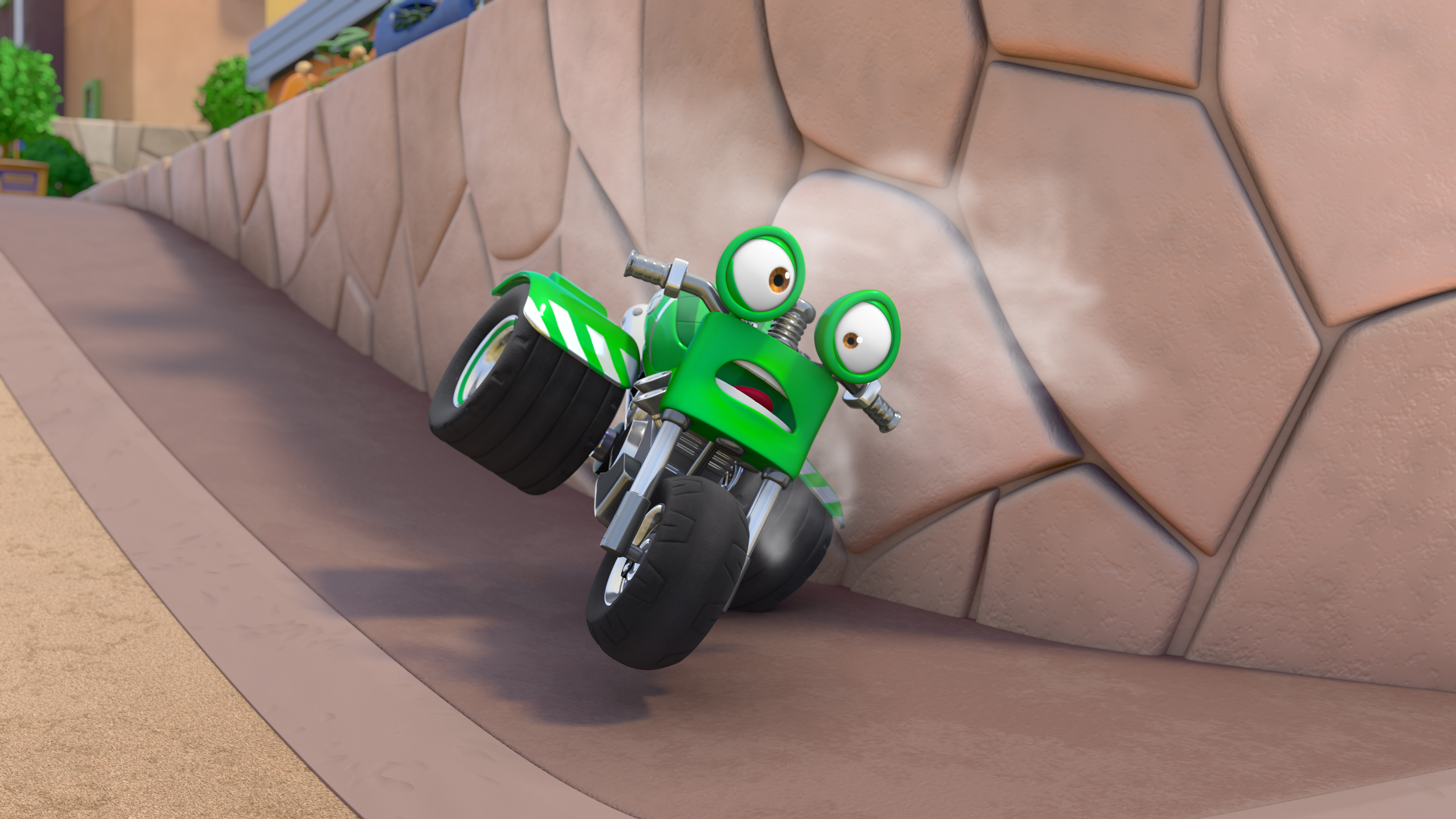 Finally, there's the head of the Bike Buddies, Ricky Zoom! Ever confident, he loves nothing more than to zoom around Wheelford. However, Ricky still has a lot to learn and he often dives headlong into rescue situations, overestimating his abilities. Despite having cool rescue resources such as his Visor and Grappling Hook, he often needs the support of his friends, family and community!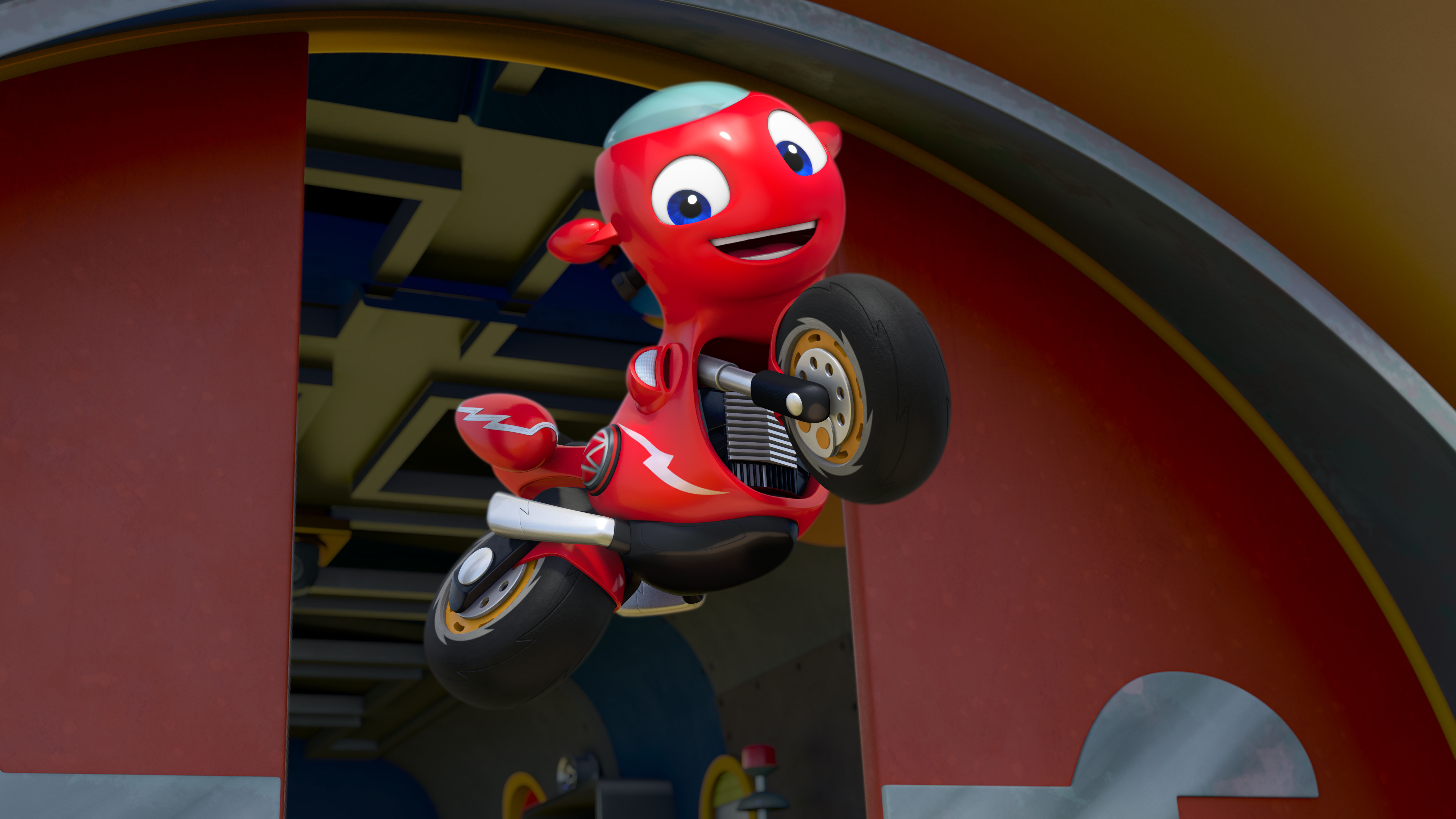 With its unique movie-style, colourful characters, thrilling and fun-learning story lines, it's easy to see why Ricky Zoom is proving so popular among pre-schoolers and their parents. Ricky Zoom not only keeps kids entertained as they join Ricky on a series of adventures, but it also helps teach little ones about the importance of family. That's why we here at UKMums.tv LOVE Ricky Zoom!
So take off the brakes and go full throttle with Ricky Zoom by tuning in every day at 7.40am on Milkshake!