If you've decided to sign up to Dry January we take our hats off to you. We don't know how we could get through January (aka the most depressing month of the year) without a gin and tonic or two! Dry January may mean going without your favourite alcoholic drink for 31 days (booo!), but it doesn't have to be all doom and gloom. Take a look at these delicious mocktails to see you through Dry January.
Bittersweet Snowball (via Martin Frobisher's)
50ml cloudy apple juice
10ml fresh elderflower presse
Garnish with peeled cucumber
For the perfect icy tipple, pop your glass in the freezer for a few hours before serving. Add the apple juice, cordial and fresh lime juice to the frosted glass. Fill with crushed ice and churn it all together with a long spoon. Top up with elderflower presse and garnish with some peeled cucumber.
Pineapple Coconut Fizz (via Sainsbury's)
½ pineapple, peeled, cored and chopped, reserving 1 skin-on slice, cut into wedges, to decorate
200ml pineapple and coconut juice drink
14g fresh mint, washed and chopped, reserving a few sprigs to decorate
12 ice cubes, crushed
1 bottle soda water, to top up
Put the pineapple in a bowl and crush using the end of a rolling pin. Tip into a jug and add the pineapple and coconut juice and the chopped mint.
Fill 4 glasses with crushed ice, then divide the pineapple mixture among them. Stir with a cocktail stick, then top with soda water. Decorate with the reserved pineapple wedges and mint to serve.
Pomegranate Mojito Mocktail (via BBC Good Food)
3 tbsp pomegranate seeds
Big bunch mint
2 limes, quartered, plus slices to garnish
1l pomegranate juice
500ml lemonade
A day ahead, divide the pomegranate seeds between the holes in an ice cube tray, top up with water and freeze.
Reserve half the mint for serving, and tear the rest into a large jug with the lime quarters. Using a rolling pin, bash the mint and lime to release the flavours. Add the pomegranate juice and lemonade. Put ice cubes in each glass, then strain over the pomegranate mix through a small sieve. Garnish with lime slices and more mint.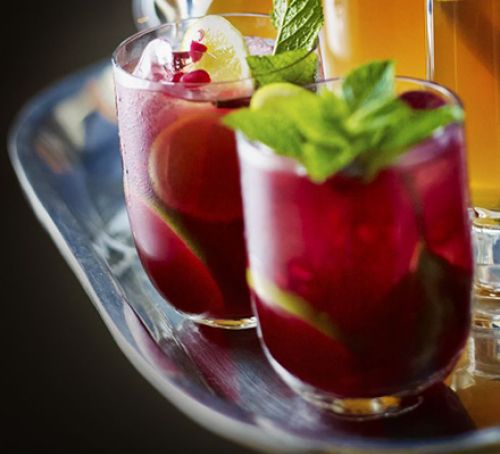 Salted Caramel White Russian Mocktail (via Tesco Real Food)
4 tsp instant coffee
½ tsp vanilla extract
2 tsp sugar
4 tbsp Tesco Finest salted caramel sauce
100ml single cream
4 rosemary sprigs, to serve
Dissolve the coffee in 400ml boiling water. Stir in the vanilla extract and sugar until dissolved, then set aside to cool.
When ready to serve, drizzle the salted caramel sauce down the sides of 4 glasses.
Add a couple of ice cubes to each glass and carefully pour in the coffee.
Divide the cream between the glasses (1-2 tbsp per glass) and lightly swirl together. Garnish with a rosemary sprig.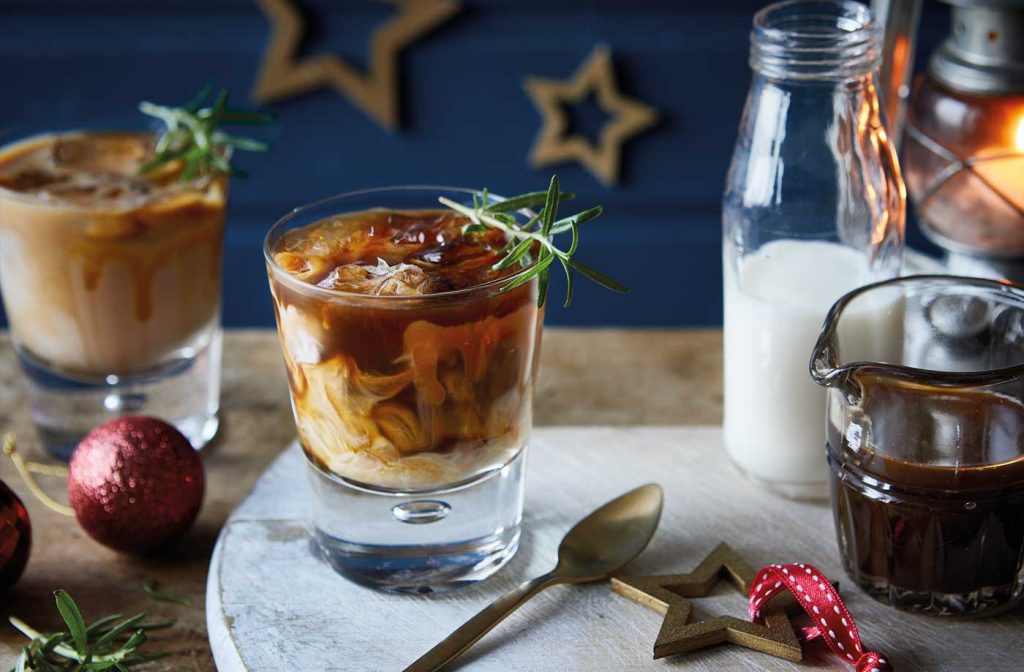 Sloe Explorer (via Martin Frobisher's)
25ml fresh lemon juice
5ml runny honey
Top up with Schweppes 1783 dark muscovado spirit mixer
Garnish with five blueberries on a pick
Shake the cordial, lemon juice and honey together in a cocktail shaker. Strain the liquid into a glass. Top up with the muscovado spirit and garnish with the blueberries.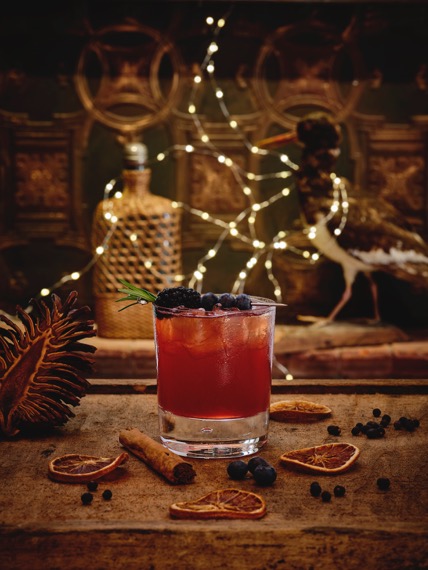 Will you be trying one of these fabulous mocktail recipes this Dry January? If you do, be sure to share your thoughts and pictures with us over on social media @UKMums.TV!