Providing a variety of toys is the best way to make early learning fun for your little one. But by the time they are approaching nursery or KS1 age, you may want to be sure they've learned some of the skills necessary to get the most out of this stage of their development.
Enter the electronic learning toy! Good quality electronic toys do more than just entertain – they make learning fun by captivating children's attention with colours, sounds and interactive elements featuring favourite characters for children to interact with.
The benefits are numerous – not only do children love to play with interactive items and gadgets, they learn skills such as number and word recognition, spelling and phonics. Being introduced to these skills early, and in the comfort of their own home, makes learning less stressful when faced with these tasks in nursery and then Key Stage One at school. They are also listening to and following instructions, taking steps in a sequence and hearing words of encouragement and reward; all very helpful skills to be developing as well as the more obvious learning topics like numbers, colours and so on.
Many electronic toys are designed around popular children' characters, such as Trends UK's range of Peppa Pig Electronic toys.  This is more than just a style choice. The easily-recognisable faces, sounds and songs make learning about numbers or the alphabet familiar and fun.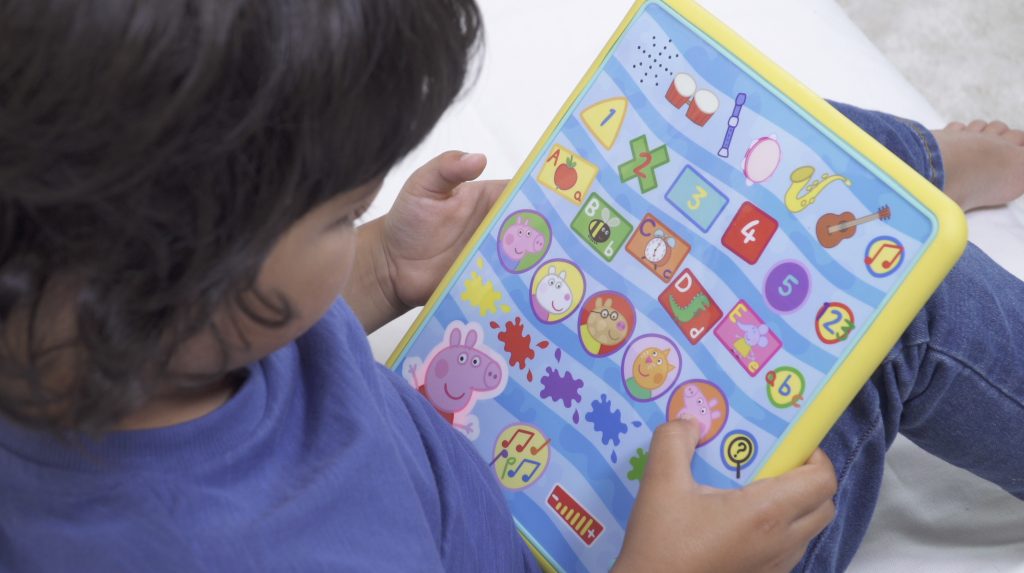 In the case of Trends UK's range of electronic learning toys, not only do they introduce colours, shapes, music, the alphabet, spelling and counting through play, the cleverly designed activities encourage physical activity and dexterity too.
Don't take our word for it – read our mums' reviews of the products, plus you have the chance to win some amazing Peppa Pig prizes in our competition and Twitter frenzy. Follow us on social media to keep up with the fun!