Are you looking for the perfect no bake blueberry cheesecake recipe?
We love the creamy and velvety cheesecake filling, followed by a burst of sweet and tangy blueberry sauce. The heart-shaped moulds add a sweet touch, making these mini cheesecakes perfect for special occasions. Perfect for romantic dinners or even to follow a Valentine's Day meal.
Or any time you want to treat yourself or your loved ones to a scrumptious dessert. Thanks so much to Love Fresh Berries for this delicious dessert recipe.
No bake blueberry cheesecake is a winner with the UK Mums TV office!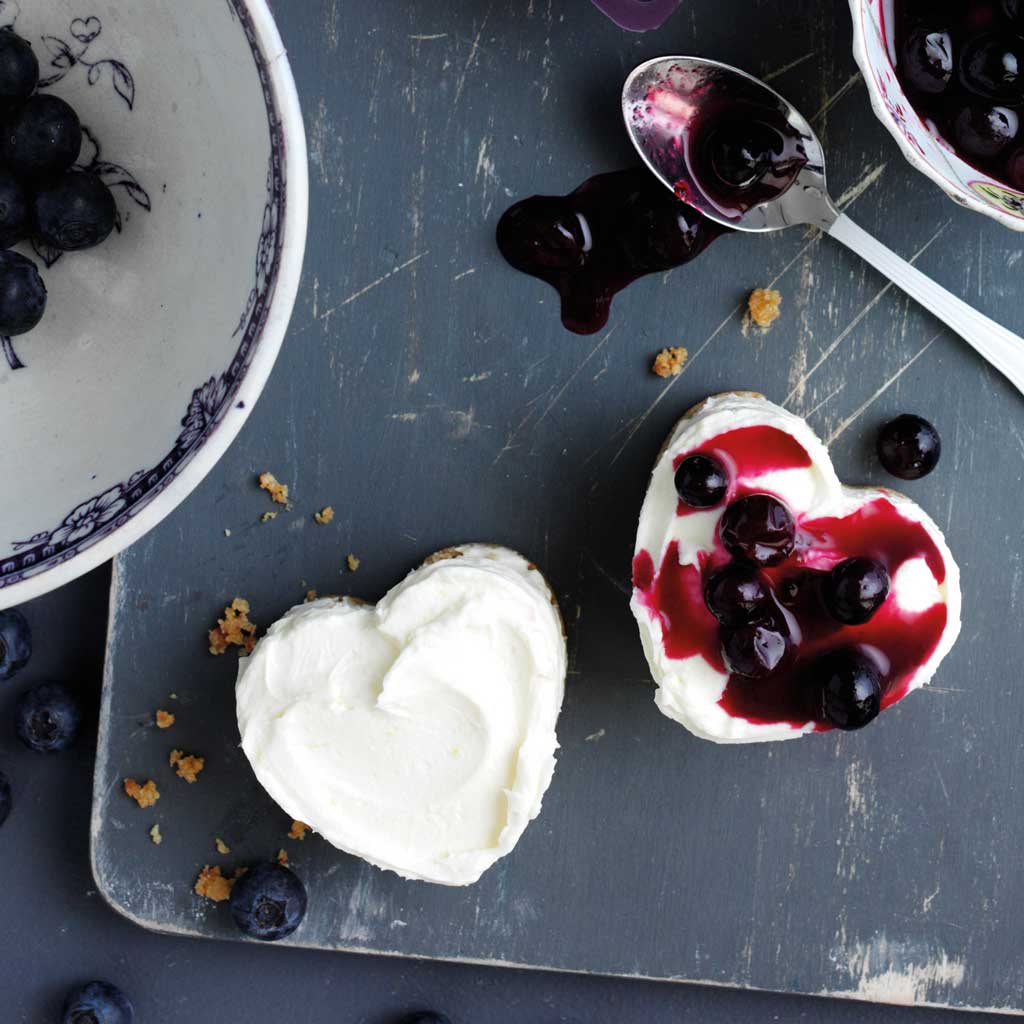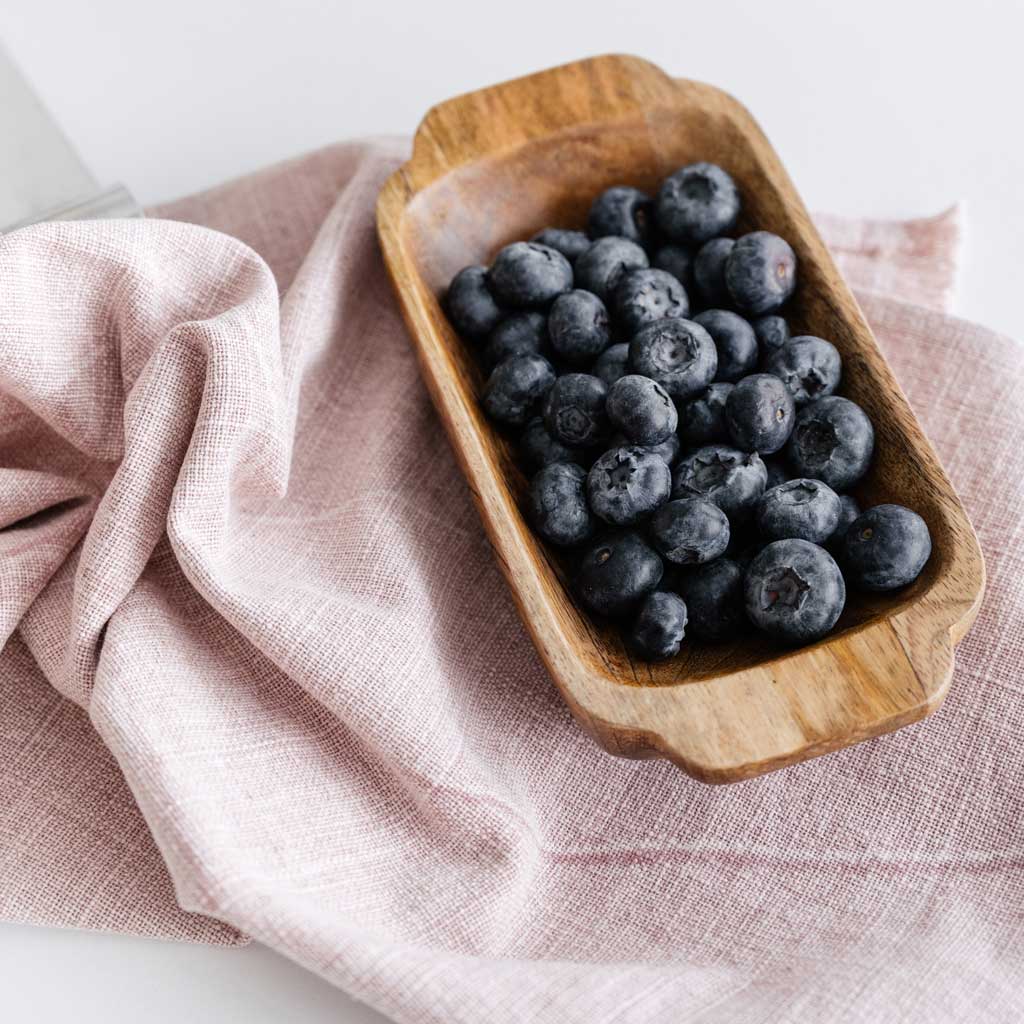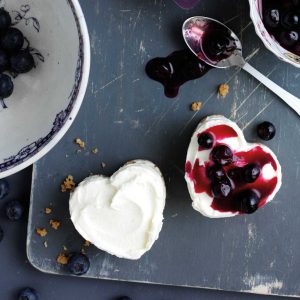 No Bake Blueberry Cheesecake Recipe
Make this easy no cook blueberry cheesecake recipe the night before and leave in the fridge. If you're making mini cheesecakes, rather than a full size one, you may some spare for second helpings. Or simply freeze the extras with a little pot of blueberries for another time.
Ingredients
Biscuit base
75g

(3oz)

digestive biscuits

25g

(1oz)

butter

2

tsp

golden syrup
Cheesecake filling
300g

(11oz)

full fat cream cheese

65g

(21/2oz)

caster sugar

1

lemon, grated rind and juice

200ml

(7fl oz)

double cream
Cheesecake topping
1

tsp

cornflour

Juice of ½ lemon

2

tbsp

water

40g

(11/2oz)

caster sugar

200g

(7oz)

Chilean blueberries
Instructions
Add the biscuits to a small plastic bag, seal the top then crush the biscuits with a rolling pin.

Heat the butter and golden syrup in a small saucepan until melted, stir in the biscuit crumbs and mix together. 

Divide between 8, 75ml (3fl oz) heart shaped sections in aflexible silicone cake mould. Press the biscuit mixture into a thin layer with the back of a teaspoon.

Chill while making the filling.

Add the cream cheese, caster sugar and lemon rind to a bowl and whisk together briefly until just mixed. Gradually whisk in the lemon juice and the cream until smooth and thick.

Spoon the cheesecake mixture into crumb lined moulds then spread into an even layer and swirl the tops with the back of a spoon. Chill for at least 5 hours (or overnight). 

To make the blueberry topping, add the cornflour to a small saucepan, stir in the lemon juice and mix until smooth then add the water, sugar and blueberries.

Cook over a medium heat for 2-3 minutes, stirring until the blueberries are just beginning to soften and the sauce has thickened to become a rich blueberry colour.

Leave to cool, cover and chill until ready to serve.

To serve, loosen the edges of the heart moulds and press up from the base, removing the cheesecakes with a small spatula.

Transfer to serving plates and spoon the blueberries on top.    
Notes
Cook's tip
If you find the cheesecakes a little tricky to remove from the moulds or haven't had much time to chill them, freeze for 30 minutes to firm up then try again.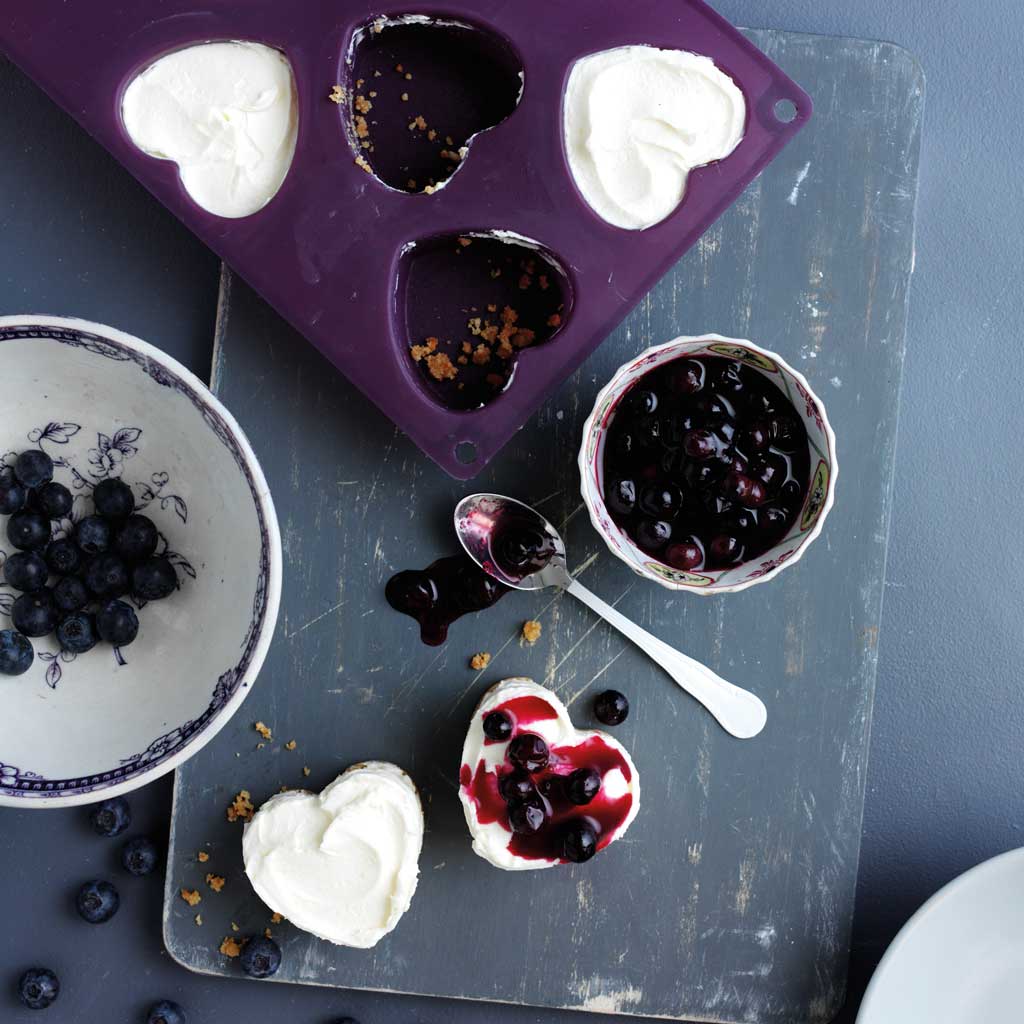 No Cook Cheesecake Inspiration
If you're looking for some more cheesecake inspiration, why not try one of our other delicious recipes?
We shared the most fabulous recipe for the Coronation of King Charles. Our Coronation cheesecake nearly blew up the internet in the run up to the celebrations! White chocolate filling, topped with raspberries, strawberries and blueberries is truly fit for a king.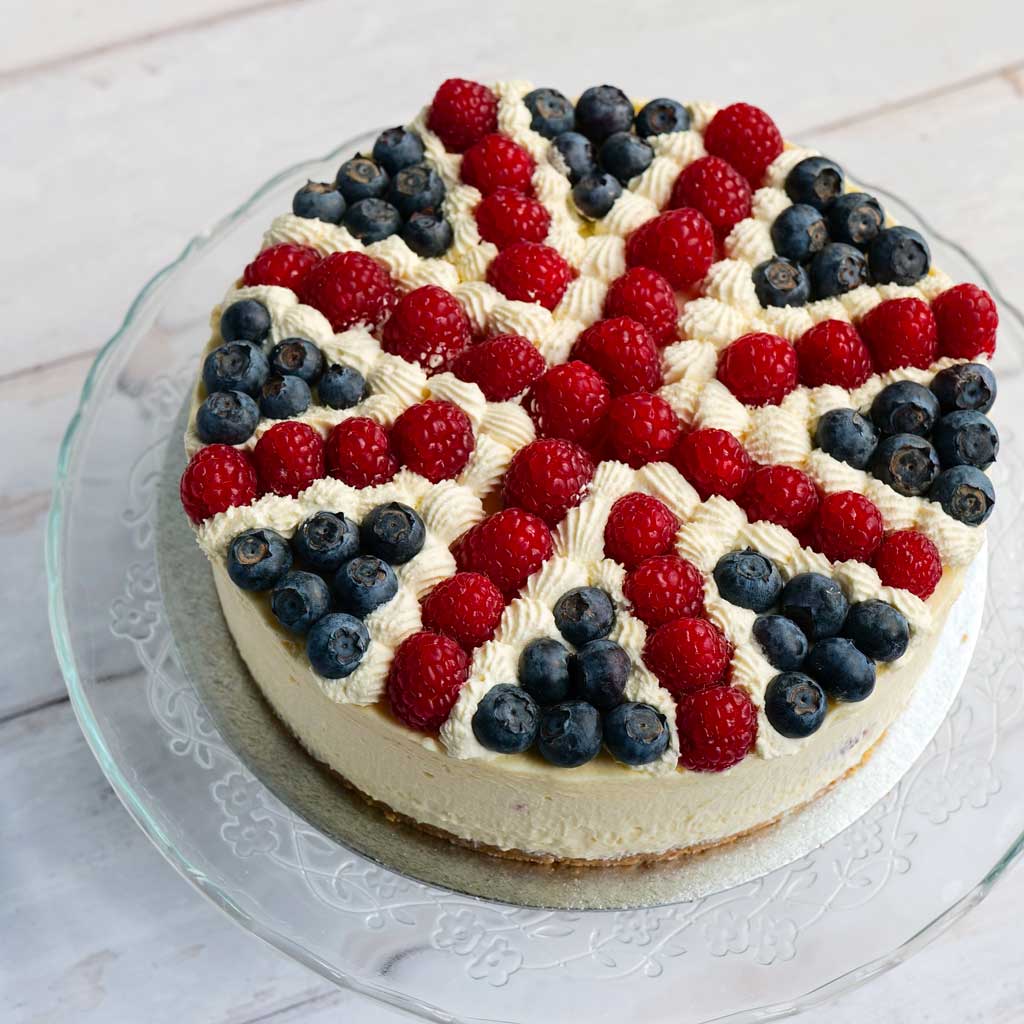 Or did you see the Mediterranean inspired no cook cheesecake with honey, rosemary and thyme? Such a simple dessert to make but every mouthful is a real treat.
Honey gives the perfect sweetness and the herbal aromas really capture the essence of summer.