Are you looking for the perfect no bake summer cheesecake recipe? Inspired by Mediterranean vibes and summer flavours, this delicious honey, rosemary and thyme cheesecake from The Groovy Food Company is a real winner with the whole family.
Honey, Rosemary and Thyme Summer Cheesecake Recipe
A smooth, velvety cheesecake filling, infused with fragrant rosemary and thyme, delicately balances with the natural sweetness of honey.
We've used coconut oil in the base. And coconut sugar in the filling. This adds another dimension of flavour and gives extra richness.
It's a simple dessert to make but every mouthful is a real treat. Honey gives the perfect sweetness and the herbal aromas really capture the essence of summer.
Switch up the toppings!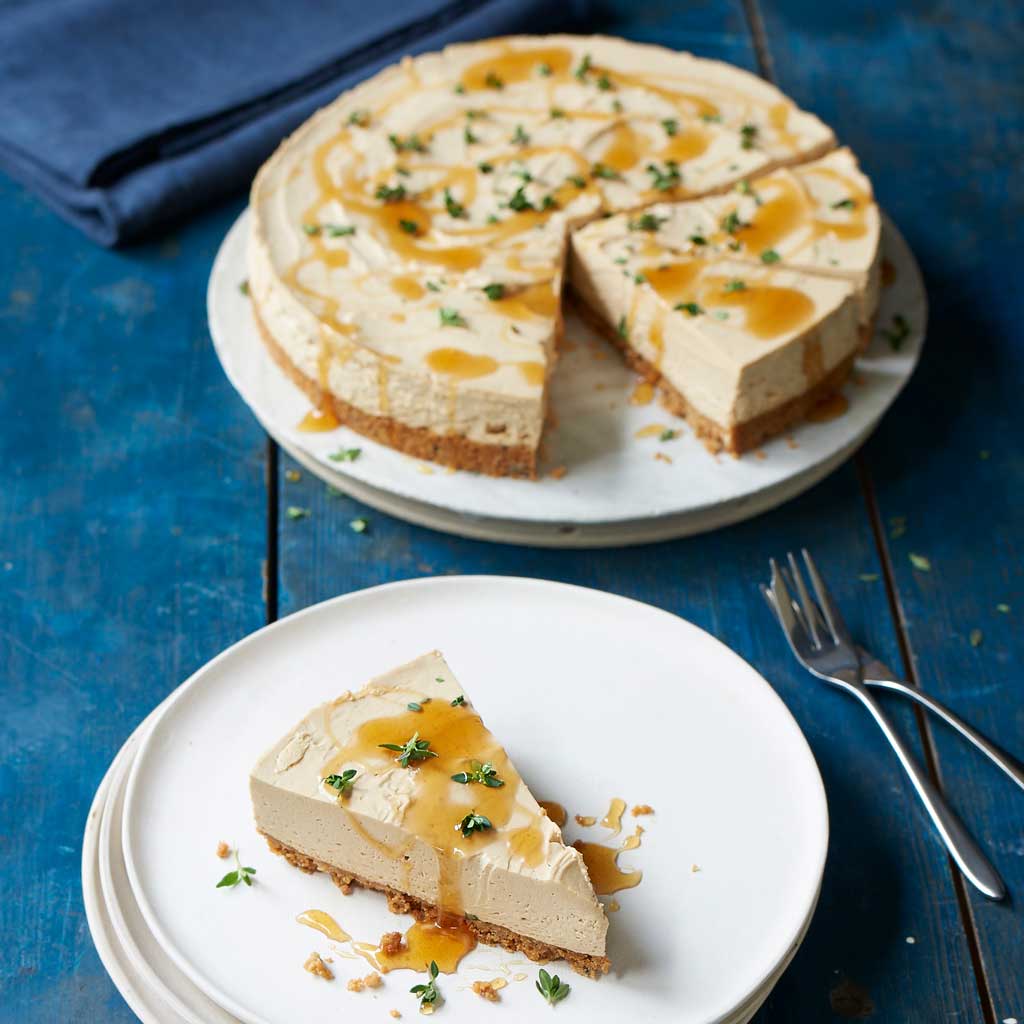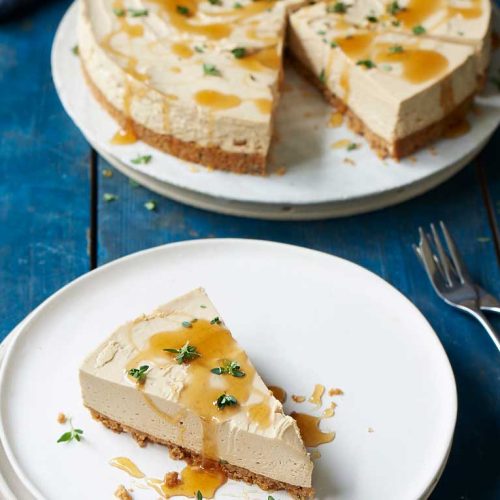 Honey, Rosemary and Thyme Cheesecake
This Honey, Rosemary, and Thyme Summer Cheesecake is the epitome of elegance and sophistication, making it an ideal centerpiece for any summertime gathering.
Ingredients
For the base:
200g

Gingernut biscuits, crushed

80g

The Groovy Food Company Virgin Coconut Oil

1

sprig

Rosemary

25g

Caster sugar
For the cheesecake:
300g

Cream cheese

125g

The Groovy Food Company Coconut Sugar

2

Vanilla pods, seeds only

280ml

Double cream

150g

Crème fraiche
For the topping:
3 Sprigs

Fresh Thyme

70g

The Groovy Food Company Organic Fine Blossom Honey
Instructions
Method:
For the base, finely chop the rosemary and crush biscuits in a bowl.

Heat coconut oil, in a pan. Stir in sugar, add the rosemary and crushed ginger nuts. Take off the heat once the butter has melted and mix until well combined.

Place the base mixture in a 23cm lined tin and press down until firm.

Pop in the fridge to chill and set for one hour.

Combine all of the cheesecake ingredients, in a large bowl, and whisk until the mixture thickens and sets.

Remove the set base from the fridge and pour the cheesecake mixture in.

Tap on a flat surface to even out the layer and placeback in the fridge to set for minimum of 6 hours.

To serve, warm the honey in a pan and drizzle over the top of the cheesecake, adding a sprinkle of thyme to taste. Voila! A delicious taste of summer on a plate!
Add handfuls of fresh berries and fruit if you're wanting a real showstopper of a dessert. Perfect for summer BBQs and partys.
Our coronation cheesecake recipe was such a hit, we hope you'll enjoy this summer cheesecake recipe as much.
What Makes a No Bake Cheesecake Firm?
Bear in mind that, by their very nature, no bake cheesecakes are going to have a slightly different texture than baked cheesecakes. That said, there are a couple of things to remember when you're making this no bake summer cheesecake.
Overmixing will make your cheesecake soft, so go easy when you're blending your topping ingredients.
While cheesecake should be thoroughly mixed with a hand mixer, mixing it too much will result in a sloppy cheesecake filling.
To get your cheesecake to firm up completely, it needs to be refrigerated for a minimum of 6 to 8 hours.