Halloween is the time to treat yourself! So, with the spooky season just around the corner, we thought we'd give you a run-down of our favourite edible treats to get your fangs stuck into this Halloween! From cupcakes to brownies, sweeties to an bewitching afternoon tea experience, all the way through to a tag-waggingly good treat for your four-legged friend, we've covered all bases for this one!
Here are the treats that you should be indulging in this Halloween…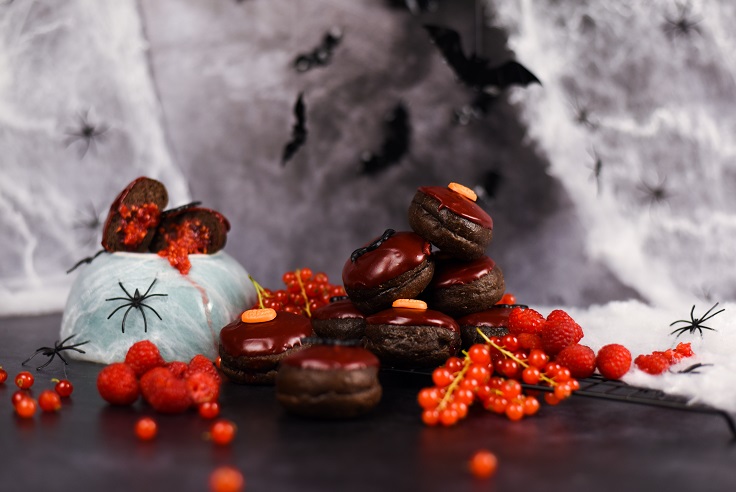 Crosstown Halloween Dough Bites – Box of 15 (RRP £37.95)
Available from Crosstown
Crosstown's limited-edition, vegan-friendly Halloween dough bites are terrifyingly moreish! Crafted with Crosstown's spooky black cocoa sourdough, filled with homemade raspberry jam, and topped with a dark berry glaze, these yummy treats are finished with a spooky bat or pumpkin decoration!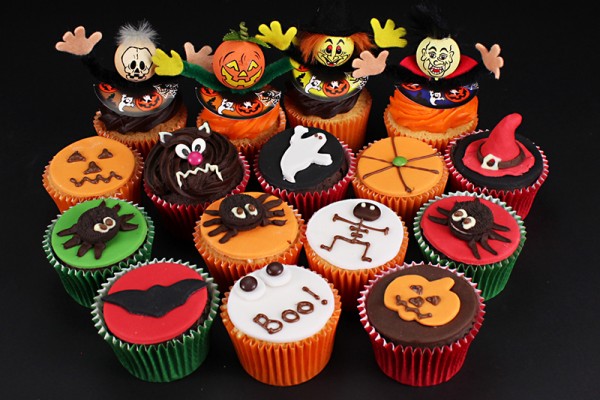 Send Them Cupcakes Halloween Spooky Cupcakes – Box of 16 (RRP £16.00)
Available from sendthemcupcakes.com
Celebrate the witching hour with a bumper batch of these Spooky Halloween cupcakes! Made from tasty Madeira sponge and topped with different coloured frosting and sugar disks, each cupcake is hand decorated with scary Halloween characters like ghosts, ghouls, witches and even a wolfman.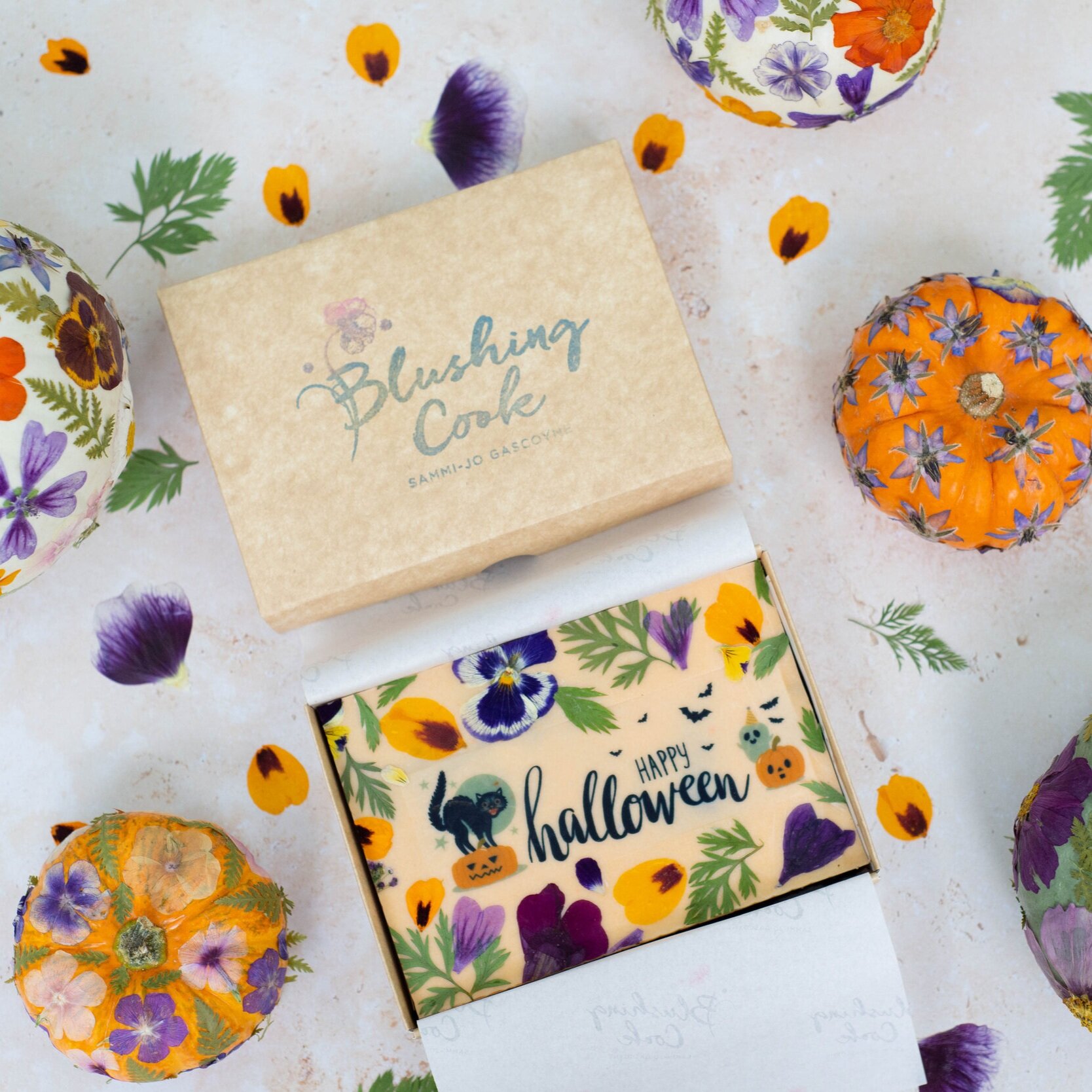 Blushing Cook Halloween Floral Brownies (RRP from £32.00)
Featured in main image (above); Available from Blushing Cook
Halloween meets edible flowers in these scarily delicious, rich and beautiful brownies. Hand decorated with chocolate, hand-pressed edible flowers and finished with a seasonal Halloween stamp, these brownies are the perfect addition to any Halloween spread. These brownie slabs can be purchased as a small box (6 portions) and a large box (12 portions).
Mariage Frères Halloween Afternoon Tea (£35pp)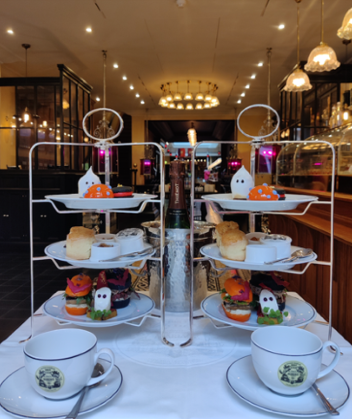 Book with Mariage Frères by emailing or calling 020 7836 1854
Got a weekend to yourself this Halloween? Grab a partner, relative or friend and head to Mariage Frères in Covent Garden for an afternoon tea experience! From 25-31 October, guests can tuck into black bao burgers infused with Chaï Parisen® tea, yuzu sponge cake steeped in Earl Grey Imperial® tea, black macarons filled with Midnight Magic® red tea chocolate ganache, and more!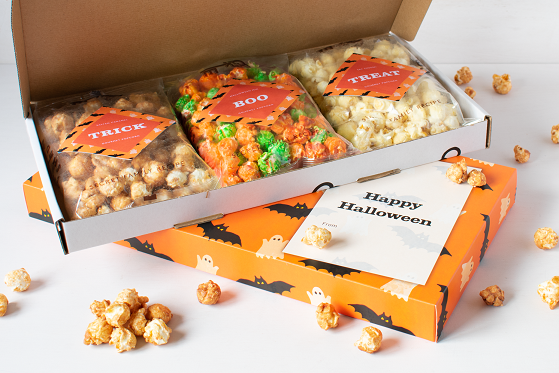 Popcorn Shed 'Happy Halloween' Gourmet Popcorn Letterbox Gift (RRP £12.50)
Available from popcornshed.com
Popcorn Shed has the perfect seasonal, spooky treats for family or friends with its new Happy Halloween Gourmet Letterbox Gift. No tricks here, it's all about the treats. This gourmet Halloween popcorn is best enjoyed with a Halloween horror movie. Choose from three scarily yummy gourmet popcorn flavours – Salted Caramel, Say Cheese and a limited-edition Halloween mix!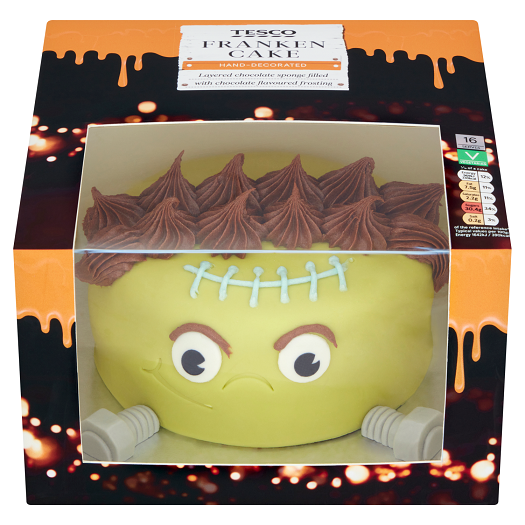 Tesco Franken Cake (RRP £8.00)
Available from Tesco
The Tesco Franken Cake is a fun, layered chocolate sponge. This tasty, yet playfully terrifying, cake is filled with chocolate flavoured frosting, and comes covered and decorated with coloured soft icing and edible Frankenstein decorations.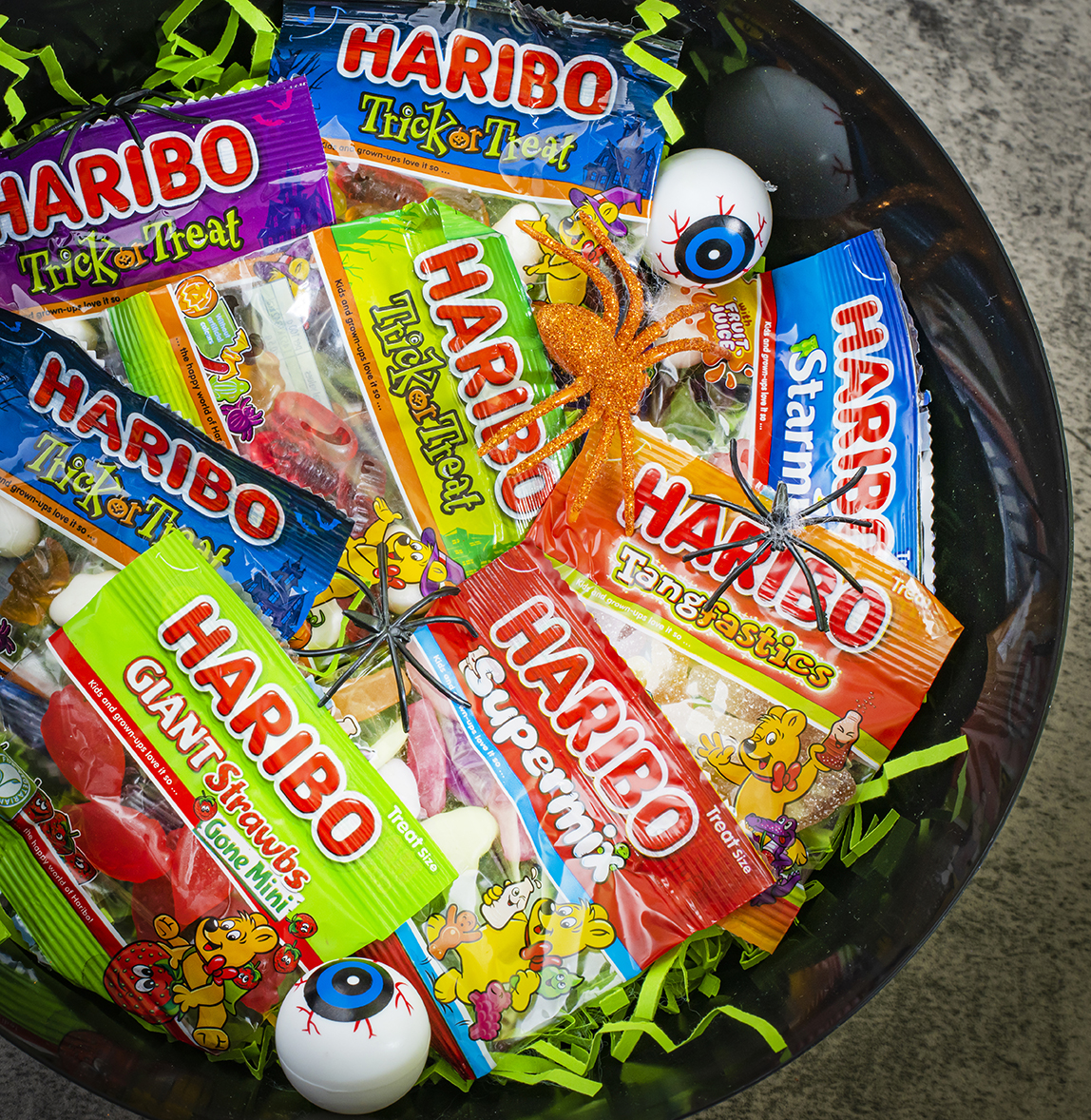 Haribo: Trick or Treat, Scaremix and TangfasTricks
Available from B&M, Spar and Waitrose
Haribo offers a ghoulishly good assortment of sweets! The Trick or Treat selection offers a magical mix of bat, broomstick, frog and spider shaped pieces, whilst the Scaremix combines five iconic Haribo sweets with fearsome flavours, including toffee apple Eggs and blood orange Bottles! Meanwhile, TangafasTricks feature a terrifying twist with both sour and scarily sour pieces!
Barratt Big Mix Party Bag (RRP £5.00) and Barratt Fun Mix (RRP £2.00)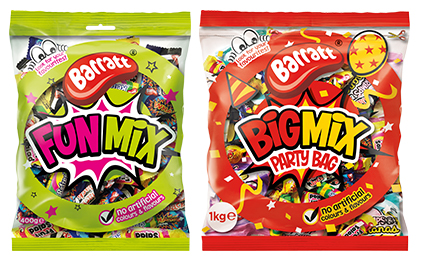 Available from Asda
The Halloween collection of classic sweets from Barratt is sure to put a smile on any trick-or-treaters face this spooky season! What's more, each sweet is individually wrapped, making them the perfect option for trick-or-treaters. Pick between the Big Mix Party Bag and the Fun Mix – or just grab both!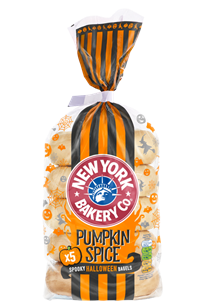 New York Bakery Co. Pumpkin Spice Bagels (RRP £1.00)
Available from Asda  
Infused with classic pumpkin spice flavours alongside the recognisable, autumnal flavours of cinnamon, nutmeg, ginger and cloves, these delicious New York bagels are especially tasty when layered with cream cheese, maple syrup, blueberries and even a sprinkling of cinnamon!
And don't forget to treat your pets, too…
Laughing Dog Hand Decorated Halloween Wheat Free Bone (RRP £9.00)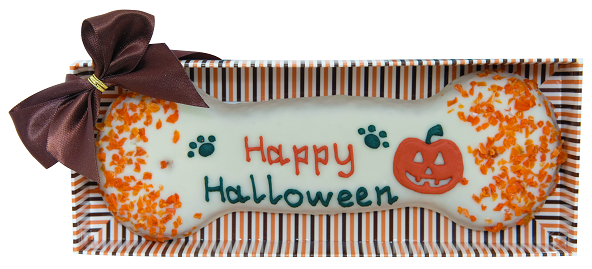 Available from Laughing Dog
premium pet food brand Laughing Dog's hugely popular and scrumptious wheat free biscuit Halloween bone is back! Dipped in a delicious yoghurt frosting and topped with carrot sprinkles, each bone is hand-decorated by Laughing Dog's artisan bakers and packaged in its own box with a satin ribbon. No added artificial flavours or preservatives.