It's been over 10 years since the first Incredibles movie hit the big screen and to celebrate the release of the Incredibles 2 today, we've rounded up our pick of the best merchandise that every little fan needs in their life! We're not sure who's more excited to see the film, us or the kids?!
1. Incredibles 2 10" Jack-Jack Soft Toy (RRP £14.99)
The 10" Jack-Jack plush from Posh Paws International is perfect for those who are a fan of the youngest member of the Incredibles family. Jack-Jack is super soft and cuddly and your little one can take him anywhere and everywhere, even to the cinema to watch the new movie! Don't take him alone though, why not build up your very own plush collection and make it a family occasion by inviting Bob, Helen, Dash and Violet along too?
2. The Incredibles 2 Mash-ems (RRP £2.99)
Create your very own superhero display and collect all of your favourite Incredibles 2 characters with these cool mash'em capsules. Twist'em, squish'em, launch'em and collect'em all – which character will you find hiding inside?
3. Stretch Elastigirl (RRP £12.99)
Helen Parr is better known by the superhero name "Elastigirl" and you could probably make an accurate guess as to what her superpower is if you have been living under a rock and haven't seen the first film yet. Yep, Elastigirl has the power of flexibility (an ability I'm sure that we all wish we had) so this Stretch Armstrong toy from Character Options is just brilliant! Stretch her arms and her legs to catch all of the bad guys and watch as she always returns back to her normal size!
4. Junior Supers Hydroliner Playset (RRP £39.99)
Now your little one can make their very own Incredibles adventures as they play with the ultimate Junior Supers Hydroliner Playset. Inspired by the hit movie, the set includes a Mrs. Incredibles figure, a fold out ice slide, a launching projectile, a rotating chamber and a grabbing arm to catch all of the baddies!
5. The Power Couple (RRP £29.99)
With this toy your little one can use Mr. Incredibles super strength to launch Elastigirl into action and save the city by simply locking Mrs. Incredibles arms into position to slingshot her into the air. In addition, kids can activate a range of sounds and phrases by moving Mr. Incredibles arms!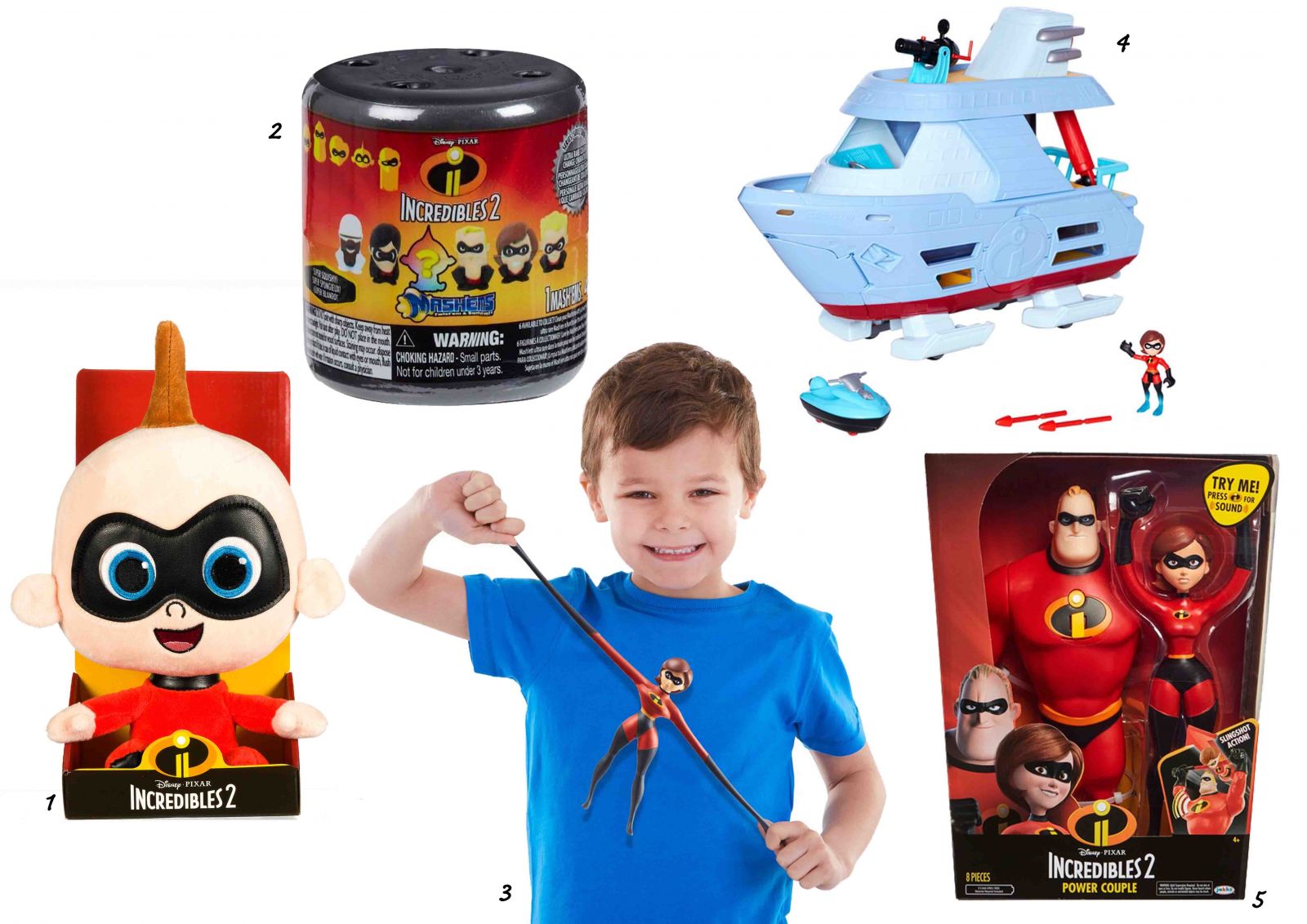 What's your favourite Incredibles 2 merchandise? Let us know over on Facebook and Twitter.