After a hectic day at work there's nothing more that we love than cosying up on the sofa and unwinding with a large glass (or two) of wine in our hand, but forget about the light and zesty white wine for now as the colder months are approaching us! At this time of year, we love the deep flavour of the plums and cherries noted in a bottle of red.
The supermarket wine aisle is a minefield and it can be quite bewildering making a choice. There are so many flavours of red wine to choose from so do we base our choice on price, country, grape or snazzy labels? Finding a good red wine isn't that difficult and shouldn't cost the earth – so here is a list of our favourites.
1. Tesco Finest GSM, RRP £8
Originating from South Australia, this bottle of red from Tesco is ripe with spicy fruit flavours. The palate remains refined and sleek, offering depth of flavour.
2. Napa Cabernet Sauvignon, Louis Martini, RRP £36
Coming straight from the USA (California to be exact), this full bodied red wine is richly textured, offering ripe flavours of blackcurrant and jammy plum heightened by notes of caramelised oak and baking spice.
3. Chateau les Martins Blaye Cotes de Bordeaux, RRP £7.99
From France, this wine is bursting with flavours of red plums and blackberries making for a ripe, rich and juicy red wine.
4. Rubis Chocolate Wine, RRP £10.49
If you're a chocoholic (and I mean who isn't?) then you'll love this wine from Frazier's Wine Merchants. With notes of rich cherry, red fruit and premium dark chocolate all dancing in one bottle, it's ideal for when you want a sweet treat for dessert, but know that you shouldn't!
5. JP. Chenet Merlot, RRP £6.50
Oh the French have done it again, spoiling us with another ripe and fruity red! This wine is well rounded and it has a deep red hue with red and black fruit aromas accented by spicy notes.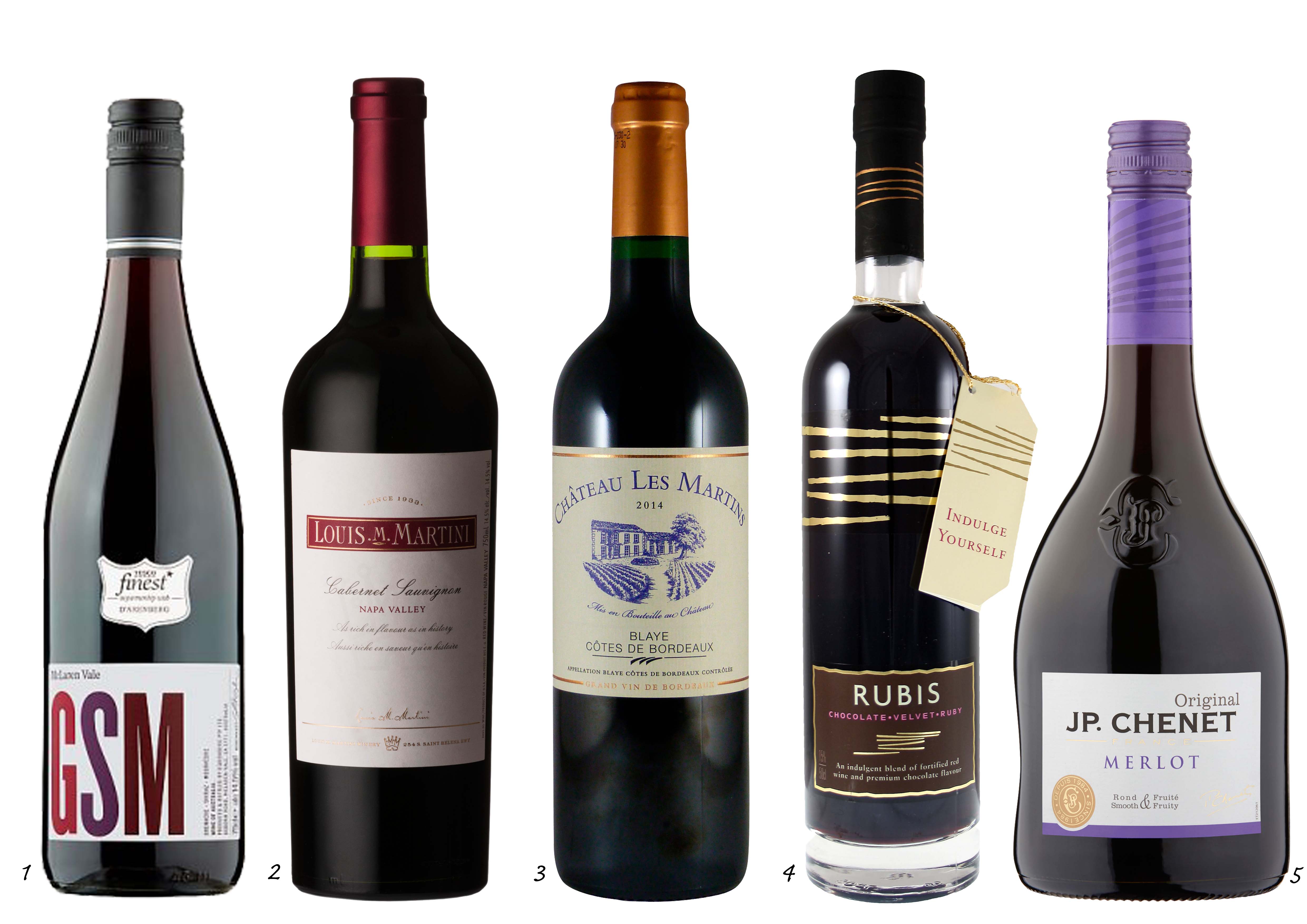 What's your favourite red wine? Let us know over on Facebook and Twitter.